We Had Five Showgirls Watch 'Showgirls'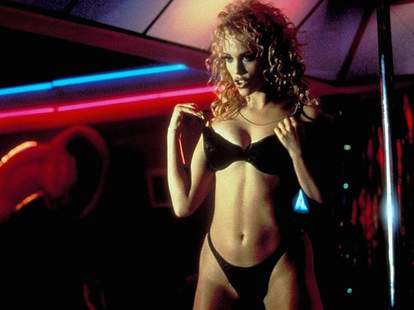 Showgirls is a cult movie that took America a long time to warm up to. It was badly written, uncomfortably campy, and pretty much ruined Elizabeth Berkley's reputation. However, when people finally started to see it as a cult classic, Showgirls became a timeless gem that represented America's love affair with exploitative B movies during the Waterworld-era of film.
Public opinion aside, since its release 20-odd years ago Showgirls has sorely lacked a critical response from the one market that truly matters: exotic dancers. It's a rare treat when the subjects of a movie are able to congregate in one area at the same time and talk about said movie while eating popcorn. But, that's exactly what happened when I was allowed full access to the girls of Vivid Radio.
We asked Nicki Hunter, Ryan Keely, Kiki D'Aire, Mary Carey, and Kianna Bradley sit through all 128 minutes of Showgirls and talk about every aspect of the film.
With the gaggle of women having experience with porn, exotic dancing, and radio, they were able to offer their unfiltered views on the movie that so desperately tried to get exotic dancing right. 
Carolco Pictures
On the fashion
"I'm a fan of this fringe jacket situation. I had one. I had a black one and a white one." - Kianna
"Damn, look at those mom jeans!" - Ryan
 Carolco Pictures
On the nudity
"Random nudity for no reason."  - Ryan 
"She's got an awesome body, though… incredible body." - Kianna
"You guys need to shut up, because I'm seeing Gina Gershon's nipples" - Ryan
"I love those g-strings." - Kianna
"Bad acting and pretty bodies." - Ryan
Carolco Pictures
On the competitiveness between dancers
"I mean, we didn't push anyone off the stairs and try to kill them or anything... "  - Kianna
"I've tripped a few girls... " - Kiki
"Some girls would put Nair in [other girls'] shampoo bottles!" - Kianna
"I shared my money with all the girls and there were never any issues." - Nicki 
When Gina Gershon talks about her fake boobs
"She doesn't have fake tits, they're very obviously real. They obviously wrote the script before they cast her in the role" - Mary
 Carolco Pictures
On the price of lap dances
"Fifty bucks for a lap dance? That was a lot in 1995. We did $20, but had to give $5 from every dance to the club." Marey 
 
On the seedy club where Elizabeth Berkley works
"This is one part that's really unrealistic… I've never worked in a club that had a schedule." - Kiki
 
On that scene in which Kyle MacLachlan cums during a lap dance
"See, I would've charged extra money if he came. I had a guy who would wear sweatpants every single time… he would cum and I would charge him $125 extra." - Kianna
Carolco Pictures
On the dancing
"It's like they went for raw sexuality to the point where they don't have any grace." - Kiki
"I don't think Elizabeth Berkley is that good of a dancer." - Ryan
 
On the acting
"If you've ever had a conversation like this in real life, kill yourself please." - Nicki 
"Could you see yourself actually talking to someone like that?" - Kianna
"She just overreacts to everything." - Ryan
 Carolco Pictures
On that insane pool sex scene
"How did her fake eyelashes stay on? They must've superglued them on." - Nicki 
"I'm not a fan of sex in pool! You'll get a yeast infection!" - Ryan
"Chlorine and piss… that's what I think about with sex in the pool." - Kiki
"No one fucks like that. She looks like a dead fish!" - Ryan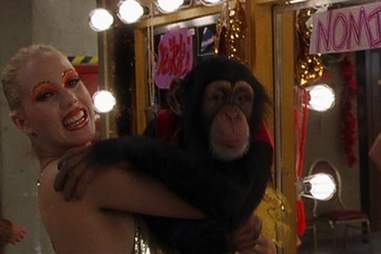 Overall thoughts on the weirdness of the movie
"I remember when this came out when I was 15 or 16 and I was too young to see it and I was so sad!" - Mary
"Thank god it's over!" - Kiki
"This is so long. Why won't it end?!" - Nicki
"This was a total porn back in my day!" - Ryan
"This is like watching porn, where you just want to hit the fast-forward button" - Nicki
"My god, the acting was so bad!" - Mary
Sign up here for our daily Thrillist email, and get your fix of the best in food/drink/fun.
Jeremy Glass is a writer for Thrillist and this movie helped guide him through puberty.