Springtime! That glorious time of longer days, warmer temps, and the promise of summer Fridays just around the corner. It's also the start of, ugh, wedding season. For all of you out there who are engaged and looking forward to your #cutenamemashupwedding2016, CONGRATULATIONS! No, seriously. It's great.
For those of you who are single... welp, here we go again. If you're not head-over-heels, can't-believe-I-existed-without-you in love with someone, then this is kiiiind of the worst time ever as your weekends slowly get sucked into the black hole of white tulle and frosting. But as you hemorrhage all your money this summer on everyone else's weddings, fear not! There are a few ways to not only survive wedding season, but actually have a pretty damn good time.
Friends with benefits
If the idea of going to a wedding solo sounds about as sadistic as trolling your ex's new girlfriend's Instagram page, you can always find a friend with benefits. But no, not that kind. Make a pact with a SAME-SEX friend (if you're hetero, opposite sex if not) who will be your standing +1 for the rest of the season, and vice versa. Weddings really are great places to potentially meet other single (horny) people and if you're looking for the next great love (fling?) it would behoove you to appear available and approachable.
Easy on the gifts
If you're scanning the registry and it's a choice between the vintage tea set on a distressed mirror for a gajillion dollars, or the dish towels for a more comfortable six bucks, swing cheap. Weddings are expensive AF and if you've got a lot of them on your dance card you want to be sure you still have money at the end of the season to spend on things like… you. Budget what you can for gifts and then say 'fuck it.' You're living on a single person's income, and chances are that's not a lot.
Treat yo'self
A little vanity never hurt anyone (said no Disney villainess ever). Just because it's TECHNICALLY the bride's (ahem, bride and groom's) day that doesn't mean you can't bring your A game. Like we said, weddings are potential gold mines for meeting other single people and possibly having sex with (er… marrying?) them down the line. Go ahead and treat yourself to that outfit or haircut. You can still enjoy these things AFTER the wedding.
Stay off Facebook
For the love of God. When it comes to wedding season, Facebook is the WORST. Not only do you have to see photos of the wedding you were JUST at, but you have to see the photos of all the other weddings you weren't invited to and therefore thought you could happily avoid. That's cute that you thought that.
Starry-eyed couples also like to use the platform to post about their engagements as they are happening, right before they happen, after they happened… and then each subsequent event from engagement photos, to wedding planning, to the bachelorette. Every detail, save the actual consummation of the marriage, is cataloged. It's unlikely these egregious Facebook offenders will ever stop, so for the love of God, just stay off Facebook.
Easy on the sauce
A wedding without an open bar is no wedding at all, we say! That said, a wedding is not really the time to race to the bottom of the barrel. It won't be as funny the next day that you twerked in front of Uncle Buster, made a toast to yourself finding happiness, or you know, cried.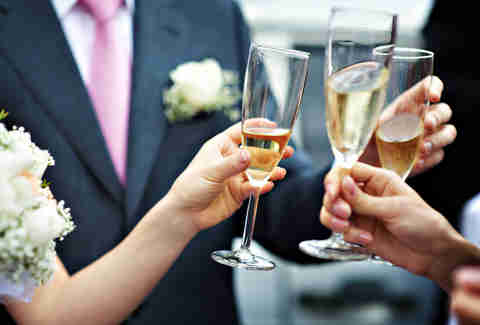 But still drink a little
It's free Champagne.
Make it a mini vacation
Wedding season often means a lot of travel for you. Treat it as a chance to get out of town for a few days of vacation, with that minor detail of actually attending the wedding. Put things on your itinerary that YOU want to do, whether it's a spa treatment, baseball game, or a few days at the beach. Just because you're going to a wedding doesn't mean the entire trip has to be about that.  
No means no
Just because you were invited doesn't mean you have to accept. An invitation to a wedding is by no means an obligation. Pick and choose the ones you really want to go to. There's no reason to feel guilty for not wanting to attend your high school boyfriend/girlfriend's wedding. These are your summer weekends, too, and you should have the option to spend them as you wish. There's a spot to check "NO" on the RSVP card for a reason.
Sign up here for our daily Thrillist email, and get your fix of the best in food/drink/fun.