A Coffee Fetish Exists and It's So Hot Right Now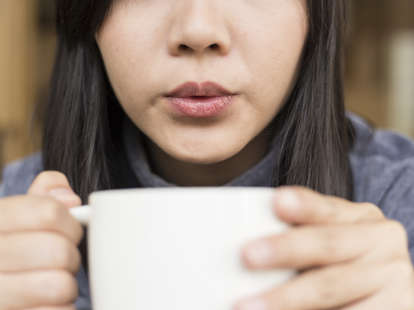 To most, the smell of a hot cup of coffee conjures up feelings of happiness and a sense of comfort. It's a smell that assures you that your precious morning hours will be spent awake, alert, and creative.
To others, the smell and sound of a Mr. Coffee scares up an alternative conjuring; something that arouses the senses -- and a massive erection. In an age when nothing's shocking anymore, the internet has still managed to find a way to add a pornographic context to one of the most beloved traditions in the world by fetishizing our cup of morning joe.
It's a fetish that's so fringe, so hidden, so tucked away that many people don't realize it exists. And though it doesn't hold the same name-recognition of your run-of-the-mill feet and underwear kinks, the beginnings of a coffee-soaked fetish revolution are undoubtedly here. Here's why.
We fetishize everything, so why not coffee?
Jokes aside, it takes little more than a Google search to yield results of a naked person with a cup of coffee. There are a host of sexy coffee-related Pinterest boards and literally thousands of stock images in which some version of a woman in lingerie drinking from a steaming cup sits in front of a neutral background.
Rule 34 of the internet decrees that there is a porn version of everything and coffee has far from escaped the clutches of the web. Sure, you can find sexy versions of most foods on the stock photo sites. But it's not until you dig a little deeper that the more-than-tasteful-nudes begin being replaced by tits and affogatos. So, let's head to a place that would lead to the destruction of the internet if it went offline: Reddit.
Coffee's gone wild
"You are hotter than any beverage in that mug... "
The subreddit r/CoffeeGoneWild is a community home to nearly 3,000 members (!), and hosts scores of NSFW photos of naked men and women posing with their cups of coffee. It's one of the many subreddits dedicated to a minuscule -- albeit active -- sect of a strange form of arousal.
From a user sticking his member into a full cup of Joe to a full-body nude of a woman sipping iced coffee, this subreddit takes coffee a step beyond the level of a prop and fully integrates it into the sexual fantasies of eager viewers.
"You are hotter than any beverage in that mug," one user says. "Gorgeous," replies another. "Just for the knowing how do you take your coffee?" CoffeeGoneWild is a place where the George Costanza method of combining sustenance and sex thrives.
Coffee fetishists are in it for more than appearances
There's more to this fetish than simply displaying a Dunkin' Donuts cup between breasts. The caffeine in coffee stimulates the release of the neurotransmitter dopamine -- something that also happens when a person orgasms.
So, while the act of sipping a cup of coffee in the morning is a bit different than climaxing with a partner, the end results of euphoria go hand in hand.
Put your lips together and blow... on this hot cup of coffee
The next level of this fetish goes a step deeper and touches upon coffee and sexuality in a less direct route. By way of Japan, we come upon a fetish that recently made its way into the conversation from a photoset of cute Japanese women blowing on cups of coffee: totally clothed, totally non-sexual, specifically blowing the cups to cool them off. The shoot, a collaboration with artist Keisuke Inoue and designer Sakas Hayasaka, is called "Fuufuu" -- an onomatopoeia of the sound one makes when blowing a hot liquid to cool it.
The bizarre -- albeit strangely satisfying -- page is accompanied by nothing more than a short poem explaining the inspiration behind the pictures: "Cold morning, coffee was bought in order to warm up the body. Because not to drink hot, cool moderately and Fuufuu. 'S not taught to someone. The gesture is, too defenseless. Too innocent, too unconscious. Even in the same gesture, there is a lot of thought, there is each scene. Each person's individuality, was cut through the catalyst of 'Fuufuu'. What girl, still cute."
But seriously, why coffee?!
To get to the bottom of things, I talked to Dr. Justin Lehmiller, a social psychologist and author of the blog Sex and Psychology. He helped me understand how something as seemingly innocent as coffee can inspire so much sexual satisfaction.
"For the most part, fetishes are thought to be learned behaviors," says Dr. Lehmiller. "For instance, if a neutral stimulus like coffee is repeatedly paired with something that's sexually arousing, that previously neutral stimulus may eventually come to elicit sexual arousal on its own."
Lehmiller goes on to say that most fetishes are not considered mental disorders.
"In fact, they're typically only considered disorders to the extent that the person who has the fetish is highly distressed about their sexual urges or does something criminal in the pursuit of their desires, such as someone with a panty fetish who steals women's underwear." Great point.
Despite the inherent weirdness behind an online community posting naked pictures of women cradling a shot of a espresso between their erect nipples or a video in which a lingerie-clad woman makes a cup of French press with her special friend, the bottom line here is that people really like coffee. Is it strange? Sure. But who's to say the things you're into aren't bizarre to the guy pouring cold brew on his junk?
Sign up here for our daily Thrillist email, and get your fix of the best in food/drink/fun.
Jeremy Glass is a writer living in New York City and hasn't thrown up in over a year. Follow his Twitter or die trying: @candyandpizza.