Women Describe Their Orgasms in Terms Men Can Understand
Jennifer Bui/ruigsantos/Shutterstock
The female orgasm is the holy grail of sexual experience. Women's partners have sought it out for eons, worshiped it, prayed to it, and tried every combination of rubbing, touching, bumping, and grinding to behold its magic. But the true mysticism of a woman's orgasm -- its sensations and all it elicits -- eludes the men of this world, who are kept from truly understanding how it feels.
If (pre-psychotic) Mel Gibson couldn't even determine what a woman wants, how is any civilian man expected to figure out how a woman feels?
To help unlock the mystery, we got a real women -- including an accountant, EMT, writer, graduate student, and six hosts from Vivid Radio (who have a rich and varied history of having orgasms on camera) -- to describe to men exactly what it feels like to climax as a lady.
Jennifer Bui/kavram/Shutterstock
"An orgasm starts as a warm sensation in the center of my body. It spreads in waves and reaches the extent of my full body as it increases in intensity. It is like an earthquake of pleasure that fills my body with the best energy ever, and slowly dissipates and leaves me drained and happy." -- April Flores, adult film star, Vivid Radio host, writer and plus-sized model
"I have different kinds.  Some are just a spark of pleasure that start at my clit and reverberates out to my legs and back for thirty seconds to a minute or so.  Some feel like a very deep and momentous earthquake of tension release that sends waves of ecstasy from my solar plexus to every part of my body and lasts several moments where I can't do anything except just experience it. It take a talented guy to give the latter.  I just melt into a ball of relaxed mush like I just had the best massage ever given times ten and usually fall into a sex coma after those.  And then there are ones that fall all along the spectrum between those two extremes." -- Theresa, 40, retired therapist
"When I cum it feels like being on the best drugs ever on a roller coaster in my most comfy pajamas." --Aiden Starr, adult film star
"It's the same feeling as your football team winning the championship at the final buzzer!
It doesn't always happen but when it does, it's AMAZING!" -- Emily, 33, luxury production professional
"Oh I enjoy the tension building up in my body, the heat, the passion of the moment and I loved that moment of release when my muscles seems to shudder but still no cry of joy. The older I get the more I seem to enjoy the feeling of that release. I love sharing it with someone, and then feeling that I want another as soon as possible. So maybe my orgasms aren't on the Richter scale but I wouldn't change it now, I guess I'm just not a vocal sexual person, but I enjoy it very much just the way it is. A few soft moans, a twitch or two and then the glorious release." -- Dr. Hedda, psychologist on RomanceBeat.com
"The most literal comparison that comes to mind is like water filling up a dam. Slowly and slowly the tide keeps rising, and the tension has to go somewhere. Eventually, when it gets to be too much, the dam breaks. And yes I realize you could use that same analogy for peeing your pants. But still, I think it holds." -- Ali Drucker, senior sex and dating editor at Maxim
"Your whole body starts shaking like it's collecting energy. Like it's sucking electricity out of the toaster if you're in the kitchen, or the alarm clock if you're in the bedroom.  And then you want to come but you don't, and then you think maybe now, and then it doesn't happen. And then when you're not expecting it. BOOM! I would say it's like having to pee and finally getting to." -- Mary Carey, adult film star, director, and Vivid Radio host
"Orgasms come in ranges for me. There are the 10- minute neck massage kinds that make you think, 'this was nice', and ones that feel like you have had four sets of hands rubbing all of your muscles at once and leaving you in a state of relaxed ecstasy." -- Beth, 28, accountant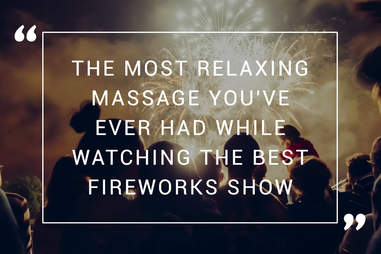 Jennifer Bui/Andor Bujdoso/Shutterstock
"The feeling is like relaxing on a secluded beach while a dozen fingertips slide everywhere on my body parts. I'm losing myself and at the same time I'm on a roller coaster." -- Nadia Styles, adult film star and VividRadio host
"The feeling of having an orgasm (or multiple orgasms) is like a combination of the most relaxing massage you've ever had while watching the best fireworks show you've ever seen. It's like your first kiss but on steroids. It's like finding out you don't have work Monday because of some holiday you forgot about. It's relieving, like taking your shoes off at the end of a long day, and exciting, like attending the greatest party ever." -- Cassandra, 23, office operations manager
"If you do it right, I feel like all of my nerves are standing at attention and then suddenly relax all at once. Then I feel like I need you to do it again...and again." -- Kathy, 34, lawyer
"I guess it would be like they would feel eating the best slice of pizza they have ever had while getting the best blow job of their lives." -- Michelle, 25, dental assistant
"Imagine you are in a car and go over a bump, your stomach has that dropping feeling. Imagine that feeling (surprise, pleasure, excitement) but with more pressure a little further south than your tummy. That feeling starts out slow, and then builds and builds within. When the pressure becomes too great, boom, orgasm. The releasing of that exquisite 'dropping feeling', clenching and releasing throughout your body." -- Eliza, 30, stylist
"I feel like I am being tickled softly by a feather on the inside and then the feeling becomes more intense until it all culminates into a fireworks display that explodes out through my nipples." -- Amelie, 38, editor
"When I can have a clitoral and vaginal orgasm together, it's the most euphoric feeling in the world; all 15 seconds of it. The feeling starts deep inside my pussy; I feel this deep, hard, long throbbing all through my pussy until my clit and lips throb and throb and throb. Then I get real hungry and need to eat." -- Christy Canyon, retired adult film star and Vivid Radio host
"Flying up to the clouds while someone is licking your inner thighs and then tickling your taint with their tongue." -- Sheela, 31, graduate student
"Like someone turned on a vibrating machine inside of me and keeps upping the power until I can't take it anymore and stops right when I am at the height of pain and pleasure." -- Shelly, 40, EMT
Sign up here for our daily Thrillist email, and get your fix of the best in food/drink/fun.
Jeremy Glass and Brenda Della Casa write for Thrillist by day and solve (and also commit) crimes by night.