I Live in Toronto, aka "The 6ix," as baptized, of course, by Drake. And Drake -- or Sir Aubrey Graham, if you're familiar with the man behind the music -- is, without a doubt, king of this Canadian city.
As a hot-blooded, heterosexual woman, I've obviously spent one night or several imagining what it would be like to wander the Toronto streets with Drake by my side. Can you blame me? You can't read a tabloid rag without also perusing some new story about Drake's dating exploits. My fantasy started out innocently enough -- a natural extension of what people are already discussing. Then I took things a step further.
This story doesn't end with me actually dating Drake (I'm no RiRi). But it comes pretty close, because I did manage, with the help of a casting agent friend and social media, to track down a #Champalepapi who could pass for mister #Champagnepapi himself. Yup: I found a Drake look-alike.
In true Drake fashion, my #drakelookalike can dance, rap... and even LIVES IN TORONTO. Also, he's a method actor, so this would be perfect practice for him. And for me, whose most recent "date" included getting stalked on a beach in Jamaica by a guy named Chicken, this would be a fun departure. To get ready for my Drake-themed date, I sat down to study all of Drake's videos; then dressed up like the women represented therein.
I thought we could go to Drake's restaurant Fring's, but that proved to be waaay outside our budget. We may look like hip-hop superstars, but our wallets said otherwise. So we went down the street to a regular Drake haunt called SPiN, where fake Drake could put real Drake's ping-pong enthusiasm to good use.
Recommended Video
How to Have a Romantic Date at a Fast-Food Joint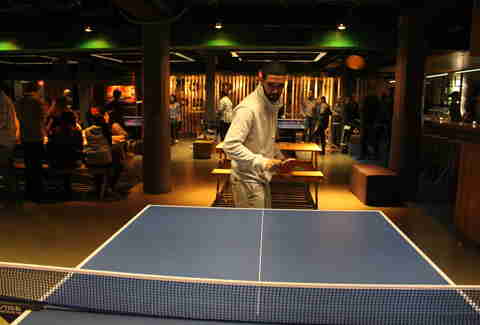 7pm: SPiN Toronto
My date, who initially acted self-conscious, immediately got his Drake swag on when we got in the door at SPiN. Is it weird that I was beaming with pride? Fake or not, I felt like I was on a date with the real deal. He had the undeniable charm of Drake, the thoughtfulness of Drake... and the moves like Jagger. Kidding! He moved like Drake... or better.
But we did learn one very important detail while at SPiN: fake Drake and I completely suck at ping-pong. This was very "unDrake" of us.
Despite my sharp focus and attempts to get anywhere near the ball, I couldn't help but notice a group of guys eyeing my my fake date and me up and down. "Drake ain't shit," a couple of them rumbled as they circled us. That's right... these men thought I was with Mr. OVO himself! I was so elated, I was even able to ignore the one guy in the group who added, "Drake's girl got big titties, though!"
Eh.
The ping-pong game had turned exhausting, so we decided to take five.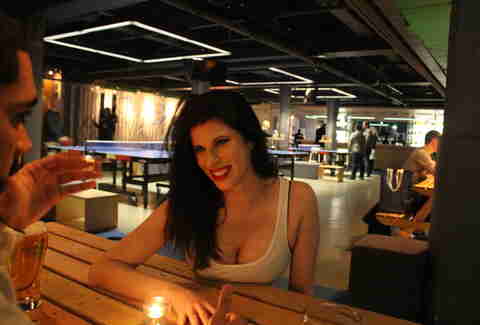 While we sat and talked, guys walked by and openly stared at me -- a transparent attempt to get a rise from my date. After a few minutes' rest, we were ready to get back to our game only to discover that our haters had taken over our table. These guys were itching to be able to lay the claim to fame that they fought Drake in front of his girl. Despite having tons of fun and being treated like royalty by the SPiN staff, we decided to move on to the second part of our evening.
I imagine Drake would take his future Serena wine-tasting at some fancy vineyard so he could wow her with his sommelier-type knowledge and woo her with beautiful scenery. So, naturally, we hit up a Wine Rack for a tasting I'd set up earlier that week.
8:15pm: Wine Rack
Despite having thrice confirmed our plans to visit the store, fake Drake and I got the boot within minutes of our arrival. That hostility we started to feel from earlier seemed to have carried over into the second part of our evening. Drake may have the key to the city, but clearly does not have the key to the hearts of all its residents.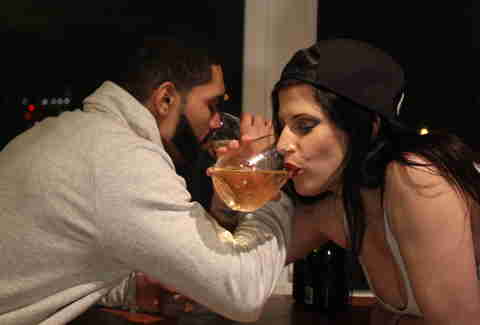 8:30pm: MY APARTMENT!
The lack of wine left a sour taste left in our mouths, so fake Drake and I headed back to my micro apartment for a Champagnepapi toast. Ironically, the sparkling wine was bought at the Wine Rack that morning.
Similar to Wine Rack itself, the bottle was difficult to get into and left us struggling and frustrated. The whole experience had been an interesting exercise in dating on a dime, dating in the 6ix, tabletop sports, cheap wine, and dick-swinging machismo. Finally, the bottle top popped. Fake Drake and I leaned in, took a sip, and smiled. It was delicious.
Sign up here for our daily Thrillist email, and get your fix of the best in food/drink/fun.
Amy Seidman is writer for FANGORIA, Shock Till You Drop, Delirium, and Thrillist. Amy wants the real Drake to know her dad says it's cool if Drake wants to go on a real date. Follow Amy on Facebook, Twitter, and Instagram.