What It's Really Like at a Nudist, All-Inclusive Resort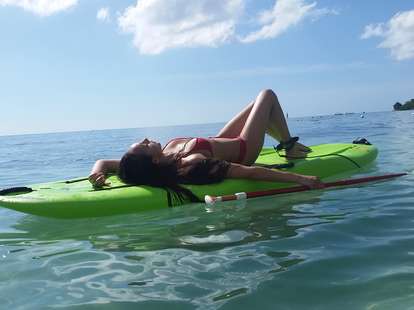 Dexter Lee Grandison/Hedonism II
It doesn't take much to get me naked, especially when there's sun involved. What can I say? I'm a vitamin D-deficient Seattleite. Sweeten the pot with a sexed-up setting, and my clothes are on the floor faster than you can say, "Ah, tick tock you don't stop."

At Hedonism II in Negril, Jamaica ("Hedo," if it's not your first time), guests are encouraged to "Be Wicked For A Week." I took the Hedo plunge in July, and promptly booked a return trip for December. I needed some pre-holiday distraction, what can I say? It's a veritable sexual playground where anything goes. If you want to hook up, the odds are in your favor -- especially if you're a woman -- as plenty of participants are ready to help you fulfill your fantasies, be they mild or wild.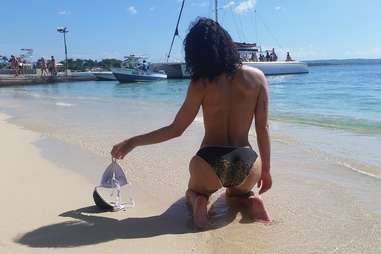 Do any normal people hang out at these places?
What's normal, anyway? You'll certainly find people you wouldn't necessarily expect. There are doctors, politicians, oil executives, and PTA moms. You'll find singles, couples, and "organized groups" of 20 or more people, usually focused on a theme like Swingtopia or Kama Sutra. Groups reigned the scene during my first stay, which set a very different vibe with their existing network of built-in friends and fuck buddies. There was one small Tantric Sex group during my most recent stay, so this time around guests had to work a little harder to connect with others.
There are pluses and minuses to both dynamics, depending upon how social you are and what you want from your vacation. On this last trip, I met one guy who'd been going to Hedo for 32 years; another was on his 15th visit. One young woman was there with her husband... and her lover. An older couple from Canada wasn't into playing with others, but put out a sexy vibe and were totally into each other. Even though they weren't overtly sexual in public, their dynamic was hot to watch. There was also a healthy number of single men and women, ranging in age from 20s to 60s.
In July, my deer-in-the-headlights look must given away my sweet virginal status. Couples went out of their way to introduce themselves and give me the quick and skinny on what to expect. It took very little time to let my guard down and get into the groove.
One gentleman in his 60s regaled me on his first-time visit. How he was summoned from the pool for a phone call, only to discover five women in his room who'd heard he was a Hedo virgin. Some of them were there with husbands and boyfriends. They blindfolded him, tied him to the bed, and to this day, he has no idea which woman had her way with him. I mean, c'mon. That's one way to keep guests coming back. (Just an FYI, this was not a Hedo-sanctioned amenity, but something the women decided to do on their own.)
How crazy does it get?
People flock to this Jamaican paradise for every reason under the sun: to swing, have sexy one-on-one time with a significant other, and to explore wild ideas in an erotic environment. They come from all ages, backgrounds, and body types, from all around the world.

Some people enjoy some subtlety around their intentions. Others are a little more… straight forward.
Before I even had my room key in hand, I was approached by a tanned older gentleman from Florida. "Tim" immediately commented on how he wanted to apply nipple jewelry to my breasts. (At 36DDD, they do make a statement.) He produced a small case from his bag, which held a nipple pump and an assortment of tit-ready bling.

"See, first I use a silicone lube to get the woman aroused," he explained. "Then, I used this tool to help get her nipple erect before applying the jewelry. I need assistants to help play with the woman's other breast or clit while I'm doing this -- in case you're interested."

I was not, and politely rebuffed repeated invites to become a human arts and crafts project. Tim and I ended up having dinner together one night and talked all things sex and relationship-related. Totally charming guy, who I'm sure is more than proficient in the sack. Just not my type. Women seemed to dig his schtick though: Tim blew through dozens of pieces of jewelry during his 72-hour stay. On the plus side, I learned that silicone lube is great for water play.

I even welcomed one guy's afternoon request to lick Fireball off my nipples.

Some guests are much shier, even standoffish. It's OK! Most are quick to flash a smile and say hello. Most importantly, people are respectful. No means no -- no matter what. As a solo female guest, safety -- most especially in a sex- and booze-fueled setting -- is the utmost concern. I felt comfortable having strange men and women wrap a hand around my waist or brush against my bum. I even welcomed one guy's afternoon request to lick Fireball off my nipples at the nude pool bar. He asked nicely, and well, I applauded his creative booze delivery system. Again, not someone I wanted to fuck, but someone I enjoyed spending time with, so why not? I definitely felt more at ease during round two with random PDAs added to the mix.

As a travel writer, I've wandered around the world and have never met a more interesting, open-minded and fun-loving group of people than I have at Hedo. Sure, I declined many advances on both trips. But not wanting to get down and dirty didn't diminish my ability to enjoy the company of my admirers. Never let an erection stand in the way of a potential new friendship, I say. There aren't any pretensions at Hedo: just peace, love, and pubes.
Are people just having sex everywhere?
It varies. I witnessed minimal public PDA during my recent trip. But I also skipped the playroom and late-night hot tubs... the hearts of all after-hour carnal activity during my inaugural stay. On that trip, I saw all manner of sex: oral everywhere in the hot tubs. Intercourse of all kinds in the playroom. One afternoon, I watched one brunette get a clit job on her patio by a parade of men who'd lined up for the honor.

There's absolutely zero judgment.

This visit, I watched one woman get screwed missionary-style on a second-story veranda at dusk, moaning loudly with her legs in the air. There were a few daytime instances of poolside oral sex. One guy pressed his girlfriend up against the side of the pool and slowly took her from behind while sipping a Dirty Banana. She seemed unimpressed, but I enjoyed the show.
There's absolutely zero judgment on how mild or wild you want your vacation to be. If you go in thinking it's going to be a nonstop pussyfest, you'll probably be disappointed. But it you have an open mind, no expectations, and treat others with respect, you should fare just fine. That goes for both sexes. Just leave the drama and sexual hang-ups at home. Hedo isn't for everyone.

If you want to hole up on a beach chair and watch others, that's OK. Just don't jerk off or be creepy about it. If you want to get gangbanged on your patio during broad daylight, that's fine too. Just don't do it on the beach.

So, aside from all the sex and naked folks, how is it?
First of all, I can't even imagine what the staff at Hedo deals with on a daily basis, from guest relations and wedding planning to entertainment. I appreciated that a few of the guys working the watersports desk would swing by the beach during the day to check up on me. I can see why many of Hedo's repeat guests consider members of the staff family.
As for the rooms, guests have the option of staying on the "nude" or "prude" side. The former requires nudity at all times, except in restaurants. All rooms have oversized mirrors on the ceilings, TVs offering three porn channels, and in-room fridges stocked with Red Stripe. Some first-floor rooms have hot tubs, and newly renovated rooms have all-glass showers. In-room Internet is available for $15 per day. Or you can schlep your tech to the courtyard for free Wi-Fi.

But seriously, who the hell goes to a nude resort to hang around on the Internet?

Two new pounds on my ass will vouch for how tasty the food is at Hedo. Standouts include all-you-can-eat grilled lobster tails, martini bars, braised oxtails, and -- not to be overlooked -- burgers and pizzas at 3 in the morning at the nude pool's snack bar, which stays open until 4.

Oh, and top-shelf booze, like Grey Goose, flows freely. You will never go hungry or thirsty at Hedo, even if you're stoned at 3am.
Besides sex, what is there to do?
Hedo's got a ton to do when you run out of bodily fluids. If you're into watersports (of the non-piss variety), you can dive with a PADI license or get one on-site, snorkel or take out a kayak, Hobie Cat, or windsurf board. There's also a catamaran party boat that goes out three times a week ($55, all you can drink). Or, hit the spa. I got a killer one-hour massage on the beach from Andrea ($95) as waves lapped a few feet away. There's also pool, tennis, basketball, and volleyball (the epicenter for beach eye-candy, in my opinion). I personally spent an inordinate amount of time simply floating on a raft in the ocean.

Like most all-inclusives, Hedo's also got a 24/7 lineup of events (hosted at the nude and prude pools), like "Have You Ever" beer games, happy hours, and evening entertainment. After-hours, couples on the make convene at the hot tub or playroom for some NSFW action. And if you need (illegal) fuel for your party, there's a nonstop stream of beach vendors peddling drugs. My fave sales pitch? "Brownies! Brownies! Brownies! They make you horny."

Were you self-conscious about being naked?
Not really. I've been stripping down in public settings for a long time. First as a nude model in art school, then at a slew of hippy-dippy, clothing-optional resorts on the West Coast in more recent years. I have voyeuristic and exhibitionist tendencies, so the idea of baring it all arouses me.
One afternoon, I did make the mistake of getting locked out my room while butt-ass naked. OK, I was wearing SPF and sunnies. With housekeeping nowhere in sight, I had to march across the resort, from the nude side to the prude side, to get a key. Everything was fine until I had to traipse through the main dining room (where clothes are required!) to the sparkly new lobby (think super-sleek and lots of white decor) to ask for a new key -- while shuttle buses unloaded guests who were checking in. I'm sure it was NBD, but my nudity felt really out of place in that particular area. And that shuttle bus passengers from nearby resorts like Sandals, got an eyeful. I made a mental note to carry a cover-up when I left the room. Just in case.

The beauty of a place like Hedonism II is that you'll see every single kind of body; from pin-thin model types to women like me, with big tits and an ample booty. On my recent visit, the most attractive woman I encountered had one breast and a scar. (I happen to find scars drop-dead sexy.) There's something so natural about stripping down and a general body acceptance I haven't found in other settings. Even if you take sex out of the equation, it's a damn empowering experience.

For more information on Hedonism II, check out www.hedonism.com.
Sign up here for our daily Thrillist email, and get your fix of the best in food/drink/fun.

Charyn Pfeuffer is a Seattle-based freelance writer who's not afraid to get naked. Follow her on Twitter: @charynpfeuffer.