The Downside of Dating Guys With Beards
Chris Evans may look hunky-dory no matter where he falls on the beard-to-bare spectrum; and Mark Ruffalo did look a bit DILF-ish in that Bernie Sanders campaign video. BUT! Beards, when up close and personal, come with some disastrous side effects.
My first run-in with scruff resulted in a scar on my chin, and my therapist asking if I had fallen. And I'm not the only one: an informal poll of women found the majority sharing a distaste for the hazards of unshaven faces. Sure, the decision of whether to shave is up to a man and his reflection -- but don't say we didn't warn you.
Feel the (beard) burn
A good exfoliant does wonders. Brighter skin! Fewer breakouts! Smaller pores! Keeps Sephora in business! But unless his facial scruff is made from a mix of brown sugar and essential oils, it's more likely imparting redness, rashes, acne, and peeling on all the skin it comes in contact with: face, crotch, or otherwise. We may put up with the pain and mild humiliation of a Brazilian wax, but beard burn in the land down under? Not so much.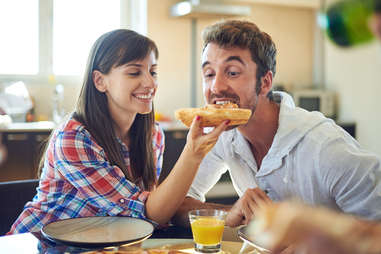 A beard is like a mini fridge… on his face
That croissant he ate for breakfast? Maybe the halal he bought for lunch on the run? There's no need for food-tracking apps when evidence of every meal can be found within the hairy trappings of a man's face.
And let's be fair here: judging from the amount of crumbs that end up on my floor after munching on a bag of chips and the number of coffee and salsa stains that have left their mark on almost every sweatshirt I own, I too would be carrying around a tiny snackpack on my face if I sported a beard. But just as I excuse myself as I fish a piece of rice out of my cleavage, so should men take a few seconds to give their beards a quick shakeout post-dinner.
Or, better yet, shave.
Hair clippings in sinks are the worst
We applaud a man who keeps his beard in check with regular trims and preening -- EXCEPT when the clippings are left scattered around the bathroom like confetti after a hair-fetishist's New Year's party. Men, the next time you
give yourself a face haircut
, clean up after yourself so she doesn't find face pubes among the bristles in her toothbrush.
And to keep things equal here, all you ladies who refuse to fish your hair out of sink and shower drains are just as guilty. Just saying.
Beards look (and feel!) just. Like. Pubes.
Facial hair looks like pubes. Beards
feel
like pubes. Fact. No amount of conditioner can make a man's facial hair soft and pleasurable to the touch (leave your protests in the comments). And making out with a bearded man strikes a stunning resemblance to making out with bearded lady parts. It just does.
Beards require a different kind of pulling out
You know what kills the mood? Getting hair up your nose. Or in your mouth. Or feeling your chin and upper lip go numb. Or any other variety of damage wrought by bearded faces. Having to stop kissing because a tiny furball is lodged in my throat, or because my face is being rubbed raw, isn't my idea of a good time.
There's a stranger in my house!
And lastly, there's a reason why a whole genre of horror movies involves a menacing man entering an innocent woman's house in the middle of the night. No judgments if you and your boyfriend are into intruder-related role-playing, of course!
Seeing your BF emerge from out of nowhere with an entirely hairless face -- especially if you've never seen him sans beard -- can be downright terrifying. Remember guys: surprises can be fun! But not when our lives are flashing before our eyes.
Sign up here for our daily Thrillist email, and get your fix of the best in food/drink/fun.