I admit it: I would make a terrible waitress. First of all, I'm really clumsy, so balancing a tray without plates of food on it would be a challenge, but throw in four glasses of red wine, and I'm absolutely going to trip and dump them on whoever is wearing white suede. Second, as my ex-boyfriend who is a waiter recently said, I'd "suck" at it. I'm not sure if that's because he thinks I'd have a hard time being nice to annoying people (I would) or because I wouldn't be able to handle the pressure of a busy night (also true) or because he knows I enjoy my adult beverages starting promptly at 6pm every evening (uh, that's a whole hour later than most people, so quit yer judging). Probably... all of the above.
 
All of that is to say, I really respect people who work in the service industry. They make my life, well... a life worth living. (Yes, I live my life to eat out because I'm a grown-up whose idea of cooking involves pouring cereal into a bowl.) A good server can totally make a meal so much better, and I really appreciate that. And not just in my heart, but with a generous tip.
 
Maybe it's because I love eating out so much and because good service is so appreciated that I always end up dating waiters. What? I find the men who bring me my cocktails and apps to be very, very attractive! Still, just because someone brings me cocktails and dessert does not mean I have to sleep with them and let them move into my apartment with their Phish poster collection and their dog. A 20% tip should suffice! 
Alas, as much as I love them for what they do and how hard they work, I'm putting my foot down. The cycle of dating waiters ends now. Think I'm being a stuck-up bey-otch? Maybe I am. Still, dating a waiter involves all of THIS stuff, which you have to admit kind of sucks.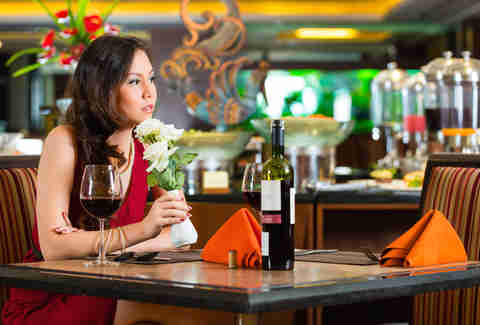 1. Going to most events alone
I'm cool with flying solo now and then, but just once it would be nice to not attend that Friday night dinner/show/party on my lonesome. "Don't you have friends?" you're probably thinking. And so am I. But guess what? I'm old! Almost all of my friends are married. So even if I know people there, usually everyone's coupled off. Plus, while I love my friends, sometimes I want to go to see my favorite band with, you know: my favorite person.
 
2. Totally different sleep schedules
Sleeping is my favorite activity, but when dating a waiter, I'm guaranteed to have that sleep disturbed every night when he gets home at some ungodly hour. (Yes, I'm a light sleeper; yes I tried The Pot; no, it didn't work.) Sorry, call me selfish, but if I have to be up by 7am, I'd prefer not to also be up at 2am. I won't even get into the sex life part of this, but you can probably do the math to figure out how that one works out.
3. Stupid, stupid after-hours bars
At this point, if I could personally find and shut down every bar in San Francisco that illegally serves booze until 5am, I would. Because if I was just complaining about the 2am wakeup, you can only imagine what happens when after-hours bars are involved.
 
4. So much of The Pot
If I have to hear "I missed the bus 'cause I was smoking a spliff with the bussers" one more time, I will... do nothing except write another passive-aggressive article similar to this one.
5. So much of The Cigarettes
I would say that I literally can't understand why anyone in this day and age smokes cigarettes, but I guess if I had several mandatory fifteen-minute breaks with nothing to do, I'd also take up the most disgusting habit in the world.
 
6. So much of The Drinking
Actual quote about the restaurant industry from a waiter I dated: "If your manager buys you a shot, you have to do it." Yes, he said, even if you're taking a night/ day/week/month/lifetime off of drinking, it is unacceptable to be like, "Oh, thanks man, but I'm not doing shots tonight." I find this hard to believe, but apparently THESE ARE THE RULES, and I am a moron for doubting them.
7. All of the bad tippers
I used to love Europeans, but after one August of dating a server, I have to say: "You're all The Worst and stop pretending like you don't know that WE TIP IN AMERICA." Seriously though, a night of bad tips is such a buzz kill, even if it's only happening to the person you love. Who also happens to owe you rent money.
 
8. Late-night diners suck
You know what I used to love? Breezing into a restaurant a half an hour before the kitchen closed and enjoying a delicious meal with my friends. You know what I'll never be able to enjoy again? That. Because now I know my lackadaisical ways ("Oh! Can I just have one more glass of wine?") means I'm keeping some poor server from closing out and going home to his girlfriend. And by "home to his girlfriend," I mean "to the bar with his coworkers," but you've figured that out by now.
9. You'll never vacation together again
You're definitely not going to Tahiti together for two weeks, but you know what else you're probably not doing until he has a 9-to-5 job? Going camping with your friends. Or taking a last-minute ski trip on Friday night because it's dumping snow. Or going on a road trip. Well, you can do some of those things as long as you're able to take time off of your job to fit their schedule and as long as they have two days off in a row and as long as they're not on-call, and oh forget it. You're not ever traveling anywhere together ever again.
 
10. Say bye-bye to holidays
Okay, sure, there's a good chance you'll be able to spend Christmas together, but you're definitely not dressing up as bacon and eggs for Halloween, and forget any hot tongue action at midnight on New Year's. And Valentine's Day? Okay, that holiday sucks anyway. They're better off getting tips. Which is more than you'll be getting as you sit at home and cry into your glass of cheap red wine.
 
11. You're like ships in the night
One person gets home at 2am, sleeps until 9am, and heads back to work at 4pm. The other gets home at 6pm, goes to bed at midnight, and leaves for work at 8am. Doesn't leave a lot of time for having meaningful conversations, or even basic communication. And it turns out, people really don't like to be asked to unload the dishwasher via Post-It note.
Sign up here for our daily Thrillist email, and get your fix of the best in food/drink/fun.
Daisy Barringer is an SF-based freelance writer who loves almost every waiter she's dated. Please don't yell at her on Twitter: @daisy.