Remember that time when you looked at a hamburger and got really turned on? What about a crayon? What about the Teenage Mutant Ninja Turtles? No?
Hmm, weird. Because according to this year's batch of "sexy" Halloween costumes, it seems the American public finds all of the above incredibly boner-inducing. Welcome to Halloween season, when things that are regular become objects of steamy lust and desire!
At least that's what these Halloween costumes that shouldn't exist would have us believe.
Sexy Harry Potter
Showing up half naked with a crimson-and-gold scarf and/or a lightning bolt on your forehead apparently signals that you are Sexy Harry Potter or a Sexy Gryffindor member this Halloween season. It's an amateur move, really. Everybody knows the kids in Slytherin are the real sluts.
Any food
I mean yeah, sure, we are the kings of the #foodporn hashtag over here at Thrillist (just search #forkyeah and you'll know what's up)... but we aren't actually aroused by food (Editor's Note: Drillinger speaks only for herself). Foods like sushi, pizza, hamburgers, and coleslaw are delicious on their own. They don't need a half-naked lady to enhance their appeal. In fact, she just gets in the way.
Pizza rat
How is this still a thing? And so much of a thing that it warrants a mini dress with a tail that accents both boobs and legs? The costume is also equipped with a hood with ears and two cleverly placed pizza slices on the hips, pointing right at the crotch. This is apparently sexy. It was a rat… in the subway… gnawing on garbage.
Beloved children's characters
Really? Walking in on mom & dad doing it didn't mess you up enough? Now you have to sexualize Bert & Ernie by reimagining them as tight boy-shorts-wearing, crop-topped, suspenders-wearing sexpots with plastic heads? Or the Minions as, um, tight boy shorts-wearing, crop-topped, suspenders-wearing sexpots with plastic heads?
A remote
This skin-tight tube dress comes equipped with strategically placed buttons designed to turn up the level of hotness. There's even a MUTE button for when she just starts talking too damn much. They really have thought of everything.
Crayons
You THINK it's a super-short dress, but it's actually a crayon because it says Crayola on it and it comes with a pointy hat. It's like that time you pulled out the Seafoam Green and had to excuse yourself from the coloring corner. No? No one? Hm.
Any animal
You can't really call it an animal if it's a bra, panties, and animal ears. Unless it's a bunny. We can thank The Hef for that.
Santa
Maybe all those years of lap-sitting was some kind of subconscious corruption. Or maybe this red velvet leotard with white fur trim and the boobs busting out of the top is just wildly inappropriate and we should just let the man deliver toys.
The American flag
In Hong Kong, they punish you for booing the Chinese national anthem. What do you think they'd do to you for slutting up the flag?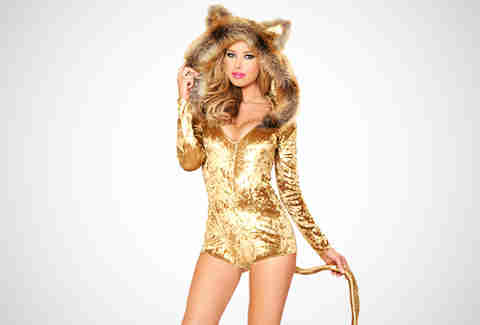 Cecil the lion
What in the actual fuck? This sandy-colored crushed velvet romper comes complete with a fur-trimmed lion's mane hood, a tail, and 100% of boobs in your face. The only thing worse than dressing up as Cecil the lion would be dressing up as the sexy dentist who shot him.
SWAT Hottie
We'll forgive you for your sexy policewoman fantasy as it's a classic. But the fishnet stockings, thigh-high boots, and black leotard with the zipper up the front doesn't exactly say "safety" so much as it says dominatrix. It does come with a hat that says SWAT on it in order to clear up any confusion.
ANYTHING Native American
Yeah... um... this is actually quite horrible. I doubt these tan-colored mini skirts and tube bras have much cultural accuracy. But maybe you should spring for the more expensive ensembles that come with feathery headdresses and furry boots. Haven't we put them through enough?
Deluxe panda bear
What's black and white and has daddy issues? You!
Members of the clergy
This one might be just a little too timely/disturbingly accurate these days.
A baby
A sexy onesie with a bib over the boobs that says "Cry Baby." Complete with a pacifier. Come. On.
 
Sexy Day of the Dead Doll
A slutty take on a piece of Mexican culture, this sexy outfit has face paint, flowers for your hair, and the thigh-high webbed stockings that I'm sure are native to the tradition. Also, when did necrophilia become mainstream sexy?
Teenage Mutant Ninja Turtles
Congratulations. This one may be even worse than the sexy nun. You're putting the half-shell to shame, and doing nothing for the half-chub. That said, we might be into a slutty Bebop & Rocksteady.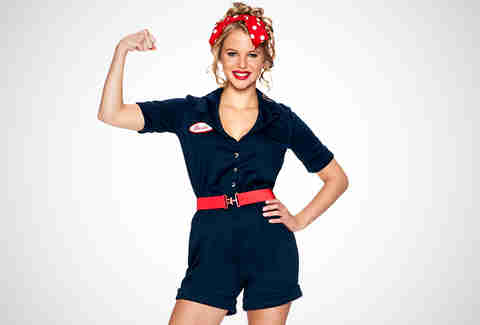 Rosie the Riveter
Aaaand we've just set women's lib back about 70 years.
The Grim Reaper
Nothing like straight-up death to put a little tent in your pants.
Sexy weed
I think we'll need to smoke this skin-tight jumpsuit with pot leaves speckled all over it before we try to comment on it. Also, it reminds us of Uma Thurman from Batman & Robin, which is never a good thing.
Sign up here for our daily Thrillist email, and get your fix of the best in food/drink/fun.
Meagan Drillinger is a freelancer for Thrillist and would really like to see mood rings make a comeback. Follow her on Twitter, Instagram, and Facebook at @drillinjourneys.