Valentine's Day Survival Guide: What To Do When You Forgot It Was V-Day
Thrillist/Jen Kahn
Thrillist/Jen Kahn
Editor's Note:
Valentine's Day matters, but that doesn't keep people from putting off plans 'til the last minute, or even forgetting about it entirely. In an effort to prevent that situation -- or at the very least salvage it -- we put together a three-part guide, released in succession as the 14th approached. This week we tackle the unthinkable: you completely forgot about V-Day, and it's, well, here.
Let's start with the bad news: 53% of women who don't receive anything on Valentine's are likely to break up with their significant other, according to a 2014 poll (and it's doubtful things have changed that much in three years).
Now on to the good news: even though we already reminded you not once but TWICE that V-Day was on the way, we're still going to help you get your act together with this last-minute guide.
Formally promise to make it up to them
No matter your arts and crafts skills, your S.O. is going to need some kind of effort right now, so try a gift that's easy to pull off but heavy on personal touch. A jar of date ideas (because remember, there's a 47% chance that they won't break up with you) is a an easy DIY project for the creatively challenged. Plus it will cost you a minimal amount of money (for now at least), and won't take up more than an hour of your time.
Brainstorm 50 different date ideas and write them out on strips of construction paper. Throw them all into a mason jar (less than $5 at any home goods store hip enough to know mason jars are totally hot right now) and put the lid on top. Make a label that reads "Date Night," and commit to making their picks happen, as written, for however long it takes them to forgive you.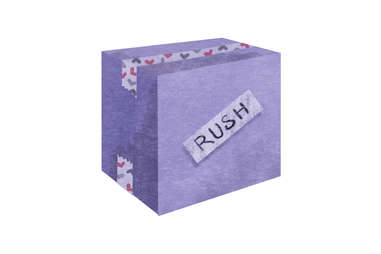 Check out last-minute delivery services
Many companies offer same-day bouquet delivery, but considering that 51% of flower purchases are red roses, you're probably too late for the flower of love. Pink roses are close enough though, and you'll save an average of $20 per bunch. Or scrap the roses altogether and buy Peruvian lilies -- which represent devotion. Make sure to drop that line in the delivery card.
After that, move onto the sweets. In 2015, 53.2% of people put some Valentine's dollars towards their date's sweet tooth. Most larger flower delivery services like Interflora and Fromyouflowers.com offer extras like chocolate and champagne, so get it all in a few clicks.
Alternatively, avoid premium pricing and odd delivery times by being the delivery, and showing up unannounced. Hit the supermarket or florist for a bouquet, and find your town's artisanal chocolate store, like the epically named Dude, Sweet Chocolate in Dallas, and NYC's century-old Li-lac Chocolates. For all they know, you planned this for weeks!
There's still time to exceed Valentine's Day expectations, even if you really are reading this on the 14th. Get the perfect gift at Pandora Jewelry; they'll never guess that you didn't plan this meticulously (and they'll never need the receipt).
Make your own desserts
Show some real ingenuity by bringing your own creations. It's also way simpler than you might think -- chocolate-covered berries.
Start by lining a baking sheet with wax paper to prevent sticking. Melt the chocolate in the microwave for as many one-minute intervals as it takes, stirring after each until smooth. Drizzle the chocolate on top of the berries and let sit for 30 minutes until the chocolate becomes as solid as your relationship will become after this romantic rabbit-from-a-hat is unveiled.
Prep your space
When restaurant reservations aren't an option, pull off a romantic dinner at home. But before you invite your date over, make sure your place looks like your were expecting company. Like, really clean it.
If you've never picked up a duster in your life, search out local cleaning services like Same Day Maids to do the job for you. Have them arrive as early as possible, so you have enough time to get yourself in presentable shape too. Last thing, warm it all up with scented candles (preferably vanilla and sandalwood -- which are both aphrodisiacs).
Try out a staycation
In 2015, it was reported that 35.1% of consumers spent a total of $3.6 billion on travel and entertainment plans alone. Translation? A large number of people in your area are taking their baes away for the weekend.
Fake an elaborate getaway by booking a stay at a hotel in your area and take advantage of the perks that come with hotel living. If that last-minute restaurant reservation didn't work out, room service is a suitably decadent alternative. Afterwards, make like a tourist in your own town and explore everything you typically overlook while rushing to and from work.
Plan an unconventional Valentine's Day date
Forgetting the usual dinner reservations and flower delivery can be turned to your advantage if you have an unconventional, and ultimately more personal, plan in mind. So use the fact that almost everyone else is going the traditional route to pull off some left-of-field reservations or walk-ins.
Where do you turn first? If your date is into athletics, strap on your protective gear and opt for laser tag, a day at the batting cages or indoor skydiving. Each will provide an adrenaline rush you can't get at a hotel bar. More interested in entertainment? Host a horror movie marathon with takeout, or head to an art museum after dark. Neither are typically associated with V-Day, which makes them all the more awesome.
There's always next weekend
As 82% of people say they'd like an experiential Valentine's Day gift, planning a future weekend getaway is the "whoops it's the 14th!" solution to please everybody. Not only will your date be happy, but you'll also buy yourself time to plan, and that includes finding the perfect gift to give them when you arrive. Once you figure out a destination, move swiftly onto the grand reveal. You didn't think you were actually going to get out of dinner, did you?