Fall is still a pretty good time to date in NYC because it's... not the winter. Seriously, good luck with your sex life in the winter. Embrace the cool-but-not-freezing temps and all-apple/pumpkin-everything activities, and most importantly, use these fall dates to ensure that you have someone who is willing to come over when March rolls around. Remember how long March is?
Brush up on your cocktail bars
Drinking outdoors becomes less fun in the fall. During the day, you're probably fine, but a cool wind from the north after sundown gently reminds you that your days of beer gardens and backyard patios are coming to a close. It's time to brush up on cozy cocktail bars where the lighting is most definitely all romantic and dim, and the cocktails have fancy ingredients that you never would have thought to put in a cocktail (I'm looking at you, bacon).
Get totally spooked together so you can coyly cop a feel
In addition to the latest pumpkin-flavored treat and all the foliage, fall is a great time to get the shit scared out of you. Make it romantic at the Nightmare Horror Show, a four-week event running throughout the month of October. The team behind New York's storied Nightmare Haunted House is skipping its 12th year to inaugurate the Nightmare Horror Show at The Clemente on the Lower East Side. The festival involves eight new mini-horror productions.
Go leaf peeping
Despite the unnecessarily creepy name, leaf peeping is one of the cutest things to do with your SO this fall. Visit one of the many parks in NYC or make a day of it and head up to the Catskills or the Hudson Valley. What you choose to peep at later is none of our concern.
Go upstate for all the B&B-ing you can handle
Fall is a great time to hop on Metro-North up the Hudson River to towns like Hastings-on-Hudson, Hudson, Beacon, Sleepy Hollow, etc. for couple-y things like antiquing, wine tasting, gourmet restaurant-ing, or B&B-ing.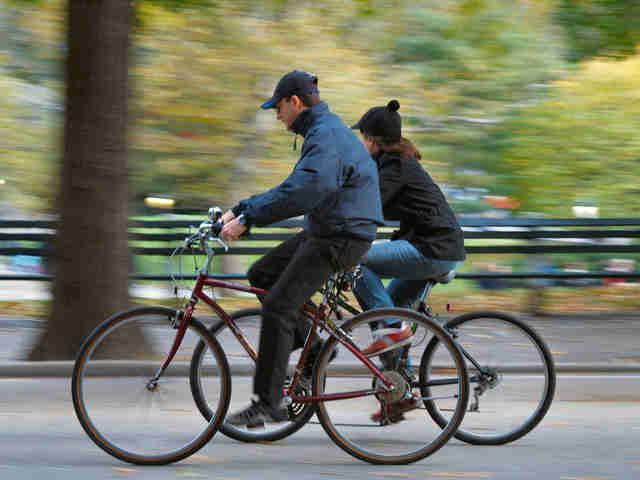 Rent bikes!
Sure, you can do this in summer, too, but biking in 95-degree heat doesn't always have you looking your best. Biking in the fall allows you to do something outdoorsy in NYC without the fear of pitting through your best dating T-shirt.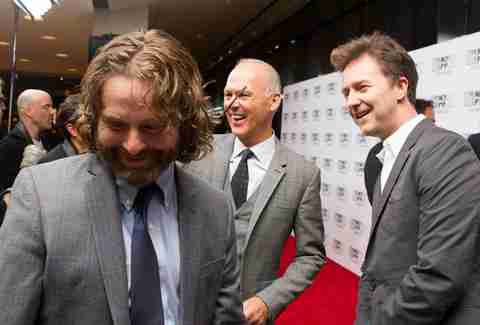 Go totally highbrow on a date classic. Hit the New York Film Festival, which runs until October 11th, and totally stimulate each other's minds.
You and your date might think you're "foodies" (ugh), but you'll be put in your rightful places after the NYC Food & Wine Fest. While the dinners with international chefs and the signature tasting events might be a tad spendy, there is an entire events selection for $100 and under, including things like a wine pairing and a whiskey tasting. And be sure to check out Thrillist's sweet BBQ & The Blues event.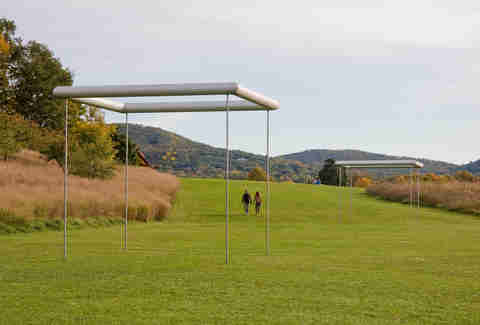 After you're done seeing all the artsy films and eating all the artsy food, perhaps it's time to take in some actual art. Head to New Windsor, NY for 500 acres of massive outdoor art installations. Buses leave from Port Authority, or rent a Zipcar for the day.
Go behind the NYC architectural scenes
For two days every October, NYC opens its doors to some of its most important buildings. Gain access to rarely seen spaces from crypts and clubs to firehouses, mansions, substations, and more. The 2015 Open House New York weekend will run October 17th-18th.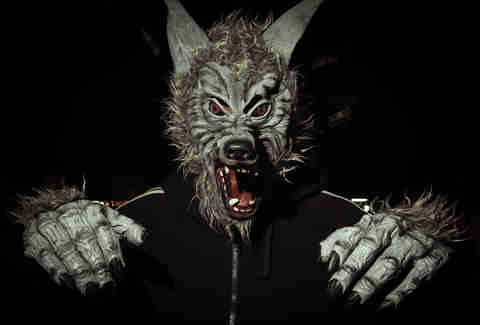 Avoid Halloween... or don't
Halloween in NYC... you either love it or hate it. But chances are you hate it. And this year you'll REALLY hate it because it's on a Saturday. Suggest to your SO that you stay in this weekend and avoid the fray, perhaps with takeout, wine, and your own version of dressing up... whatever that means to you. (If you are the kind that does NOT hate Halloween, you can always hit the parade together, and then get sloppy at a variety of bars throughout the city. That's a great idea for a date.)
... The what? Yeah, exactly. So it might not be on your NYC bucket list, but the Morris-Jumel Mansion is the oldest house in NYC. The mansion dates back to 1765 when it was built as a summer villa for a colonel and his wife. In 1776 George Washington had his headquarters at the mansion during the Battle of Long Island. Why should you care about any of this? Well, first, history is cool. And second, it's definitely haunted: it is reported that at least five ghosts have resided here, and they've been known to reside on the second and third floors. 
Visit farmers' markets and cook things
Stroll hand-in-hand at the variety of greenmarkets throughout the city to stock up on root vegetables, gourds, apples, and other fall things that you can then cook together.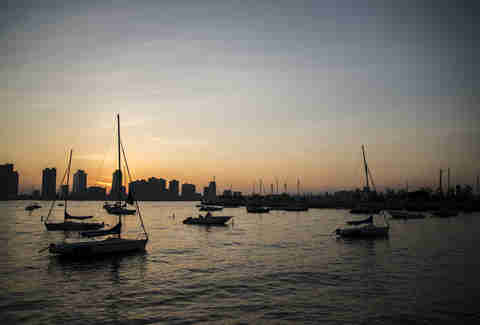 Sail into the sunset... literally
This really is your LAST CHANCE to get on a boat before you settle into a four-month bender of catching up on The Good Wife (twice)... so do it. While you're earning your sea legs, make it romantic and head out at sunset. The Schooner Adirondack departs from Chelsea Piers and Brooklyn Bridge Park Marina.
Board a steamer ship to 1920s Paris at this immersive theater experience. This revue, held at a secret theater in Times Square, will take you back to the days of show girls, Prohibition, and burlesque. It's a sexy, interactive performance (you'll be given a role to play when you walk in) with a surprising mystery twist.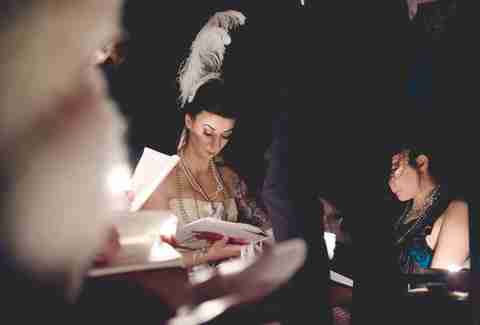 You might not necessarily "get" poetry, but you're sure as hell going to try when women in lingerie are reading it to you and your date. Set up like the bordellos of turn-of-the-century New Orleans and Paris, the Poetry Brothel is a super-sexy night of burlesque, live jazz, and poetry. Hire a poetry "whore" for the evening, who will take you both into the back room for a very intimate kind of reading.
Sign up here for our daily NYC email and be the first to get all the food/drink/fun New York has to offer.
Meagan Drillinger is a freelance writer for Thrillist. She only downloads Tinder in the winter. Follow her on Facebook, Instagram, and Twitter at @drillinjourneys.