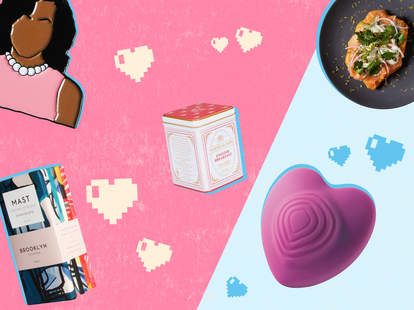 The Perfect Valentine's Day Gift for Every Stage of an NYC Relationship
Your wallet just recovered from all your holiday splurges and the self-prescribed retail therapy you've been treating yourself to since then, and oh good, February 14 is rolling around so you can buy even more presents!
The good news is, depending on your level of commitment, you probably won't need to postpone paying next month's rent just so you can take your partner to Le Bernardin. To help you pick out the perfect (and completely affordable) made-in-NYC or found-in-NYC gift for whoever you're celebrating with, we've broken gifts down by commitment level -- from the very early, "which L train stop do you live off?" phase to the sharing-a-studio-apartment-closet stage.
Evan Lockhart/Thrillist
Price: $7.95
In addition to tasting great on pretty much anything, this hot sauce made from peppers grown in Bronx community gardens also gives back to the city by supporting garden and food education programs. Just please, don't include a note about "spicing things up."
Price: $8.50 and up
While tea may not sound like the most exciting gift, the massive selection of satin-bagged blends from this SoHo-based shop can be matched with anyone's flavor preferences (everything from chocolate mint to classic green and darjeeling). Plus, even if this season remains Polar Vortex-free, curling up with a warm mug of tea is still an essential winter activity -- and if you two last until spring, you can use the recyclable tin to plant flowers or herbs on your new boo's windowsill.
Price: $10 and up
Don't worry -- the cockroach will be kept far away from your apartment, in the Bronx Zoo. The zoo's annual Valentine's fundraiser lets you name a cockroach after someone you (or your partner) strongly dislike, which should crack a smile on your date's face as you hand them the naming certificate and a token plush cockroach. Plus, you'll probably get closer to that ultimate goal of having their friends think you're funny.
Price: $5
Let your new love (or crush or whomever), wear your heart on their sleeve with this iron-on patch that's not only in line with New York's continued infatuation with the '90s, but will also match pretty much anything.
Price: $15
If you're looking to make a joke out of the whole gift-giving process (but also want to secretly show you care by spending your lunch funds at Dean & DeLuca), gift this fancy tequila-infused chocolate sauce, and include a note about it being strictly for topping ice cream -- not for any funny business.
EVAN LOCKHART/Thrillist
Price: $34
Nothing says "I'm really into you" like expensive gummies, right? This special Valentine's Day candy gift box includes four 3.5oz cubes of candies, including Sugarfina's beloved Whispering Angel Rosé gummy roses, sweet and sour sugar lips, ice cream cone gummies, and Fuji apple caramels. A less-pink, less V-Day-in-your-face gift box is also available.
Price: $45
If you're looking to keep things fairly basic and go the chocolate route, skip the Duane Reade checkout line and anything involving a heart, and opt for one of NYC-based Mast Brothers' collections -- like the apropos Brooklyn collection, featuring flavors like olive oil, rooftop chili, and smoked maple.
Price: $8.95
If your partner's heart beats for the former-First Lady, let them pin this portrait onto their favorite coat or bag. It's sold at the Strand, which means you can also grab a thoughtful book or journal at the same time.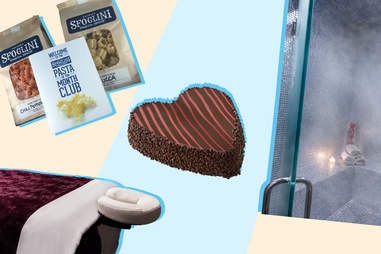 EVAN LOCKHART/Thrillist
Price: $75
There's quite possibly no better way to show someone that you really get them than by gifting them a pasta subscription. Sfoglini's Pasta of the Month Club includes a new bag of Brooklyn-made pasta and sauce (made with local ingredients) each month, sure to get your partner out of their Barilla-and-vodka-sauce funk.
Price: $270 for 60 minutes
If you want to guarantee this relationship lasts beyond your first Valentine's Day together, treat your partner to a couple's massage that will help you both unwind in the best way possible. Haven Spa also has a steam room and relaxation lounge, so you can de-stress together before and after your massage treatment.
Price: $45
If your partner's not so into gift-giving (or you've both agreed to not spend the money this year), but you still want to surprise them with something for the holiday, opt for the ultimate heart-shaped-chocolate-box upgrade: a chocolate-covered heart-shaped cheesecake from Brooklyn's beloved Junior's that's very much a gift for two (or more). The best gift of all? Permission to indulge in a cake all to themselves.

EVAN LOCKHART/Thrillist
Price: $125
So you've been to all the museums together (or skipped them to stay home and watch a Netflix documentary about architecture... or House Hunters, fine) -- why not see New York in a new light, together? Heart of the Art offers 50-minute private tours at The Met, The Whitney, MoMA, or the Brooklyn Museum that can be custom-designed based on a couple's interests or follow certain topics like food, black art, gay artists, and more. A bottle of wine is gifted to you at the end of the tour so you can drink and discuss all your newfound knowledge.
Price: $147
At this point in the relationship, you're probably past your early days of Trader Joe's wine, so get the wine-lover in your life something far better (and more local!); Brooklyn Winery's bundle of New York State wines includes a mix of six high-end red and white bottles, all made right here.
Price: Your choice
Leave the sex toy choice up to your boo with a gift card to New York's sex-positive, judgement-free boutique. Babeland also offers classes, if you want to sign up for anything from "Bondage for Beginners" to "Moregasm."
Subway Series tickets
Price: $27+
Whether you're both Yankees fans or Mets fans or a house divided, celebrate your love for New York sports (or stadium food, if only one of you cares about baseball) with tickets to the annual Yankees vs. Mets series. The games will take place August 14-15 at Yankee Stadium and August 16-17 at Citi Field, so you have a full six months to get your partner excited for the big game. You can get tickets at Mets.mlb.com and Yankees.mlb.com.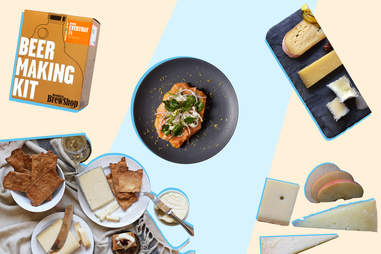 EVAN LOCKHART/Thrillist
Price: $225
Get out of the house and spend a Sunday with your true love: cheese. The new Weekend at Murray's experience includes a tour of the 75-year-old flagship store on Bleecker St, where you'll learn about Murray's cave-aged cheese and get some New York City history you may be able to use at your next trivia night. The tour is followed by a pairing lesson, where you'll learn to pair cheese with charcuterie, beer, wine, and spirits. The day ends with a reality show-style Pair-Off Competition, where you'll play cheesemonger and maybe even win a prize. Everyone goes home with a gift card... so you can buy more cheese.
Price: $40
If you and your boo are in need of a new hobby other than binging The OA, why not start brewing your own beer at home? This Brooklyn Brew Shop kit includes everything you need (ingredients, equipment, instructions) to learn to make your own gallon of craft beer -- at a lower price than going out for some craft pints.
Price: $377
If you both desperately need to get out of the house, head no further than East 28th St, where the Park South Hotel is offering a Park and Make Out package for two. You'll get an executive king room for the night, a pasta-making class at the in-hotel restaurant Covina, and a $50 gift card to drink and dine there as well.
Price: $150/person
Your going-out-to-the-bar days may be over, or few and far between, but that's no excuse not to step up your cocktail-on-the-couch game. Chris Marshall, head mixologist at Chinatown's apothecary-themed speakeasy, teaches two-hour cocktail-making classes ranging from how to use fresh greenmarket ingredients, making cocktails with absinthe, using agave spirits, and creating classic cocktails dating back to Prohibition.
Sign up here for our daily NYC email and be the first to get all the food/drink/fun New York has to offer.
Melissa is a writer living in NYC who still doesn't know what to get her girlfriend for Valentine's Day.