Here's What Happens on an Internet First Date at Señor Frog's in NYC
Tonight I meet my husband. My best friend, my lover, my forever. His name is Matt and he is Canadian. And instead of taking him to an Edison-bulbed wine bar filled with reclaimed wood, we are going to Señor Frog's, the just-opened, fiesta-themed fever dream of a chain restaurant in the heart of Times Square. The only thing that will be reclaimed tonight is my passion for that heart-pounding, sweaty-palmed sensation that comes from being in love. Tonight is filled with promise.
Well, sort of. I pitched this as a joke, but then NYC editor Andrew Zimmer was all like "Oh wait, can you actually do that?" and I was all, "Can I expense it?" and he was all like, "Yeah," and then I was like "Dope, I can actually do that."
So here we are! Reciprocal attraction led Matt and I to match on Hinge, the Tinder alternative that's based on mutual Facebook friends. "Hey Matt would you like to go to Señor Frog's in Times Square with me tomorrow night?" I said. "Hey Carrie -- what a strange but fun idea. Yeah, I'd be down," was his response. A really great start.
Here are some things I know about Matt:
1. He's Canadian.
2. He agreed to spend his Thursday night with me at Señor Frog's.
Here are some things I know about Señor Frog's:
1. It's a popular spring break destination.
2. The website indicates that drinks come in sand castle buckets.
I feel good on both fronts.
Matt texts me to let me know he's running late, which is considerate, so I enter the restaurant on my own. The fluorescent lighting of the first floor -- that is entirely merchandise -- is harsh, like a Mexican-themed H&M. I tell the woman at the desk of my 7:15pm dinner reservation, and she walkie-talkies down to the seating area to let the staff know I have arrived.
The bar is mostly empty, save for 30 employees of varying job descriptions and maybe four pairs of overweight, middle-aged women wearing balloon hats and drinking from plastic palm tree cocktail cups that look undeniably phallic.
Matt greets me shortly. He is tall and bearded, and I am relieved because he lives up to his profile picture. I'm absolutely shallow, but also don't like to be deceived.
We're seated with a marvelous view of the stage where a live band is playing along to Taylor Swift's "Shake It Off." This is the first of four times we will hear this song. A frenzied 42-year-old Ukrainian Anne of Green Gables takes our order before she joins her colleagues on stage for a vigorous dance spectacular followed by a conga line led by a man with half his head shaved. We opt out of the conga line, but there will be others.
The vibe is intoxicating, and so are the excruciatingly sweet $20 Bahama Mamas -- rum, Malibu, banana liquor, fresh orange, and pineapple juice with grenadine on top -- we're now drinking out of penis cups. Twenty minutes later, we confirm to the pushy, pushy beer girl that yes, we would like the $15 pitcher deal that comes with a free T-shirt.
A girl comes by and makes us balloon hats. I lie to Balloon Girl and say we're visiting NYC from Montreal, partially because I think innocuous and spontaneous untruths are adorably appealing on first dates, but also because I might be embarrassed to tell her I live 20 minutes south on the Q train.
Our chicken chimichangas and sizzling steak fajitas arrive. I read somewhere on the Internet that the chimichangas are a must-have, which is why I ordered them. But the Internet has let me down: they taste like a microwaveable frozen burrito/leftover egg roll hybrid. Peas might be involved. The mouthfeel is not satisfying. But I didn't come to Señor Frog's to eat -- I came to find love. And to partake in an "anything goes" atmosphere.
Matt and I agree on many things. We both hate scary movies, we both unabashedly love Carly Rae Jepsen, we both think first dates are hard because expectations are very rarely aligned, and we both visited Disney World as 11-year-olds and found it gauche. I've never liked people in costumes, particularly this giant Señor Frog who just hopped past our table.
Matt also has two older siblings who are 10 and eight years older than he. Mine are 11 and eight years older than I. I'm beginning to think we're soul mates. "Do you think we're soul mates?" I ask. He thinks maybe. At least that's what I hear. I'm having a lot of trouble hearing over these smooth Bowie interpretations.
"Who ever knows what this song is will win a free hat!" "Under Pressure!" we yell. "Under Pressure!" we yell. "Under Pressure!" we yell. We are ignored. Our bond grows stronger every passing minute.
But hats are a hot commodity here, and won with ease. I win a lime green trucker hat for knowing that Neil Diamond sings "Sweet Caroline." The woman at the next table openly expresses her anger to the MC that I have won this hat and she has not. She is not a good sport. I exchange my balloon crown and wear this hat backwards the rest of the night. I think it looks pretty good.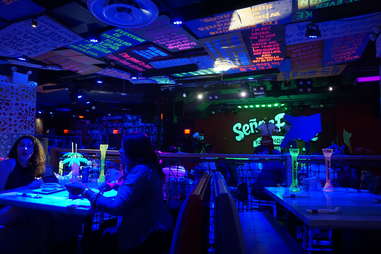 We're forcibly pulled from our seats to join the third conga line of the night that's composed 60/40 of staff and patrons. My hands are on the shoulders of the server in front of me, and Matt's hands are on mine. We try to recruit others to our conga line as we wind around the cavernous space. Most are too cool, which is ironic as they have already presumably willingly come to Señor Frog's Times Square. Pink shots are squirted into our mouths from a plastic bucket in periodic intervals and our server mans the first station: "Here comes my favorite table!" she yells. I flash Matt a knowing smile. We're in this together.
We're back at the table and a lady with a big ol' stack of sombreros comes by and asks us if we might wear them while she takes our picture. We agree because this is not a night for naysaying. I ask if she can use my camera to do the same. "No, I'll get fired," she says. I don't push the issue as I do not wish to get her fired. Later she comes back and offers us the printed picture in a glossy frame, like the kind you get after an exciting roller coaster. It's $17.50. We politely decline, though I do mention to Matt that I think it would be a lovely option for our engagement announcements.
A server makes us stand up in front of our table and sing "Jeremiah Was A Bullfrog" with choreographed hand motions and then we get serious for a minute. We yell over the "Cha Cha Slide" about how difficult dating in NYC is, but how maybe the trick is to be open about where things could go -- to reject expectation and enjoy getting to know someone new at a Mexican-themed franchised bar and grill infamous for its party scene. The boundless optimism that something good will come of a first date is why we keep doing it, after all.
We've hit our limit with the noise and lights so we pack up our penis cups and head out. But before hopping on our respective subways, we totally make out, you guys.
Sign up here for our daily NYC email and be the first to get all the food/drink/fun New York has to offer.
Carrie Dennis is a national editor for Thrillist. She would go to Señor Frogs more often but Thrillist doesn't pay her enough. Follow her on Twitter: @CarrrieDennnis.