Dating in NYC in the fall can be amazing, especially if you're going on these dates. But fall dates also have the tendency to be pretty awful and lame, and make you that couple that blows up our Instagram feeds with things like apple picking and pumpkin carving. Don't be that couple. No one likes that couple. Here are the top 11 fall dates to avoid, ranked by obnoxiousness.
11. Making out in foliage
We DO live near the Hudson Valley, which is prime leaf peeping territory. I can't deny you that leaf peeping is a pretty great date. But there's no need to become overly erotic in front of the leaves, next to the leaves, or in a pile of the leaves, and then take pouty selfies with a variety of hue-enhancing filters.
10. Wine and painting
We get it. Sometimes you want to try new things in NYC aside from going to the museums and all the bars. Getting creative in NYC is a good thing. But is this REALLY an activity you enjoy as a couple? I mean… really? Your boyfriend, sitting there sipping a glass of malbec and making a paint-by-number bowl of fruit, is legitimately enjoying himself? Alright then, if you say so.
9. Bowling
Read this list. Bowling was invented for people in the suburbs who don't live in New York City.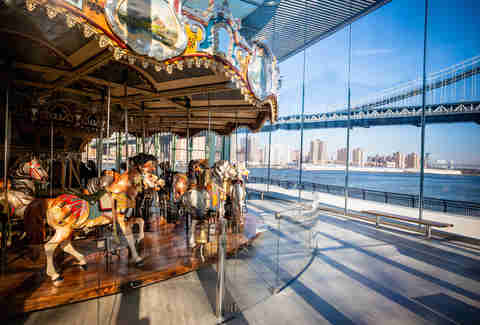 8. Riding Jane's Carousel in Brooklyn Bridge Park
This was a cute date idea when it opened because it was new, and New Yorkers like new things. But it's not new anymore and now you're just the adult couple on a carousel.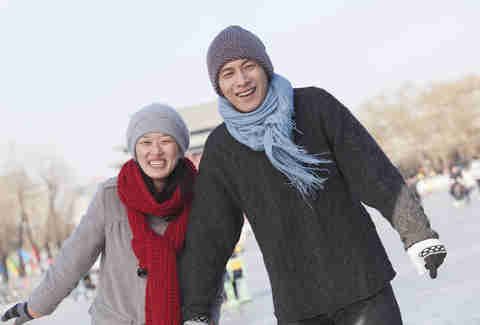 7. Ice skating at Rockefeller Center. OR Bryant Park.
Congratulations, you just spent $36 to wear ice skates that 75 other feet have also been in and then skate around in a circle for 45 minutes. But at least that Instagram photo of you guys holding hands on the ice got 11 likes.
6. Shopping at the Brooklyn Flea
Fall is the start of cuffing season, so it's only natural that you're in nesting mode, looking to deck out your apartment with adoooorable, unique finds that the two of you can look at all winter long while you order takeout and have sex. But those antique suitcases stacked on top of each other would NOT make a good end table, and that rusty fan from the 1940s is NOT an amazing accent piece.
5. Anything with cider and donuts
Nothing like a piping-hot cup of cider and a sugary cinnamon donut at Stone Ridge Orchard or Stuart's Fruit Farm to remind you of grandma sex.
4. Pumpkin carving
YOU might think it's cute that you've carved each other's initials into a jack-o'-lantern, along with words like "4 ever" and perhaps a botched heart or two. It's probably even MORE adorable if you went to the pumpkin patch and picked them together. But please, leave the pumpkin carving Instas to us single people who buy our pumpkins at the corner bodega and then carve them on our friend's Brooklyn rooftop over copious amounts of mimosas or Bloody Marys. Let us have this one. #singleandlovingit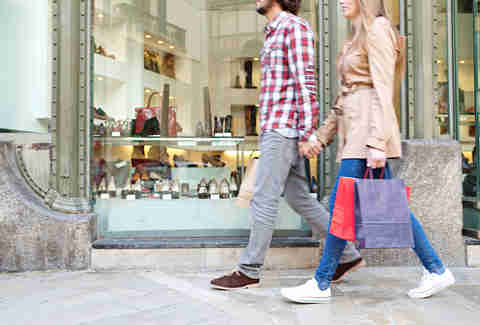 3. Hitting SoHo for sweaters
Couples that shop together are THE WORST. Especially in the fall when it's chilly and they can hold hands and take up what's left of the very limited SoHo sidewalk space. Plus, every other word out of their mouths is "Babe" or "Hun." As in, "Babe, does this look good on me?" Or "Hun, let's hit Balthazar after we're done for brunch!" Order online.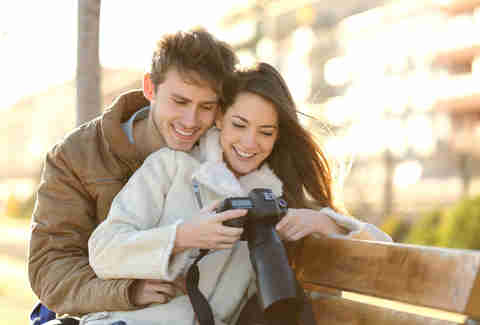 2. Taking photos of fall things
You fell for each other because you have DSLR cameras and are pretty savvy at selecting sweet filters (and therefore, by default, you're both artsy), but running around snapping photos of Central Park's leaves and the autumn sunset from the Brooklyn Bridge and all the colorful corn at the Union Square farmers market together doesn't make you a bohemian, adorable couple. It makes you pretentious AF.
1. Apple picking
I have no idea how this became a romantic thing to do, but from September through November, every time I open Instagram, everyone in a relationship in the tri-state area is heading to Westchester to hold hands and pick apples and photograph it. Maybe plucking fruit together subtly reminds you both of being fertile and it's a type of five-borough foreplay the rest of us not in relationships aren't aware of. But somehow I doubt it. Stop going apple picking. Or at least make some shit out of those apples and invite me over to eat it.
Sign up here for our daily NYC email and be the first to get all the food/drink/fun New York has to offer.
Meagan Drillinger is a freelancer for Thrillist and secretly wants to be that couple. Follow her on Twitter, Instagram, and Facebook at @drillinjourneys.