9 Brand-New NYC Date Ideas Perfect for Summer
Summer dating in New York City is fantastic because A) it's not winter and B) you're already half-naked. So no matter how high those temperatures rise, and as tempting as A/C may be, don't allow yourself to sit inside with your boo night after night -- there are so many ways to take advantage of the city as a couple in the summer (no matter if you're on date one or 70), from beer tastings to rooftop movies to laser tag brunch (yes, that's a real thing).
Port Morris
Beer tastings at the Brooklyn Brewery, SingleCut Beersmiths, and Threes Brewing were great date ideas until... everyone started going there. Mix it up this summer and head to the Bronx. The easy-to-access brewery is a straight shot up the 6 train, perfect to hit pre- or post-Yankees, and even has a dog-friendly backyard. The tasting room is also now open seven days a week.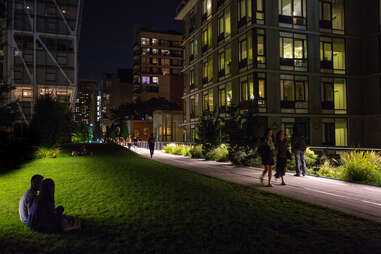 Chelsea
OK, maybe stargazing is a little cliché, but so is playing music during sex and you like that just fine. Also, this is free. Head to the High Line's Diller-von Furstenberg Sundeck every Tuesday night for a walk along the park and a little telescope action provided by the members of the Amateur Astronomers Association of New York. It's available every Tuesday through October 25th.
Hell's Kitchen
A romantic couples spa day in NYC will either take you to the far stretches of Brighton Beach or Flushing, or else you're hemorrhaging money at a Manhattan day spa. For something more affordable, and a little closer, consider checking out The OUT Hotel's spa, which has recently opened to day passes. Just $60 offers access to amenities like steam rooms, a sauna, hot tubs, a fitness center, an indoor solarium, an outdoor sun deck, massage therapy (with advanced notice) and outdoor table service (available upon request). Day passes can be purchased every day between 7am and midnight.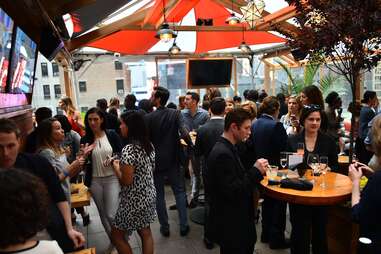 Theater District
Rooftop movies are hardly new to NYC, but they ARE new to the Haven rooftop deck, and these are totally free to attend. Every Monday the rooftop will transform into an outdoor cinema, complete with food and beverage pairings (those will not be free). June will be devoted to "Exotic Locations," while July is owned by "Moves That Rock." In honor of the Olympics, August will be a double whammy of "Sports Themed" movies and two weeks of streaming the Olympic Games live.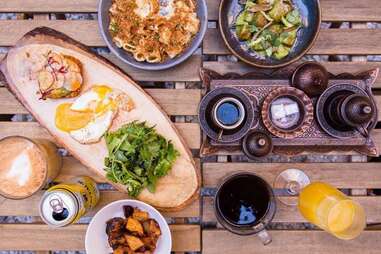 Bushwick
If you and your boo are into food (you live in here, so chances you are), get ready to celebrate all things food and all things Bushwick on June 14th. The Taste of Bushwick brings together the neighborhood's best restaurants, bars, gourmet retailers, wine shops, and more for an outdoor celebration. New and established restaurants like BK Jani (Pakistani BBQ), Fair Weather Bushwick, Faro, Fine and Raw Chocolate Factory, Foster Sundry, Maite, and more will all be in attendance. The event is from 6:30 to 9pm on a private street within the Boar's Head warehouse at 24 Rock St.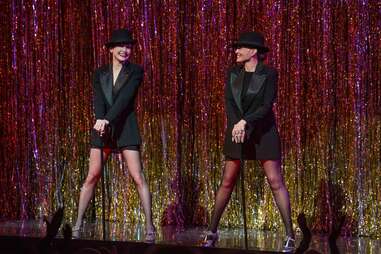 Central Park
Broadway shows are always a hit-or-miss date idea. Tickets are either outrageously expensive, or someone is waiting in line a really, really long time to get them. But in honor of the 20th anniversary of Chicago, try your luck at scoring a seat at the one-night-only FREE showing of the musical in Central Park. On Wednesday, August 31st the performance will be open and free for all visitors in a concert-style performance. Doors open at 7pm, but get there early to get a prime spot for your blanket and hand-holding.
Bushwick
Yeah, Nitehawk kind of already did this. But can you EVER get a seat there now? Try Syndicated on for size. This new movie theater opened back in January and offers a 50-seat cinema, as well as a 70-seat restaurant and 28-seat bar. The theater screens classic films, indies, and has thematic festivals. And eating and drinking while watching a movie will never get old.
Hell's Kitchen
This. Is. A. Thing. And what's better foreplay than brunch and chasing each other with laser guns? Once a month Hudson Terrace will transform its Salon level into a 3,000sqft Lazer Brunch. The Rooftop provides a relaxing retreat between sets of flirty laser frenzy fun, where there will be food, drink, and dancing. Doors open at 1pm and tickets start at $15.
Rockefeller Center
What New Yorker's pants don't automatically drop at the sight of puppies? You might know Del Frisco's from the Taxi TV ads, but this summer you're going to know it for the best summer date you've ever been on. Over the weekends this season, New Yorkers and their dogs can come to Rockefeller Center for a day of alfresco dining and interactive lawn games. Dogs will get to snack on homemade dog treats, while owners eat human food and drink human cocktails on the outdoor patio. Frisbees and water bowls will also be available. One of those is just for the dogs.
Sign up here for our daily NYC email and be the first to get all the food/drink/fun New York has to offer.