The NYC Sex and Dating Bucket List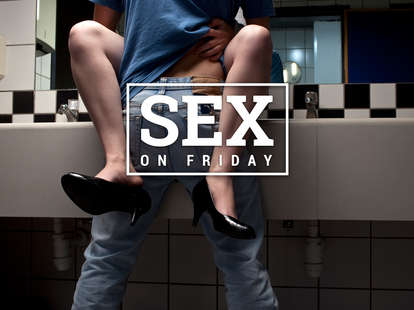 The thing about New York is, despite the fact that it's considered one of the hardest places to date, it's actually one of the best places to go on dates. From rooftops, to Sleep No More, to the boats in Central Park, there's such an abundance of killer activities here, it's why most people in this city are completely content with dating themselves.
Still, some things are better done in twos, especially when it comes to tackling the 43 illicit/romantic (but mainly illicit) items on our sex and dating bucket list. And since in New York, you essentially hide in plain sight, the journey to check these off is pretty damn hot.
​1. Have sex on an empty subway car
The real Risky Business part about this is the possibility of exposed skin grazing any part of the actual subway.

2. Make out on top of the Empire State Building
Sleepless in Seattle, An Affair to Remember, Chuck & Blair from Gossip Girl? None of those chumps actually made out up there. You should.

3. Rent a boat at Central Park's Loeb Boathouse
Then try to knock each other out of it. Kidding! Sorta.

4. Go on a date to a Yankees game
Keep all the souvenir beer cups.

5. Or better yet, a Mets game
6. But above all else, go to the US Open
Whether you're that into tennis won't be a factor when you hit the day session, drink all the sponsored cocktails (because they're actually delicious), and make out on one of the many side courts.
7. Have sex on your apartment's rooftop
Especially if it's one you're not technically allowed on. And odds are that's definitely the case.
8. Date someone who lives in a 'hood you never go to
Unless it's like, Hoboken.
9. Lock down a booty call with someone who lives near you
Maybe even in your building, if you're ballsy enough for that potential fallout.
10. Meet in the middle of the Brooklyn Bridge
Set a specific time to be there, then walk over the rest together.
11. Have a fling with your friend's roommate
See how long you can keep this from your friend.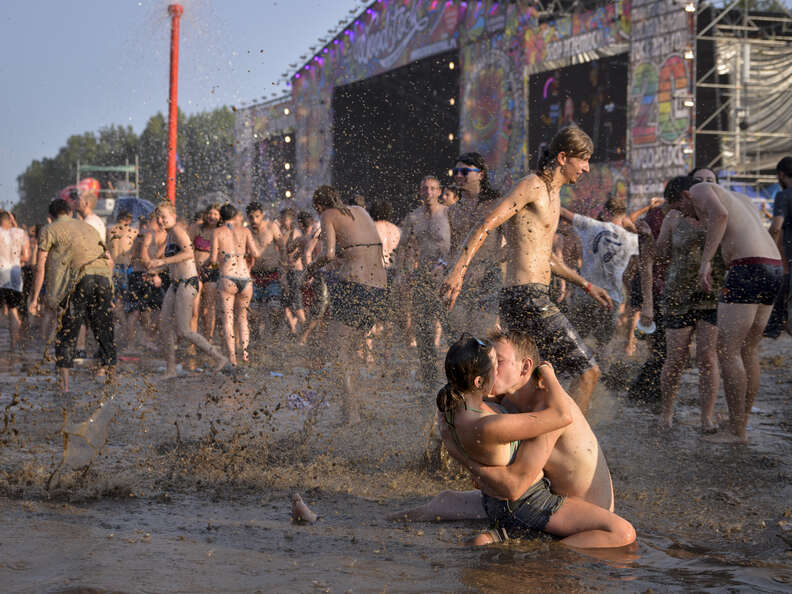 12. Date someone you met at Governors Ball
But only go to music festivals together. You probably won't have much more in common.

13. Gals: have a one-night stand with a Wall St bro you met at Stone Street
After you make him take you to the fanciest dinner of all time… obviously.

14. Guys: bang an art gallery receptionist
Then just zone out under the whales.

Afterwards, reward yourself with a handful of the free Chex Mix.
17. Sleep with a tourist somewhere really touristy
And we don't mean their hotel room (unless it's the Hyatt Times Square). Bonus points if it's anywhere near the Statue of Liberty.
18. Go on a sake and dumpling tour of Chinatown
Whoever taps out first has to eat 10 more dumplings.
19. Have sex in the bathroom at the Bowery Hotel
Or the Gramercy Park Hotel, or somewhere equally as fancy. And maybe steal some towels while you're at it.
20. Pick a block you've never been to, and hit every bar and restaurant on it
Ideally, make this an ongoing thing.
21. Pack a flask and ride the Staten Island Ferry all day
Even hold hands, should you feel so inclined.
If you can pull that off in the Rare Book Division, we'll be extra impressed.
While we can't reveal our sources, it's been done.
24. Hook up at a minimum of five museums
Shouldn't be too hard, New York City does have 83 of them.
25. Go on a really romantic date to the Times Square Olive Garden
Only order cocktails so you can still score the unlimited salad and breadsticks.
Loser buys the rounds of craft beers.
Exceed the drink minimum and hope Louis C.K. shows up for a surprise set.
Pack a stealth six-pack and shag... some balls.
Dance until you feel you may collapse during his Thursday night sets.
"The lady and I will have the ShackBurger. And cheese fries. And a black and white concrete... with two straws."
31. Get overly dressed up and go to a jazz club in Harlem
Minton's is a great start.
32. Sneak into, and have sex in, a hotel pool
We already told you which ones and how to do it.
Then use them immediately, duh.
34. Play the penis game in Brooklyn Bridge Park
Loser has to remove one article of clothing.
35. Give or receive a handy in an Uber
Be carefree about the fact that your passenger rating will probably be affected by this.
36. Pick a sceney bar and pretend you're strangers
Role-play your face off, and then sneak into the bathroom separately.
37. Sleep with a member of European nobility
… because they all come to New York to sow their wild oats before producing upper-class children.
38. Give someone oral on the balcony-level seats at a Broadway show
Answer Alanis Morissette's question, "Would she go down on you in a theater?" with a big fat YES.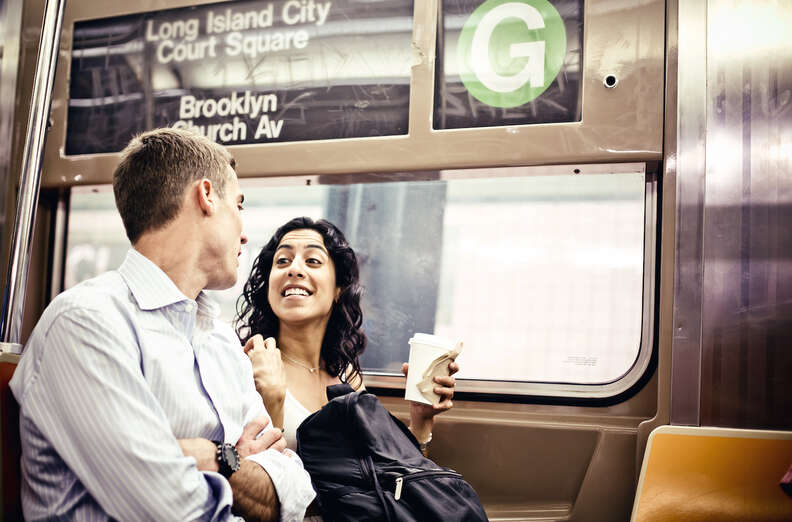 Even the Bronx, but you don't need to tell anyone.
40. Make out in Central Park like a love-struck tourist
Preferably on a blanket in Sheep Meadow, or by the fountain. Also take a selfie.
41. Have sex at the Central Park Zoo
Preferably after feeding time.
You'll be in masks, so try to find each other via code word. Kiss when you do.
43. Have sex on a lofted bed
Because someone has one. This is New York.
Sign up here for our daily NYC email and be the first to get all the food/drink/fun New York has to offer.
Liz Newman is a freelance writer for Thrillist and remains undefeated at the penis game. Follow her on Instagram at @lizn813.