35 Things I've Learned About Dating in NYC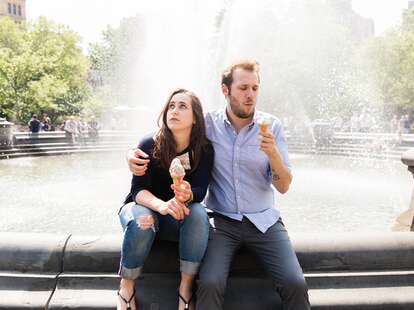 New York is probably the sexiest city in the world (and certainly one of the easiest to find sex in), but when it comes to finding more than momentary love, dating here can be a little tricky. Between the constant swiping, random dick pics, terrible first dates, and expensive cab rides home, New York can tire out even the most dedicated dater.
A little over 10 years ago, I moved here with the expectation that I was going to meet a smart, beautiful, romantic man and we'd ride our shared black car into happily ever after, which was located somewhere between Flatiron and Tribeca.
Of course, it all came true! Just kidding, this is real life and not a Darren Star TV show. Instead, I learned these 35 crucial things about dating in New York City.
If you're in the Meatpacking District with a finance guy who buys two pre-dinner drinks at Catch with his black Amex, you are on the H&M discount rack of New York Dates.
85% of people who meet at wine bars are meeting for the first time. "Monica?" No.
On Tinder, lying about height is the new lying about age.
There are women who actually book Tinder dates to save money on groceries.
No app or site is better than another because everybody is on all of them.
Especially your ex.
You're going to juggle four people at once, and they're going to start to all blend into the same gingham shirt-wearing freelance writer dude from Bushwick by way of Ohio.
Make no mistake: every person you have dated has thoroughly stalked your social media accounts (and will most likely continue to after you stop seeing each other). You will use this to your advantage once you realize that a halfway decent Snapchat selfie using that gold leaf crown filter will get you five texts in an hour.
If you go out with a struggling stand-up comedian, your date will absolutely be at a bar where they perform and get discounts on drinks.
They always come back. Even if it's three years later and you were sure you'd never hear from them again, you will get a text one night at 2am that says "Hi."
More one-night stands are determined in diners than bars.
Ghosting isn't playing hard to get.
Blocking is rarely permanent.
If you live here for at least 10 years, you will date a model/bartender/trainer.
When people find out you have dated a model/bartender/trainer, they will judge you hard.
You'll make out with your friends.
Live sporting events at MSG are actually amazing dates. Even if you don't follow sports.
Day dates to museums involve of a bit of false advertising (you really care that much about Degas?), but everyone is typically on board.
Brunch dates are better than dinner dates.
If you talk to the bartender who looks like Sean Penn long enough, you'll go on a date with him.
And your date won't go so well.
And one day he'll become a famous street artist with more Instagram followers than you.
You'll also go on a date where you go on a boat cruise, break onto the top of the cruise ship, go to an art gallery opening, and then an after-hours club. You'll then wake up in Bushwick on a ferry-turned-commune apartment after making out all night with a man who flies planes and plays you a song on his guitar. You'll text your friends from his ferry in the morning and ask where to meet them for brunch.
You will have full-blown text relationships with people you never meet.
Everyone in this city is on a perpetual first date they didn't really want to go on.
You will accept dates knowing you'll never go and you'll sometimes cancel because the ride back to your borough will cost a fortune.
You will go on a date with someone who has a color-coordinated closet and more face products than you, which will inevitably give you American Psycho flashbacks and lead you to make a weird excuse about your non-existent cat in order to leave.
You will go over to your ex's house after a date with someone else. They will be mostly OK with this.
The zoo is full of families and people on third dates feeling awkward in front of apes.
Drinking too much on a first date is not a great idea.
Unless you're doing shots.
But that would mean you're in NJ.
There will always be a hot person on the subway that you desperately hope will find a way to talk to you. They will stare at you like they are thinking the same thing. No one will do anything.
Everyone complains about dating in New York.
But who knows? Maybe someone will one day ask someone else out on the M train…

Sign up here for our daily NYC email and be the first to get all the food/drink/fun New York has to offer.