Welcome to Buffet Season, New York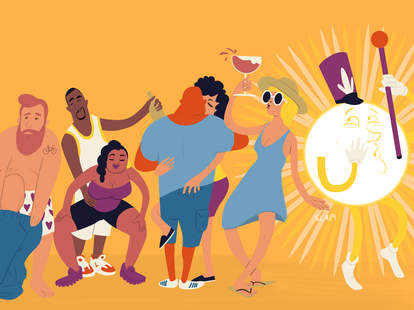 If you listen closely enough, you can hear the sound of thousands of New Yorkers hooking up with people they just met. Cuffing season has long passed and the time of debauchery has come upon us. Welcome to Buffet Season, people.  
The change in the air happens by way of an important event called The Sundress Equinox -- when the hot spring sun comes out and practically melts the beanies and puffy coats off New Yorkers. The Sundress Equinox usually happens in late-April or early May -- late in the week -- when the temperature breaks the upper 70s and the sun shines like it's going out of style.
You need the ferocity of a bleak New York winter to enjoy and appreciate what the Equinox has to offer. After months of seeing scores of men and women shuffle down Broadway wearing drab, bulky coats, the sight of skin becomes almost foreign. Suddenly, every Tom, Jane, and Bob Durst sheds their jackets and walks the island of Manhattan and its accompanying boroughs with a kind of freedom and confidence they haven't had in months. The excitement of summer skin is akin to a nature photographer spotting an albino parakeet or a zebra whose stripes go up instead of across. 
 
What's Buffet Season?
Let's be clear: this is not a relationship-friendly time of year. No cuddling, no nights in, no romantic getaways -- it's every person for themselves. Relationships on the edge disaster fall apart and people previously too cold to go out and find a date are suddenly out 'til 2 or 3 every night. 
The boroughs come alive: everyone in Manhattan attends the latest art opening, people in Brooklyn flood the streets for dance parties, Bronx residents reenact that part of The Warriors when those two dudes run into that hot knife-wielding girl gang, lovers in Queens make out while furiously assuring each other that their Chinatown is better than Manhattan's, and Staten Island guys ask their moms if it's cool to have a girl over.
In this particular season, we choose not to engage in relationships or courtship rituals, or anything that bears any commonality with the "usual" procedures one goes through when securing a mate. This is the time of year in which all manners and niceties go out the window and we opt out of flowers and dinner dates for cheap whiskey and the kind of sweaty, spastic full-body dancing that gets people banned from clubs.
Shutterstock/Hrecheniuk Oleksii
When the sun shines its beams of arousal... 
Suddenly, all the places you'd never dream of hooking up in become hotbeds for sexual encounters. A party in East Brooklyn at the brink of dawn? Yes. The backseat of a white Ford Bronco parked at the base of the Williamsburg Bridge? Sure! The last standing tenement building on the LES? Hell yeah!
Every purposely-dilapidated nouveau dive bar in Bushwick becomes a petri dish for the super-horny, in which it suddenly becomes OK to hang out off the Halsey stop in the early hours of the morning and pay $10 for a Bud/shot handed to you by a bartender who looks like he's been kicked out of his tenth Fugazi cover band ("Waiting Room" is the only good song, anyway).
Alongside frequenting bars you'd never set foot inside during the winter, you'll make terrible decisions to attend every event you're invited to (which is not the Millennial mission statement) in the hopes of stumbling upon a potential hookup.
Be honest, would you say yes to your college roommate's ex-step-sister's DJ set if it was happening during the dead of winter? Why do you think Governors Ball happens during the height of summer? Try explaining the concept of the inane, hopelessly corporate festival to someone in the winter. You want me to go to an island for a week and see who?! Yes, OutKast will be there.
At the very same time, the warm weather incites a feeling of camaraderie amongst our infamously flakey society. That's why having a summer birthday party is so fun: everyone always shows.
Sure, maybe their hearts are in the wrong place, but nothing's worse than throwing a Peter Brady Party. You just need to keep up your end of the bargain and make sure to pick a bar that's in a centralized location for everyone to get to -- sorry to everyone in Ditmas Park, you all saw this coming.
 
But, be warned: Buffet Season is fleeting
Buffet Season is not as long as the name implies; it doesn't last all summer. No, New Yorkers are neither patient nor attentive enough to keep up this illicit behavior for the entirety of the short summer we get every year. One can surmise that Buffet Season lasts for as long as the novelty of heat lasts... until we're sweating in our skinnies and/or in the midst of a budding relationship.
It lasts as long as you want it to last and can die with a nothing more than a harmless text asking the very prying question of "so, what are we?" That, coupled with the all-encompassing heat that hits New York City in the end of the summer months, suddenly puts the sun in a different kind of light. A walk to a bar down the street suddenly becomes a trek across the Sahara desert -- except this Sahara is filled with guys who think pushing "enter" on a keyboard entitles them to be called a DJ.
Take in the month or so that Buffet Season lasts with impunity and the kind of reckless abandonment that you last felt in the bottom of a ball pit inside Chuck E. Cheese.
Allow your clothes to melt off your and your partner's bodies and dance in the proverbial sweat pit that is the back of a Bushwick bar and forget -- just for a month -- that what happens during Buffet Season... happens everywhere else. But, hey, at least the weather's nice.
 
Sign up here for our daily Thrillist email, and get your fix of the best in food/drink/fun.
Jeremy Glass is a writer for Thrillist and desperately wants a plate of boiled pasta.