I Asked 100 NYC Dudes on Tinder Dates. Here's What I Learned.
Tinder is great for two things: 1) finding people to hook up with, and 2) finding people to not hook up with, because they live in Queens, and you are shortsighted/hate amazing pizza. Also: learning fascinating things about the masses of humanity desperately thumbing their way through it. I went on a hunt for right swipes last week, asked 100 dudes where they would take me on our first date, and came away with these kind-of-totally-shocking/but also not-shocking-at-all realizations: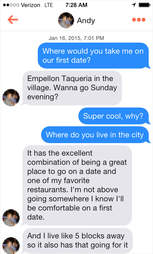 Alexa Lyons
About 30% of the guys were actually dateable, and seemed into it
Aside from the long list of sexual euphemisms spelled out in text speak, every once in a while you'll check your inbox and see a legitimate message from a nice guy with a crew cut wearing a scarf. He will have an actual place he wants to take you to and have a real reason for it, and will be into you because of your profile, not because your shirt is kind of see-through in your last picture (okay, so not ONLY because of that). These men put real effort into where we would go and what we would do while we were there. It's the little things that count, apparently, and the crew cut didn't hurt either.
Alexa Lyons
One out of every 10 guys immediately treated it like a perverted job interview
You'd think those awkward first date questions would be reserved for the actual first date, and that the conversation would be a little more fluid than just shooting out questions in the dark. Sadly, you would think wrong, one in 10 times. Between asking what my astrological sign was to what size bra I wear, these guys got straight down to business and made things awkward enough for me to skip out on the rest of the conversation.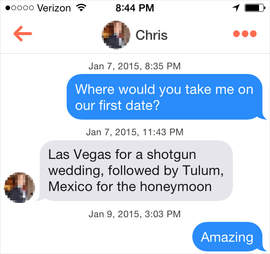 Alexa Lyons
Jokes are the new pick-up lines, and they're awesome
A scruffy jawline and piercing eyes can only get you so far -- okay, pretty far actually -- but 20% of guys who messaged back coupled that with jokes, almost all of which made me laugh. If you can make me laugh, imagine what else you have the capability of doing [mysterious wink face emoji].
Alexa Lyons
Turns out, Tinder guys like themselves a good wine bar
Why yes Ian, I am interested. A cozy wine bar was the single most frequent response I got (roughly 11% mentioned a date including wine), and there's a reason for that: they're fool-proof. In the words of millennial memes and sorority sisters everywhere, bitches love wine. Always go for the wine.
Alexa Lyons
Roughly 10% of dudes just want to skip dating and go right to "Pound Town"
And they actually used the term "Pound Town." Turns out, it's a more popular destination than that quaint little bar down the street from your apartment. As is "snuggling naked while watching Netflix" and an offer to "play you like a guitar."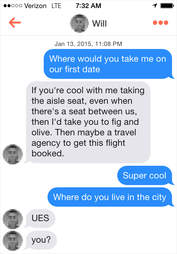 Alexa Lyons
Weirdly it seemed that the smoother your intro is, the more likely you live Uptown
Out of all the Uptown guys I met -- there were nine of them -- each of them came back with a cheeky, smooth response that made them more appealing than those before them. Who knows whether it's those historic high-rises or the charm of bros having their lives together that gives them their edge, but either way, they had it.
Alexa Lyons
The 32 guys I met who resided in the hipster lap of luxury had the most diverse set of answers
Every single one of them was soooo Brooklyn. Grabbing a slice at Tony's in Bushwick, checking out an artsy dance performance, devouring tacos from a food truck, and playing a game of mini golf at the Bushwick Country Club, provided you have a nice callipygian physique. Which for those of you about to hit Google means nice ass.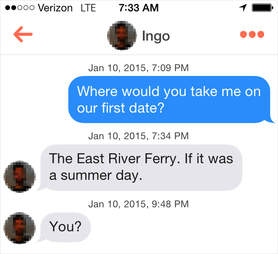 For some reason, six guys were into dates that they may have to wait a few months for
Two actually specifically mentioned hanging out in the summer time. Does anyone own a calendar/a window?
Alexa Lyons
Pure, unadulterated laziness was not as rare as it should be
You know how many guys responded to my initial question with, "Whatever you want to do!" or some variation of that? Seven too many. Dude, I asked you where you would take me. No woman wants to do all the work, so have an idea off-hand.
Your best chance at a fancy dinner is to Tinder Downtown
Okay, okay fine, there was only one guy from the Financial District who I talked to, and he needed a little coaching, but he was also the only one who offered me a nice seafood dinner. Frankly Jared, you had me at lobster.
Sign up here for our daily NYC email and be the first to get all the food/drink/fun New York has to offer.
Alexa Lyons is an editor and writer living in New York City. She mostly writes for men, but knows little about them personally. Follow her on Twitter and Instagram: @alyons104.