"First dates can be brutal." --Confucius
(OK, not really. But only because Tinder hadn't been invented yet.)
When we finally get our shit together and create the "Worst Date Fumble Hall of Fame" -- it needs to be a thing -- bartenders will undoubtedly be the arbiters of which stories make it in. Who better? They are always there, watching, cataloging, and judging our misguided attempts to impress and score, rarely missing a beat. And thanks to the constantly replenishing pool of singles, proliferation of only-in-NYC characters, and bars being our collective go-to date setting, bartenders here have a special set of bad-date stories that their counterparts won't have anywhere else.
Dating can suck no matter where you are, but NYC dating is a special type of suck. So, we talked to a bunch of local NYC bartenders about the weirdest/worst/most uncomfortable first dates they've witnessed at their bars. We kept the bartender names and bars anonymous to protect the innocent (and to make sure you keep having really awkward dates there). As told by our future Hall-of-Fame voters:
"It was like he had a speaking disorder…
... because he couldn't help talking about himself. He was annoying right off the bat, from the second he sat down. They were both probably mid-20s, it was their first date, and she was at the bar before he got there. Mr. Wall Street walks in and it's ON. He can NOT stop talking about himself. The whole time it was money, money, money. His bonus was $200,000 last year, he just put a million down on a new apartment, etc. They were there for an hour and ultimately left in different directions, but not before the guy got up and went to the restroom. When he was in there I walked over to her and gave her a look like 'What are you doing here with this guy?' She looked at me, shook her head, and just said 'Fucking Tinder.'" -B, 28, Upper East Side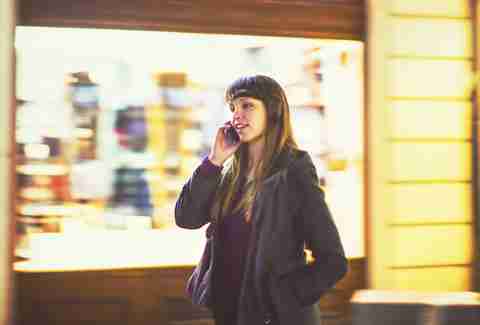 "She ended bad dates with a 'UES victory lap'...
... which she called abruptly ending a date early, walking around the block, and calling friends in the neighborhood to meet her at a bar. So, it was the first date for this couple and it wasn't happening. He did this awkward thing -- he couldn't look her in the eyes. So he'd answer a question and he'd be looking off to the side, which eventually prompted her to start looking around to see what he was looking at. The girl ended the date and I watched them head out. She came back in about 10 minutes later after her lap and asked for my number."  -S, 29, Upper East Side
"He looked like a fresh-faced little puppy…
... he was 22. I carded him, that's how young he looked. He sat awkwardly at the bar looking over at the door every 30 seconds. After 20 minutes, in walks this cougar. She's hot, maybe mid- to late-40s and in great shape. She reminded me of [Jada Pinkett Smith's character] Fish Mooney on [the Fox TV show] Gotham. She sat down, he said 'Nice to meet in person,' and that's the last thing he got in for the rest of the night. She was in fashion and kind of talking at him, but she was also being flirty, like touching his hand. When she had gone to the restroom I walked over to give them some more water and he gave me this look and just said 'duuuuuude.' He was so excited about whatever he thought was going on. They had dinner, drinks, and at the end -- they're here for three hours -- she said, 'You got the check, doll,' and TAPPED HIM ON THE HEAD like he was 5 years old. His face dropped and he said, 'Wait...that's it?' She said nothing else and just walked out. He sat there stunned with a $200 bill to cover." -A, 35, West Village
"Actors are always acting, people need to remember this…
... there's a struggling-actor type that comes in every now and then. He's usually by himself. Recently he's sitting at the bar drinking light beers. About an hour after he sat down this girl walked in. She clearly had never been here before and had 'first date' written all over her. The actor guy was at the end of the bar, close to the door and she cautiously walked toward him and said 'Are you David?' He said yes, she sat down. They seemed like an odd match, by the way. She was really put together, was good looking, he looked like he just rolled out of bed and there's just not a lot there. I overheard all the usual first-date stuff; they were together for maybe an hour and you can tell she wasn't vibing him. She wrapped it up and said 'I'm not feeling this and I don't want to waste our time.' He said 'That's fine. Also, I'm not David.'" -T, 30, West Village
 
"We can spot an escort a mile away...
... and recently a girl walks in, she's early 20s, and she's there to meet a guy named Charlie who's got to be in his 60s. When she checks in she actually asks the staff to point Charlie out because they've never met. He's with me at the bar. I'm sure she's an escort so I'm not expecting them to stay long but they sat at a table, ordered drinks, and then dinner. Just as the first part of dinner arrived it became apparent how many drinks she'd had, as she bent over and vomited on the floor between the table and the wall. We're a high-end restaurant and it's not super noisy in here, so it was a scene. We went over and asked if everything was OK and she had placed a few cloth napkins over the puke and tried to mop it with her foot. They sat and tried to get through the meal for about 20 minutes before leaving and pretending nothing happened." -J, 30, Chelsea
"You can never underestimate the stupidity of men...
…. and their desire to have sex. This summer, this couple is here on a Tinder date. I don't know how or when it took a negative turn, but she goes to the bathroom and the guy pulls me aside and says, 'Dude, this is awful, I don't even want to pay for her drinks, get me out of this mess.' So I tell him, 'You just can't do that to a girl. A good way to get yourself out of this mess (and I hate that I said it) is to pay for the drinks and leave.' So he threw some money at me quickly, got up, and left. When she came back from the bathroom all I said to her was 'He told me to tell you that he had an emergency and that he would text you later tonight.' It was a really easy situation to accommodate and I felt that if the date had finished like that, everyone would have been fine. Later in the evening, while date number one was still here waiting for her friend, the guy shows up with another girl and sat on the opposite side of the bar from his first date! Truthfully, what happened next is that she asked for the bill in tears and stormed out. And I was personally so pissed off at this guy, I wound up charging his card twice and not telling him." -A, 27, West Village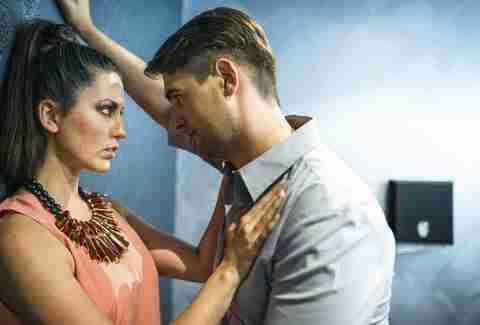 "The most-awkward date for me was the couple fucking in the boiler room...
... we were so embarrassed for them. We have a downstairs part of the restaurant with 10 tables. This one couple was down there with other people at tables, and they sneak in the boiler room. Don't know how long they were in there but a waiter went to their table -- it was clear they hadn't left because they still had jackets there, but he doesn't see them. He came upstairs and asked if we saw them leave. About five minutes later, someone says there's a couple downstairs causing a scene. We go down there and basically have to forcibly escort them out. After the waiter found them and told them to stop, they started yelling at him -- pants down, telling him to 'get out' -- so we asked them to leave. They didn't like that and it took a few waiters and a bartender to persuade them to get out." -T, 28, Greenwich Village
"No one wants to hear they're your second Tinder date of the night...
... they just don't. It doesn't matter if it's true. But people reveal that stuff all the time. Recently, a couple was here. The guy was really cocky, had a MaCallan 12-year-old neat to drink, and seemed to have had a few in him before he arrived. She orders a cocktail and they're chatting, but the whole time he's checking out every woman in the room. About 10 minutes into the date she asks how the earlier part of his night was and he replied, 'You're my second Tinder date tonight so I hope you're more interesting than the last one I walked out on.' She flipped out. Not screaming but said she couldn't believe he just said that, and his 'we are all on Tinder for one thing' response pissed her off even more. She then slapped him in the face -- an open-handed slap -- and walked out. He sat there and continued to drink. After about 10 minutes he tried to chat up two girls who had seen this all unfold and didn't get very far. He closed his check and left with a red mark on the side of his face." -B, 30, Midtown
"Being carded shouldn't ruin your night…
... but that's pretty much what happened to this dude. A couple was here recently, looked mid-20s to me but to be on the safe side I said 'Can I see your IDs?' As she looked down into her bag, he leaned back in his chair so she couldn't see him and waved his hands at me, like 'No, no, no! Don't blow this.' I didn't catch on immediately, so I asked again. I looked at their IDs -- she was 27, he was 21. As I slid them back to them, she grabbed his and says 'I knew it! You're not twenty-fucking-five!' She yelled at him, picked up her bag and left." - K, 42, Upper West Side
Sign up here for our daily NYC email and be the first to get all the food/drink/fun New York has to offer.
Chris M. Walsh is a freelance writer at Thrillist. His worst first date involved a girl and her imaginary friend, Chloe. Follow him on Twitter and Instagram.