Just because the last few weeks of summer in Philly are upon us doesn't mean there isn't time for some warm-weather romance that can carry you into the fall. Whether you're taken, in need of a matchmaker, or still swiping, there's plenty of romance to be had for any commitment level.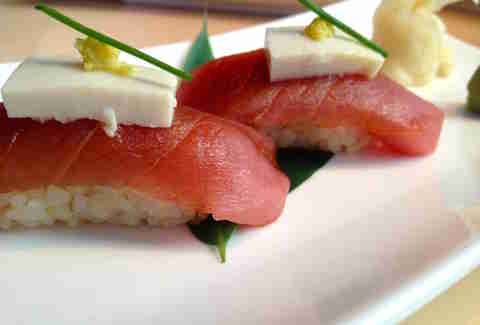 Learn how to roll your own sushi
Mondays through Wednesdays at Pod, you and your date can learn to make sushi with the restaurant's executive sushi chef Keunsik Lee. Plus, after you've definitely mastered the art of the maki roll after a mere few hours of trial and error, you can try to recreate the magic at home with a sushi kit courtesy of Pod. Sessions are available through the end of the summer.
Challenge each other to all-you-can-eat mac & cheese
Nothing says true love like loading up on carbs and melty cheese with someone you fancy. JJ Bootleggers offers all-you-can-eat mac & cheese every Monday for just $10 a person, including add-ons like crab meat, BBQ chicken, or bacon.
Snuggle up at an outdoor movie
La Peg screens kitschy movies, like ET and Dirty Dancing, through the entire summer, and the restaurant's outdoor seafood shack makes for movie confections better than your typical buttered popcorn. You can also BYO picnic at the tons of free outdoor screenings into September.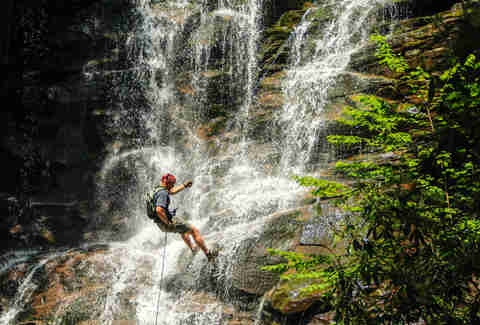 Become one with the great outdoors
You and your one and only can skip town for the day (or why not a whole weekend?) and choose from a slew of outdoor adventures -- zip-lining, boating, hiking, biking -- at campgrounds just a stone's throw from Philly. Consider it one last hurrah before the inevitable winter of Netflix & chill commences again.
Find solace in A/C and Pixar
Remember the "heat dome?" Haha, man, that was crazy, right guys? It was so hot. Try to forget it ever happened by distracting yourself at the Franklin Institute's behind-the-scenes Pixar exhibit before it closes up September 5th. Not only can you feel like a kid again (in central air, no less), but afterward, you can hop over to Assembly's rooftop bar for a drink with a view.
Speaking of rooftops bars...
Good views are romantic, and aren't quite as nice when you have to be bundled up. Check out the summer pop-up Bok Bar (formerly Le Bok Fin) for a sweeping view of South Philly, or try some of these quintessential Philly rooftop bars.
Explore Longwood Gardens after dark
From August and into the fall, Nightscape at Longwood Gardens infuses sound and light shows to reveal the sprawling grounds in a new, mysterious, and even slightly eerie way, great for holding hands and stealing kisses. Gross, get a room.
Stumble upon haunted Philadelphia
Washington Square Park may or may not be haunted, but you and your date can try and find out for yourselves thanks to Watson Adventures' Haunted Philadelphia Scavenger Hunt. Kicking off in the park, the search will have you running around historic Philly in search of Ben Franklin, the so-called Hag of Pine Street, and others. Try to nab a spot for one of the last outdoor hunts of the summer on August 13th. If you missed the official event, you could easily organize your own. Or, if you're more into the guided tour thing, Watson Adventures will be hosting an indoors murder mystery series through the fall.
Kayak on the Schuylkill
For a water adventure without leaving the city, rent kayaks for the day and lazily make it down the Schuylkill before stopping at the Grays Ferry Crescent and Bartram's Garden, where you can also try stand-up paddleboarding. See who gets farthest before losing their balance and taking a tumble into the water.
Take a road trip down the shore and eat well
An effort to renew Morey's Piers in Wildwood has resulted in high-end cuisine adorning a boardwalk typically filled with fried food (not that we don't love that, too). Spend a day at the beach while enjoying fresh dishes from Joe's Fish Co., Taco Joint, and La Bakerie. And if you're really ready to test your relationship, try Breakfast in the Sky, where you and yours will eat brunch while riding a sky-high Ferris wheel. Be brave!
Impress with fancy restaurants for cheap during Old City Eats
Every Thursday now through August 25th, you can enjoy extended happy hours (5-8pm) at a whopping 32 Old City restaurants, including The Olde Bar, Buddakan, Amada, and Fork. Half-off small plates, $5 drink menus, and available off-menu items mean you can wine and dine with the best of them for a fraction of the cost.
Visit the zoo and drink there, too
Enjoy a warm summer day walking around the zoo, and when you're done pointing at chimpanzees, cool off in the zoo's brand-new pop-up beer garden, the Watering Hole. A selection of beers, wines, and small bites (including mini ice cream sandwiches) will make it completely understandable if you spend most of the afternoon here instead.
Chill on the lawn at an outdoor show
The Mann Center is an ideal venue to set up a blanket and enjoy big-name artists, like Lauryn Hill and Bonnie Raitt, touring through Philly. Luckily, outdoor concerts at the Mann (and elsewhere) will be lingering past the end of summer.
View the Morris Arboretum from above
Try a date night in Chestnut Hill, first by heading to the Morris Arboretum and taking a self-guided tour 50ft high in the elevated canopy tree walks, where you'll encounter the Squirrel Scramble, an oversized hammock net that you walk across while looking down below. Reward your bravery afterward with margaritas and churros at nearby El Poquito.
Spend time at Spruce Street Harbor Park
Endless hammocks, food trucks galore, Chickie's and Pete's crab shack, outdoor bars, a waterfront view, and a roller rink make Spruce Street Harbor a no-brainer date destination this summer. The park will stay open through September 25th, but act fast so you can return as many times as possible before then.
Enjoy jazz on the water
August kicks off Smooth Jazz Friday Nights every Friday on the Penn's Landing River Stage. If you already took our advice and find yourself in a hammock with your plus one at Spruce Street Harbor, get a bonus romancing when you happen upon the smooth, free outdoor music nearby.
Wander around a mansion with beer in every corner
… in theory, at least. If you and your date are beer lovers, or large, extravagant house lovers, or both, keep August 27th open for Beer Mansion, where a $20 ticket will get you admission to Mount Pleasant Mansion, where local brewers are waiting to shower you with samples as you go from room to room finding live music, food truck cuisine, games, and -- did we mention this already? -- beer.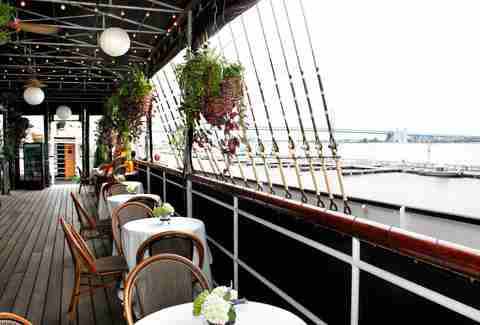 Dine on a boat
Summer is the perfect time to make reservations for Moshulu, the world's only restaurant on a tall ship -- you read that right, the ONLY one -- and enjoy the outdoor bar and deck from the water. If you're longing for the boat ambiance but not ready to spend a pretty penny, try for the morning after at the restaurant's Sunday brunch instead (FYI: bottomless Champagne is on the menu).
When all else fails, go to a Phillies game
A trip to Citizens Bank Park always makes for a perfect summer night, and even with the not-so-great Phillies track record this season, taking in the glowing stadium after the sun sets while sharing a carton of crab fries is one way to spell love in Philly.
Sign up here for our daily Philly email and be the first to get all the food/drink/fun in town.