Philly is full of terrific date ideas, but it can be overwhelming when there are so many choices, and you just met the other person. Meaning, following Philly's wine trail seems a little high stakes -- you can't find an easy out if things are going south when you're in the middle of the woods. Have no fear. Whatever your ultimate goal with your date is -- to knock boots or send save-the-dates -- we've got the perfect activity in mind for you.
To paraphrase OutKast in "Hey Ya!": you're not tryin' to get to know their mama, you're tryin' to seal the deal, which -- no judgment -- is totally fine! If that's what's on both your minds, then your date will be, shall we say, minimal. The key is to aim for a spot with cheap drinks and dimly lit lighting schemes.
Post up at a dive bar
We're a city blessed with a healthy selection of dive bars, which are exactly what this kind of thing is designed for. Seriously, pick any one of them to charm your potential squeeze: Oscar's, Dirty Frank's, The Dive Bar, El Bar, Ray's Happy Birthday Bar -- the list goes on.
Dance your way into their bedroom
Pick up a hottie at The Dolphin, Franky Bradley's, or any of the dance parties in town. Try to remember their first name, if you can. It's OK if you don't, though.
Toss back cans of beer at Garage
With a decent jukebox, skee ball lanes in the back of the bar, and a binder's worth of canned beers, all the ingredients are there to make some magic happen.
Hit last call at any bar within a six-block radius of your home
Once the lights flick on at the end of the night, take your pick from the other interested leftovers. The only thing better than stumbling home after a night out is stumbling home with a willing partner.
After a few promising snippets of online conversation, you're ready to take see if this person looks anything like their profile pic. Your best bet is to meet somewhere neutral, pleasant, and well-populated. Day dates work well here, as do happy hours.
Sip draft lattes at La Colombe in Fishtown
The large, airy space is perfect to meet a semi-stranger. If all goes well, you can opt for a taste of La Colombe's Different Drum Rum in the next round. And if your date is a dud, you can quickly grab your stuff and scram.
Eat gelato at Capogiro
Even if your date's a dork, it's hard to be too bummed when you're eating stracciatella gelato with a tiny plastic spoon. Plus, gelato is one of the less embarrassing things you can eat in front of a person you just met.
Sample the baked goods at The Hungry Pigeon
Split a bread basket as you get to know each other a little better. The bright dining room and brisk service will move your date along nicely. Order a cocktail if you like, or keep it mellow with a mug of Counter Culture coffee.
If you find yourself in a FWB arrangement, you're probably used to keeping your activities in the shadows. But, if you want to grab a bite or a sip before you get down to business, make sure the place you choose is low-key and inexpensive.
Play video games at Barcade
Not only is it fun, cheap, and boasting a killer selection of draft beers, but the place is virtually empty during the day. Play each other in Tetris and let the winner pick which position to try once you get some privacy.
Catch a Monday night movie at the Trocadero
It's in the dark and goes late. And, at only $3 a head, it's a steal. Check the listings for upcoming screenings.
Go anywhere in Chinatown
Not only is it fun to munch on some of the best dumplings in the city, but you're not likely to run into anyone you know at any of the dozens of restaurants. As a bonus, a lot of these places are open very late, which is perfect if you want something in your belly before (or after) you do the deed.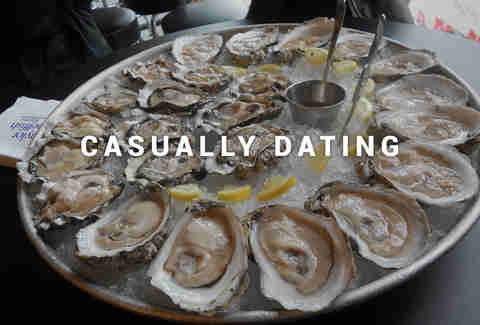 This is the when your dating life goes into full-speed. You're hitting it off nicely and you can -- gulp -- start to imagine keeping this person around for a while. Aim for dates that are upbeat, low-pressure, and fun. Take note, this is the time to indulge your appetites. When out to dinner, order two appetizers, two mains, and two desserts. Split everything. Don't hold back.
Go to any wine bar in town
You'll automatically feel more sophisticated and interesting with a wine glass in front of you. Order a plate of some fancy cheeses while you're at it.
Slurp some buck-a-shucks
A ton of restaurants now offer killer buck-a-shuck happy hour deals. Oyster House, The Industry, and The Olde Bar are some of our favorites. Knock out a dozen (or three) while you catch each other up on how your day went.

Head out to hear live music
Take your sweetheart to Boot & Saddle, Union Transfer, The Fillmore, or Johnny Brenda's. Support the local music scene or splurge on some tickets for a national act. If you're sentimental, keep the ticket stub to remember the fun. Just don't be "that couple" at a show.
Go for $1 tacos at Loco Pez
Keep an eye on Twitter for Loco Pez's impromptu weekly $1 taco deals -- it makes for a spontaneous date. Get there early before the place fills up and gorge yourselves on trays of street-style tacos.
Do happy hour at Bing Bing
Split a pitcher of one of Bing Bing's seasonal punches, go to town on a few orders of soup dumplings, and people-watch your hearts out.
Meet up with friends at Spruce Street Harbor
Let your friends get to know each other as you taste your way up and down the park. Or, if you're looking to cuddle a bit, tell your friends to hit the road and snag a hammock for two.
Brunch it up
Roll out of bed, toss on a hoodie, and take your boo to a boozy brunch. While the morning away over eggs Benedict and Bloody Marys, then resist the urge to crawl up into a ball and take a nap. Scoot over to the Schuylkill River Trail to walk your brunch off. You'll both feel like humans again soon enough.
Stuff your face (and your reusable shopping bag) at Reading Terminal Market
Grab the ingredients to make dinner together or stroll around stuffing your face with Beiler's donuts, Bassetts Ice Cream, or one of Flying Monkey's excellent whoopie pies. Retreat to Double Knot if the crowd overwhelms you.
At this point, after eating and drinking your way across town, you're starting to feel the energy of the relationship shift. You're no longer in "new relationship" mode; you're settling into a stable routine. Perhaps you over-indulged the past few months and your pants are a little tight. As a couple, you might find yourself gravitating towards more physically active and intellectually stimulating dates now that you're becoming more comfortable around each other and know more about what kinds of places interest you both.
Dine anywhere in the E. Passyunk corridor
You have your pick of truly spectacular restaurants. Make a hit list of the ones you haven't tried (have you been to Stargazy yet?) and work your way through 'em.
Take a brewery tour
Exploring our city's brewpubs is a great day date. Try as many brews as you can without overdoing it, and ask lots of questions while you're there.
Nab tickets to Burger Brawl
It's more fun to walk around and sample the city's best burgers with someone by your side. Not only does the money raised go toward a good cause, but it's a great way to try a lot of food from some of Philly's most buzz-worthy spots. Come curious and hungry, and leave happy and full.
Go star watching at Fels Planetarium
It doesn't get more romantic than this. Hold hands under the (virtual) stars. Be sure to check the Planetarium's schedule for special events like themed laser shows and movie screenings.
Belly laugh at Helium
Helium boasts a steady stream of comedy stars. Not only will it be a fun time, but it's nice to put something on the calendar to look forward to.
Skip town
Spend the weekend somewhere else. Organize a day trip to Brooklyn, head down to Baltimore for lunch, or just hit the road and see where the day takes you. Not only do you get to see if you're compatible in new situations, but sometimes shaking up your routine can keep things fresh.

Maybe you've moved in together, maybe you've adopted a bouncy puppy, or maybe you just know you've found the one. These dates show you're in it for the long haul. At this point in your relationship, you're looking to have unique experiences and seek out new adventures as a couple. Buckle up, because Philly has some great couple's dates for you.
Enroll in a COOK class
With only 16 seats, COOK classes are a great way to experience food with the expert instruction of our city's best movers and shakers. Tickets are pricey and sell out fast, so be sure to stay on top of when classes are announced.
Go to town at Headhouse Farmers' Market
Wading through a crowded farmers' market truly tests a couple's communication skills. Lines can be long and with the stalls crammed together, it's easy to get overstimulated. After a few weeks, you'll be better oriented with the layout. You'll know you're a power couple when you coordinate your efforts, slice through the stalls and know exactly which veggies, fruits, and baked goods to grab. Celebrate your efficiency with a fist-bump on your way out of the market.
Explore our local wine trails
Pick a winery and go. Not only will you educate yourselves about the winemaking process, but you'll get to put a face to the wine label. As a bonus, load up on a few of your favorite bottles to bring home.
Fine dine like a MF-er
Use your OpenTable app to book a spot at Zahav, Laurel, and/ or Volvér. Really, hit up any place your mom has expressed interest in trying after reading raves online. Make a reservation, get dressed to the nines, and toast your love over some world-class food.
Sign up here for our daily Philly email and be the first to get all the food/drink/fun in town.
Anna Goldfarb is a writer who's in a serious relationship with her local water ice purveyor. Follow her @AnnaGoldfarb on Twitter and Instagram.