It's hard to feel frisky when the weather's bleak, the air's frosty, and "Netflix and chill" has gone stale. Don't let the freezing temperatures get you down! We've come up with some fun ideas that will not only keep you physically warm, but will also keep the flames of your romance flickering hot. So slide on your mittens, strap on your earmuffs, and head out for these winter dates that are sure to make the cold season less unbearable.
Sip and swoon at a local distillery
What better way to shake things up on a dreary winter day than heading to a small-batch distillery or brewery and sampling the goods. Not only will you learn about how these artisanal spirits are made, but you'll get to taste the best of what Philly has to offer while each of your inhibitions slowly melt away. New Liberty Distillery, Rowhouse Spirits, St. Benjamin Brewing Company, and Federal Distilling Room are all solid options with great tasting rooms.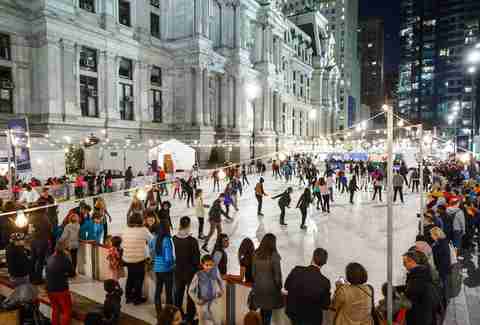 Hit the ice
No winter date list would be complete without mentioning your ice skating options. You can either head to Rothman Ice Rink in Dilworth Park or Winterfest at the The Lodge at Blue Cross Riverrink. Is there anything cuter than holding hands on the rink? No! It's cuter than a pug puppy falling into a cupcake. So lace up your skates -- it's only $10 to rent a pair -- and let your inner Nancy Kerrigan shine. Not into skating? Cuddle up in one of the warming cabins instead.
Make fondue a must-do
Make the most of the frosty temps by putting together your own fondue extravaganza. Stock up on supplies -- both Whole Foods and Reading Terminal Market have fantastic breads, cheeses, fruits, and veggies to choose from -- and pretend you're both in a ski lodge in the Alps. Be sure to share lots of photos of your cheesy feast on social media.
Catch live music
Turn off the TV, get out of the house, and support the local music scene. Need inspiration? Check out one of Philly's most buzzworthy acts.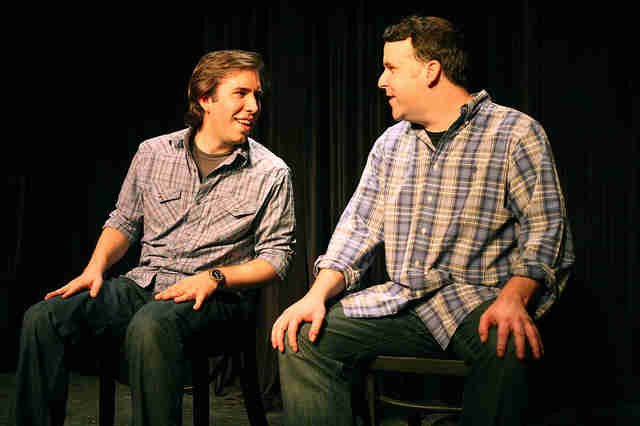 Listen to some compelling storytellers
Philly has a robust storytelling scene and attending any of Tell Me a Story, First Person Arts, or the Moth's shows would make a terrific winter date. Some stories are hilarious, some are heartbreaking, but all are better than staying home and asking each other "What do you want to do tonight?" for the millionth time.
Go high brow for a change
If your dates usually involve loud places slinging pints of beer and playing hits from a dingy jukebox, mix it up by procuring tickets to something more refined. The Curtis Center regularly has free student concerts and the Opera Philadelphia offers rush tickets at a steep discount.
Test your knowledge at Quizzo
Local legend Johnny Goodtimes hosts quizzo nights all over the city. Pick a night at a bar in your neighborhood and kick some trivia ass as a team!
Make art together
Paint Nite tells you where you can get your Bob Ross on and paint happy little trees. Or attend date night at the Clay Studio so you and your date can re-enact Demi Moore and Patrick Swayze's scenes in Ghost.
Grab happy hour at ITV
Reservations at E. Passyunk's Laurel are tough to come by, so head over to its sister establishment, ITV. Its sleek, dark bar is perfect for chilly nights when you want fabulous food and pleasant conversation. As a bonus, you'll have all the fun of trying food from one of Philly's brightest food stars with none of the strain on your wallet.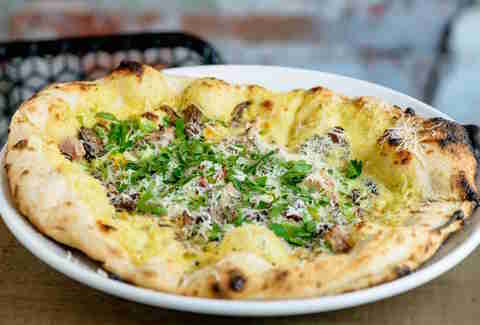 Throw a pizza party
Chase away your winter blues slice by slice. Pick anywhere on this list and go to town. It's hard to be bummed about the cold weather when there's a piping hot pizza pie to share with your sweetheart.
Sign up for a cooking class
Winter's a tough time for people who enjoy cooking with fresh fruit and produce. If you need a little inspiration for all of those root vegetables, sign up for a cooking class alongside Philly's best chefs.
Nerdnite is a monthly event that "strives for an inebriated, salacious, yet deeply academic vibe." Our local chapter meets on the first Wednesday of every month at Frankford Hall. Huddle around the outdoor fireplace (an excuse to get cozy) as the city's best minds give talks about about fascinating science and technology issues. The $5 cover fee entitles you to drink specials and seats to the lecture. Head here for upcoming dates and topics.
Dine at a secret supper club
Get on Boku Supper Club's email list so you'll be notified when tickets to its exclusive supper parties go on sale. Follow Food Underground on Facebook to keep up with its city-wide events. Or snag a reservation at Talula's Daily supper club, with a farm-to-table menu that changes monthly.
Get acquainted with Philly's new cider scene
Have you heard? Cider is making a big splash in Philly, so now's the time to see what it's all about. Pop into the recently-opened Cinder and try a few glasses of cider on tap. Sample a few varieties and decide if it's worth the hype. Nothing like loving (or hating) the same thing to set the night ablaze.
Sign up here for our daily Philly email and be the first to get all the food/drink/fun in town.