The newest date fad of the moment includes staring at your cell phone in a park as you try to catch Pokémon instead of, you know, interacting with the person you're with. While this is certainly one of the more creative approaches we've seen to dating in a while, it may not be the best way to "catch 'em all." We've come up with some summer date ideas that'll get you off your phone, out of the dreaded movie-and-Cheesecake-Factory rut, and into some new ventures that will convince just about any potential partner that you actually have an imagination.
Spend Good Fridays with Andy Warhol
This summer, every Friday is Good at the Andy Warhol Museum. The multi-level North Side gallery keeps its doors open until 10pm at the end of each workweek and cuts museum admission in half. A rotating DJ set, cash bar, and a late-night visit to the silver pillow room will definitely earn you some cool points with your date.
Get Unblurred at First Fridays on Penn
On the first Friday of every month, Garfield transforms into one of Pittsburgh's best gallery crawls, complete with street performers, paintings, sculpture, spoken word performances, and tons of free booze and appetizers along the way. Keep your eye out for a party truck that sometimes appears about halfway down Penn toward the end of the night. It's basically a U-Haul punched up with Christmas light strands and sweaty people, but we promise it's not sketchy.
No matter how long you've lived in Pittsburgh, there's no way you've explored all that our city has to offer when it comes to food. The 'Burgh Bits & Bites tour will take you and your boo through the Strip District, Bloomfield, North Side, Lawrenceville, or Brookline for a chance to get a little taste of each neighborhood. Why choose one restaurant for your date this weekend when you can choose all of the restaurants? Now go buy a pair of jeggings and get ready to eat!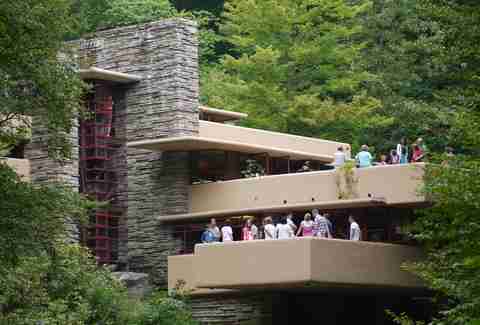 Show off your knowledge of architecture at Falling Water
A short road trip is part of your date to Mill Run, PA, for a peek at one of the most unique homes in the world. Designed by Frank Lloyd Wright in 1935, Falling Water (a house built on top of a waterfall! What?!) is now a national landmark. And while we're sure he never intended for it to be your weekend date destination, we're also sure he wouldn't mind the recognition. Touring the sprawling estate, which is just over an hour from the city, with your partner will give you the chance to sound impressive by rattling off phrases like "contemporary Japanese architecture" and "dynamic integration with natural surroundings."
In case Pokémon Go hasn't quite scratched that itch, Games N' At, a BYOB all-ages arcade in the South Side, is sure to satiate even the biggest gaming nerds with its selection of vintage arcade games and pinball machines. Rekindle that flame with an impassioned game of Space Invaders or Highway 66 Bowling.
Who says these massive gravity-defying car-boats are just for tourists? If you and your better half are the cynical kind, you'll find that being the only locals aboard a land boat full of tourists is the perfect opportunity for some snarky people-watching. And if you're new to the city, you could take the tour honestly and NOT make fun of anyone. Right.
Remember The Amazing Race? Remember how you secretly wanted to recruit a family member so you could sign up as a team, wear matching shirts, and run around Bangkok screaming at each other? Well, now's your chance. This city-wide adventure will take you through some of Pittsburgh's best-known historical locations, where you'll find and decode cryptic clues for a chance to win $1,000. The event takes place all summer long and isn't timed, so you could easily turn this puzzle hunt into a series of dates... if you can stand the person you've teamed up with long enough to make it to all of the destinations.
Make your hamburger, and eat it too, at Bayardstown
Summertime means two things: sunburns, and barbecues. If you find yourself with a crisped outer layer on your skin but not on your food, get down to Bayardstown for a piece of your very own backyard hangout spot. This BYO-everything social club is the perfect spot for those who want to impress their date with their grilling skills, but don't have the backyard to get the job done. And if you're not a BBQ master yet, just sit back with a cold one and enjoy some food truck fare.
Of course, we all love Kennywood, and will undoubtedly drag ourselves out there for a day of overpriced nausea followed by heatstroke. But this year, consider venturing a bit further outside of the city to Waldameer Water World. Not only does Waldameer have a slew of theme park attractions, it also has a water park. Because being soaked with water on that first date is much better than being soaked with sweat. And nothing says romance like going down a waterslide on a two-person inner tube.
Start shucking at Muddy Waters Oyster Bar
Yes, oysters are a well-known aphrodisiac. No, that's not our angle here. If you and your date have been living in Pittsburgh for a while, it's a fair assumption that raw oysters have not been a steady part of your food intake. And that's a huge mistake. Muddy Waters is a Cajun restaurant that offers a rotating selection of oysters on the half shell so you and your date can become shellfish aficionados in one evening. Muddy Waters pairs oysters with tangy vinaigrettes and wine reductions, offering bivalves from all over the county that will make you look like a sophisticated foodie. OK, maybe the aphrodisiac element is a good selling point. Laissez le bon temps rouler!
Swing into Saturday nights at Swing City
Every Saturday night, the Wightman School offers free swing lessons followed by a big band-led dance party starting at 9pm. An $11 cover gets you full access to the 4,000sqft dance floor till midnight, and an opportunity for you and your date to find out how uncoordinated you both are.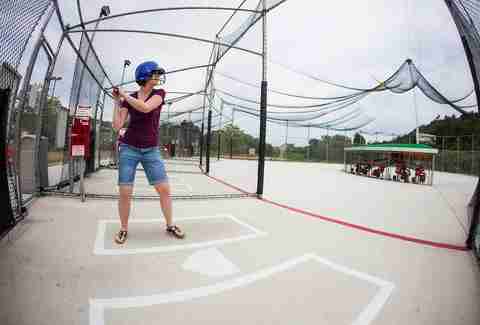 If you and your date are the competitive type, hop into a go kart at Statler's in Greensburg and take a ride around the 1,528ft track. While double karts are available, we recommend sticking to the single karts to see who can whip around that track the fastest. And when you're done expressing your love through road rage, be sure to check out Statler's arcade, mini golf course, and batting cages.
Sign up here for our daily Pittsburgh email and be the first to get all the food/drink/fun in the Steel City.