In San Francisco. your most erogenous zone is not between your legs, but the region inside your smartphone case. Dating here has evolved into an app-based texting platform where algorithms are our matchmakers, the vast majority of dating communication happens over the texts, DMs, and IMs of a zillion redundant messaging apps, and actual face time is an incredibly rare occurrence. (Note: FaceTime does not count as face time).
Sure, people in every city complain about dating -- when's the last time you heard someone say, "I am quite satisfied with the dating pool and its behavior in this town?" -- but SF has its own unique quirks when it comes to dating, hooking up, and getting down. Here are a few specific things I learned from dating in San Francisco, where a startup T-shirt is considered semi-formal attire, where your match is likely to employ a dating app coach, and where the About Me sections of our hookup apps say "No hookups."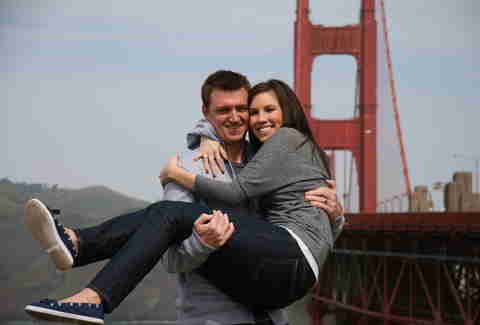 There is no consensus dating etiquette
San Franciscans have many, many theories on gender roles and archetypes, and you'd better brush up on the work of writer/activist Rebecca Solnit lest you commit a dating protocol error. Depending on the person, you might get either a tongue-kiss or a verbal smackdown for holding a door or attempting to pick up a tab on a first date.  Behavior that one San Franciscan might find charmingly old-school, traditional, or chivalrous could be offensively patriarchal, antiquated, or overly enabling of the dominant paradigm.
Your date is friends with your ex
Only in San Francisco can the 13th-largest US city by population be considered a "small town." Yet this is somehow paradoxically true in our fair city, where an incestuous little community of available singles is generally interconnected with fewer than three degrees of separation. Your date will know your ex -- heck, probably several of your exes -- and yes, your references will be checked.
Getting someone's digits is the new first base
Getting a match on a dating app is a regular, everyday San Francisco occurrence. But the first real act of intimacy in San Francisco is "graduating" from OKCupid, Tinder, or Grindr and giving that match your phone number for non-app-based communication. The once-pedestrian act of sharing phone numbers is the new "show me yours, I'll show you mine" -- an act of trust that indicates an escalation of romantic interest.
Still, having someone's phone number in San Francisco does not necessarily indicate that any phone conversations will take place, because people only text.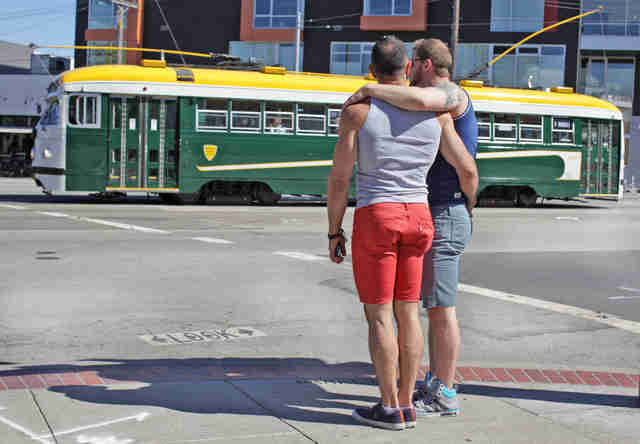 Living more than five miles away is a dealbreaker
San Franciscans will only date people who live within a 15-minute Muni ride radius, so you better hope that your bus comes on time. You can find the love of your life in the Bay Area, but if they live on the other side of the bridge (where BART hours make a late-night booty call nearly impossible), it's a star-crossed conflict that makes you more incompatible than Montagues and Capulets.  I've many times had promising matches on dating apps, only to look at their profile and think "16 miles away? Oh, that can't possibly work." I'm sure people who live in Los Angeles find that hilarious.
Dietary restrictions will disrupt your dinner date
Wait, is the sushi burrito free-range and vegan? Is that bacon-wrapped hot dog lactose-intolerant-friendly? San Francisco has an array of world-class restaurants and cult-favorite food trucks, but expect a long debate about which eateries you can and can't visit because of dietary restrictions, social justice concerns, or animal rights considerations.
Mind that terminology, buddy
The San Francisco personality spectrum runs anywhere from progressive-liberal to extremely progressive-liberal, and gender identity is just as expansive. Even if you found your date on an app where you specified that you're looking for a man or a woman, it's still polite to ask your date how they gender identify. If you really want to score points, describe your sexual orientation by making a hyphenate with the word "flexible." But be sure to keep your class-, ableness-, or cis-privilege in check.
Objects may not be as large as they appear on Grindr
Every dating website or app has users who fudge a little bit on their age, height, or how recently the photographs were taken. However, levels of outright falsehoods and fiction run highest on Grindr, where exaggerated genital size or use of other people's pictures is so rampant that a super NFSW Tumblr called Fakers of Grindr has popped up to hilariously document the dishonesties.
Grindr users aren't the only single (or non-monogamous, this is the Bay after all) folks guilty of fudging the truth. It's not uncommon for heterosexual women in SF to list their age as 105 years old in order to evade the settings of bros and creepers, or for kinksters to say they live in Antarctica on FetLife.
Your date will creep on your Facebook
Rarely does a day pass when Facebook doesn't do something exceedingly creepy to make you wonder how it spies on you with such ruthless efficiency. I don't know how the site determines which "People You May Know," but many people I've matched with on dating apps suddenly show up there. And you'd better believe I drop everything to scour that profile for publicly available sexy pictures.
Everyone is rich, everyone is broke
Listen, I know millionaires in San Francisco who still have housemates because they otherwise can't make the rent. I know one person who got a job at a big-name tech company and complained that it was a pay cut from their ride-sharing driving gig. The bizarre realities of the San Francisco tech boom create some serious Charles Dickens "best of times, worst of times" paradoxes. You will date people far more accomplished and successful than anyone you'd meet in your hometown, but they're still having a harder time making ends meet than your back-east counterparts.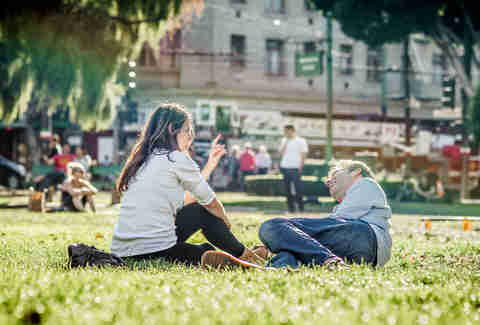 You have Peter Pan Syndrome -- and there's nothing wrong with that
Major life benchmarks like buying houses, having kids, and "settling down" are pretty much permanently on hold throughout your dating pool. This is commonly known as Peter Pan Syndrome, a pop psychology descriptor for the tendency to not grow up and buy washing machines, and instead rely on apps that pay other grown-ups to do these things for us. San Francisco is a place where adults have toys and action figures on their desks at work, where grown-ups put on onesies and ride Big Wheels, and where it is considered therapeutically appropriate to have a sense of adult play. And that's actually kind of healthy.
So who knows -- maybe San Franciscans' embrace of immaturity is a sign of our advanced maturity. We think that makes us quite the catch.
Sign up here for our daily San Francisco email and be the first to get all the food/drink/fun SF has to offer.