Some people don't think of Oakland as a lovely city, but its residents have lots of love and pride in The Town. We love our sports teams, saying hella, social justice, and exploring everything Oakland has to offer. Cross "Netflix and chill" off the top of your list of dating ideas and take your date out on The Town.
East of Downtown
Bring your blanket and picnic basket for a mellow time along the banks of the Lake in the center of the city.  Relax on the grass with your date and enjoy views of Downtown Oakland to the west, the hills to the north, or Eastlake while you people-watch. If picnicking is not your thing, head to Lake Chalet for cocktails and dinner, where you can enjoy a good meal and, on Tuesdays, a live band. The waterfront restaurant is a great option day or night, when the lights around the lake are guaranteed to give an extra romantic touch.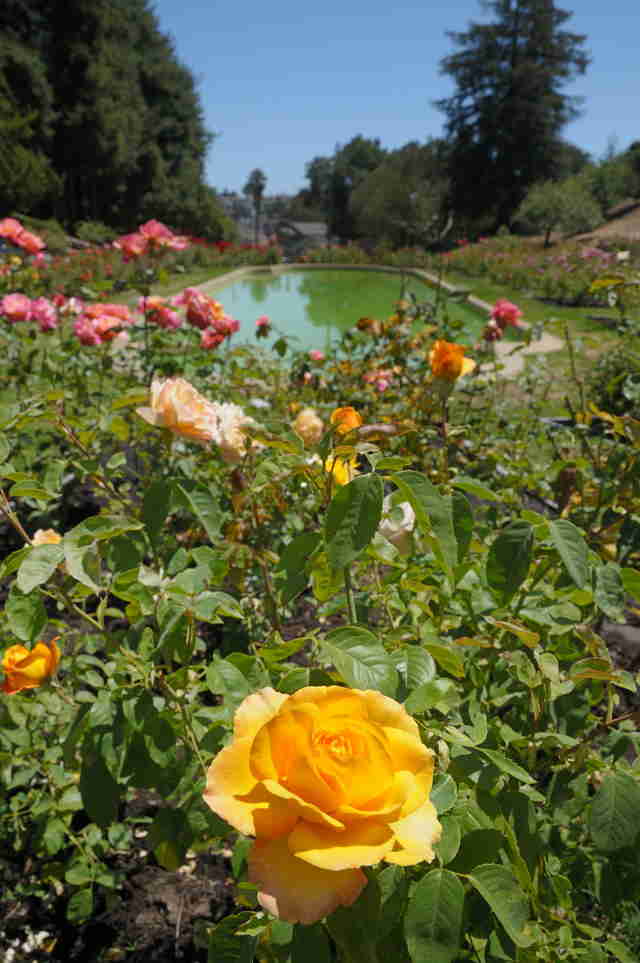 Grand Lake-Piedmont border
Tucked away in a residential neighborhood off Grand Ave is the Morcom Rose Garden, a Greek-inspired amphitheater with hundreds of flowers perfect for a romantic date. Walk along the paved path to view the radiant blooms, or park yourself on a bench to take in the sun and smells while you flirt. If you believe that couples who sweat together stay together, lace up your shoes for a partner workout along the amphitheater's steps. If your date ends up being The One, the Rose Garden also hosts weddings.
East Oakland
You're lucky to be in a city with three professional teams -- for now. For that sports fan you have your eye on, ask them out to an A's, Warriors, or Raiders game. Better yet, if that person is originally from another city, buy tickets for a game where the Oakland team is playing their home team. If sports aren't your thing, the Coliseum also hosts the occasional monster truck rally (you know they're a keeper if they know who Grave Digger is).
Show 'em your art and soul
Downtown
Street festivals occur in Oakland throughout the year, but the Art and Soul Festival in Downtown Oakland is one of the largest. Thousands of people head Downtown each summer for a weekend of live music, multicultural food, art, and excellent shopping. Take BART straight to the event, or pedal over on a bike -- the festival offers free attended bike parking. If the chemistry is right, this date could last all day.
Get tilted at Hi-Life
Downtown
Keep it casual way late into the night at this bar/pizza parlor/pinball haven on Broadway at 15th St. Order up a couple of beers and a few New York-style slices, then head upstairs with your date to tilt some machines (or don't, some folks are real serious about playing fair). Hi-Life (also called Five10 Pizza) has a row of old-school and new-ish pinball machines, along with some older favorites such as Frogger and Ms. Pac-Man. It's open 'til midnight every night except Saturday, when you can play until 2am, so bring a roll of quarters and start a pinball competition. Winner pays for the next round.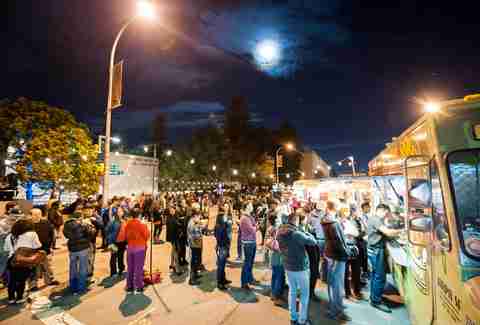 Downtown
Culture, food trucks, and a DJ -- this weekly event is so Oakland. Picture it: you and your lady/gent get science and history lessons from the museum's exhibits, then chow down at one of the 20 rotating food trucks. Buy a dish from different trucks -- you can count on Jamaican, Korean fusion, Cajun, and dessert trucks to be lined up along 10th St -- and share different tastes from around the world with your sweetie. Afterward, dance off those calories to the museum's DJ or a live band. Oh, and did we mention that museum admission is half-price on Friday nights?
Jack London Square
Meet in the sweet spot of classy and classic at this Jack London Square staple, fit for dinner or drinks & appetizers (the happy hour menu is killer -- don't miss the oysters or tri-tip sliders). Grab a seat by the window for a view of the Bay, and toast to each other.
Jack London Square
Take the date up a notch and see a show at Yoshi's, an intimate venue and Oakland staple known for its amazing shows and delicious sushi. Yoshi's is the spot for couples who are into jazz, soul, and funk, and offers reasonably priced tickets in a swanky setting. Some of the best artists in the world perform here, so snuggle up close to your date while singers belt out love tunes (maybe even sneak in a few kisses). If you're not into the band, Yoshi's is also open for people who just want sushi rolls and cocktails.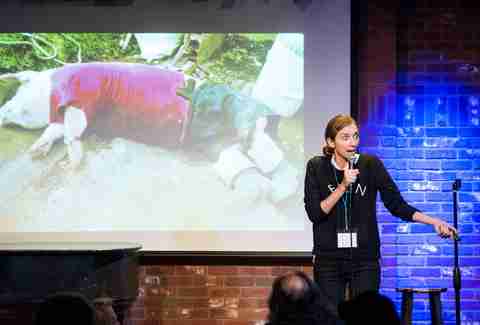 Uptown
Going on a date (especially if it's a first date) can be mortifying enough, but what better way to break the ice than by listening to adults share some of their most embarrassing and awkward childhood experiences? Storytelling series "Mortified" does just that at The New Parish. Performers read diary entries from their teen years aloud, and don't shy away from topics like sex, puberty, and family. Buy your tickets ASAP because they sell out quickly, but bring your dancing shoes, too. New Parish is a nightclub, and if you're not too mortified after the show, you can cut a rug with your boo.
Feel hella good vibes
Uptown and Grand Lake
Things between you and your date are getting steamy, and it seems like there's gonna be some action at the end of the evening. You want to play it safe, but you're out of lube and condoms, and all your toys are busted. Don't fret --  this super-sex-positive city has a handful of friendly sex shops for all your bedroom needs. Feelmore Adult Gallery on Telegraph Ave specializes in toys, art, and sexy vintage books for people of all sexual and gender identities, and also hosts events (including a comedy night!). Renowned Good Vibrations in Grand Lake is also known for its educational sex workshops and is stocked with toys, clothes, books, and more. Both are bright, chic stores founded by women with helpful staff. For couples who have dated a long time, these stores are great places to get ideas to spice up date night.
Get high and odd
West Oakland
Skyhigh Odditorium's acrobatic shows will reminds you that, no, you haven't seen it all in Oakland. Students from its aerial arts school soar through the air and perform tricks on silks, ropes, chains, and rings. Shows are often themed, and range anywhere from the mystical and sexy, to comedic and strange. Head to this oddly intimate warehouse for an unforgettable date that will have you on the edge of your seat.
Hike the road less traveled
Oakland Hills
For the partner who loves nature, views, and a good workout, Oakland's hiking trails are a hit. You're guaranteed to get lost in gorgeous redwood forests (or just get lost), which will make you feel like you've left the city far behind. If you're not ready to go on a hike alone with your date, the East Bay Regional Park District hosts group hikes -- and maybe you could meet someone nice to bring home to your mother.
Sign up here for our daily San Francisco email and be the first to get all the food/drink/fun SF has to offer.