Prop 60 Could Take Away All the Porn in California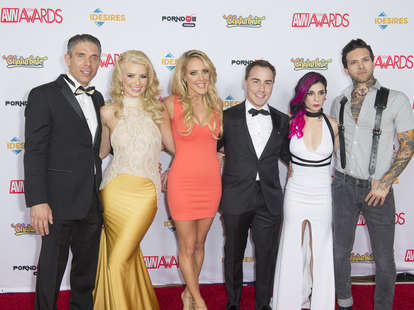 An initiative on the California ballot this election could have profound effects on your porn consumption. The "Condoms In Pornographic Films Initiative," better known as Proposition 60, would require performers in adult films (and pornographic photography) to use condoms in scenes of sexual intercourse, but it also has the potential to completely upend the adult film industry in San Francisco and the state of California.
But most of us don't work in the adult film industry, so how would Proposition 60 affect everyday San Franciscans? It's well-known that Bay Area adult film producers like Kink.com and several smaller queer porn companies might move their production out of California if Prop 60 passes.
It is less well-known, however, that all Californians might lose the simple ability to look at our favorite porn sites entirely if Prop 60 passes.
"What has been discussed industry-wide is that companies, even ones that are not producing in California, would start blocking California IP addresses," said No On Proposition 60 spokesperson Mike Stabile.
Just like in China, Saudi Arabia, and about three dozen staunchly anti-porn countries, California could be blocked from viewing Internet pornography. But the blocking wouldn't be enacted by the government -- it would be enacted by the adult film sites as a proactive measure against expensive lawsuits.
"Porn troll" fears could shut down sites
The text of Prop 60 permits any "state resident to enforce violations," meaning that anyone in California could bring a lawsuit against an adult film producer if they suspect condoms were not used in a sex scene. Since websites themselves could be sued, some sites may block internet IP addresses located in California.
"A lot of people assume that's what's going to happen should this pass," Stabile said. "You would lose the California market, but it would be less expensive than defending yourself against frivolous lawsuits."
The risk of frivolous lawsuits is substantial, according to Kink.com producer and performer Ariel X. "Anyone who files a charge gets 25% of the fines [awarded], so someone can make a living on this," she said. "They can open up shop and just start watching porn all day and just file a lawsuit."
The industry worries that stalkers, religious activists, or Prop 60's sponsor, the AIDS Healthcare Foundation, could suddenly act as litigious "porn trolls" and bring a string of costly lawsuits against porn producers. "We are concerned that the 25% 'bounty' will appeal to both the troll level of attorneys and clients as well as [AIDS Healthcare Foundation president Michael] Weinstein," adult industry attorney Karen Tynan told Thrillist.
But proponents of Prop 60 insist that the measure ultimately makes performers safer, particularly in regards to dangerous viruses like HIV. "Proposition 60 seeks to protect young adult performers from sexually transmitted diseases," Yes on 60 communications director John Schwada said in a recent op-ed. "Prop 60 will protect young performers from their bosses' irresponsibility and from infectious diseases."
Size doesn't matter with Prop 60
Between tube sites, clip sites, studios, and various performers sites, a
2013 analysis
found a full 30% of all internet bandwidth is pornography. California is the state that consumes the most internet pornography, if you multiply
PornHub pageviews by state
by
US populations by state
.
In order to raise awareness of their legal risk, porn sites like Kink.com, Vivid, and Evil Angel went "dark" for one day in October -- blocking Californians from seeing any adult content on their websites. "I saw a dip in revenue that day, it was substantial," said Pink and White Productions founder and producer Shine Louise Houston.
Since Prop 60 extends liability to anyone with a financial interest in the film, even your favorite tube sites like PornHub, YouPorn, and xHamster could start blocking online porn from Californians.
Most Bay Area-based porn sites are not tube sites, and most are not big. "I would say about 75% are smaller scale, not even mid-range scale," adult film performer and Pink and White Productions online marketing director Jiz Lee told Thrillist. "The majority of companies are performer-run -- if you could even call them companies, they really are that tiny. They're cam models, they're performers who have a couple clips for sale, or a studio that has 10 videos on a page.
"The face of the adult industry has changed as piracy has given us a need to create new revenue models," Lee continued. "In 2016, an estimated 75% of performers are also producers, creating our own content for custom videos, clip stores, and our own membership websites."
Hide your magazines -- all of your porn is at risk
"Any place that you can get porn digitally or physically would be affected by Proposition 60," said adult performer per Verta. "Prop 60 is written to just push porn out of California -- not just as an industry, but entirely.
"It would apply to all kinds of media," she pointed out. "The way that it's written, Prop 60, would also apply to photographic pornography. Places that sell pornography in DVD form would be financially liable if someone bought a DVD from their store and decided they were going to sue, they could sue that little sex shop."
Prop 60 would not affect California adult stores retroactively, meaning they could sell porn created before the law was instituted. Should the proposition pass, those stores couldn't sell anything filmed after Nov 9th that didn't use condoms filmed, and burden of proof would be on the store if there's a lawsuit. Those stores could sell their wares out of state, however.
per Verta predicted that distributors will eventually stop distributing pornography in California. "We would not see porn in California anymore. It would just be gone."
While most California laws are immediately put into effect, regulations around Prop 60 would be implemented beginning Jan 1st, 2018. This could give production companies plenty of time to move operations out of state -- perhaps to Nevada, which has no rules specifically covering pornography production and requires no permits to film on private property, a home, or in a hotel room.
"I do see a lot of people scheduling Jan 1st as a 'pull-the-pin' day if Prop 60 passes," Tynan said.
Should Prop 60 pass (and potentially set a precedent for other states), it may encourage people already frustrated by the state to pack up their porn and head to greener pastures. The only sunny side to the success of Prop 60 -- and future porn-free times will be dark days, indeed -- is that it may be easier to find an apartment.
Sign up here for our daily San Francisco email and be the first to get all the food/drink/fun SF has to offer.
Joe Kukura is a freelance writer who just wrote perhaps the least sexy article about pornography that you will ever read. You can follow his unsexy stylings on Twitter at @ExercisingDrunk.