It's hard enough to connect with someone in San Francisco you truly want to go on a date with, so in that magical instance when you both swipe right and actually have a conversation that leads to wanting to meet IRL, it's too momentous of an occasion to settle for just grabbing a drink at a bar. A date should be special! After all, in this town, you never know when your next one's gonna happen. Which is why we put together this list of guaranteed-to-impress SF dates for every single night of the week. Best of all, you'll for sure have a good time even if you never want to see the person again. And an even better time if you do.
MONDAY: Get down to Motown

It's easy to try to keep things low-key on a Monday, but grabbing a glass of wine and a bite is so zzzzzzzz. Instead, hit up M.O.M. (Motown on Mondays), a weekly throwback dance party at Madrone Art Bar. This is seriously one of the best dance parties in SF, and if you get there before 9pm, there's no cover. Though even if you get there after, it's just three bucks. If you want to grab dinner beforehand, Nopa, Nopalito, Bar Crudo, and 4505 Burgers & BBQ are all good options within walking distance. Just be prepared to stay out way past your bedtime, 'cause once you hit the dance floor, you won't want to leave 'til the lights go up at 2am.
TUESDAY: Take down tacos and trivia

It's not a Tuesday without tacos, so start your date at any Mission spot that serves just that. (Suggestions: La Taqueria if your date is new to town; Taqueria Vallarta if your date is laid back and down; or Loló if you're looking for something a little more upscale.) After you've handled that, head over to nearby Elixir for Quiz Night, which starts at 9pm, is free to play, and has a wide enough variety of questions that you'll be able to learn a lot about your date and what he or she is into. Plus, if you win, you could get a bar tab worth $30 (grand prize), $20 (second place), or $10 (third).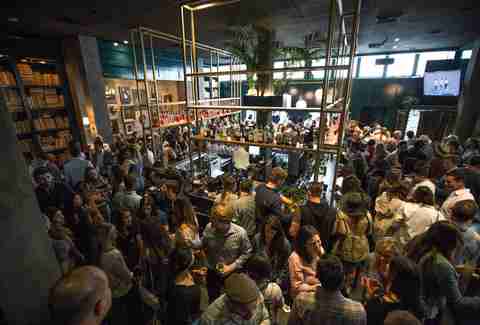 WEDNESDAY: Knock back bourbon and throw some bones

Every Wednesday, The Dorian pours a high-caliber featured bourbon for just $6, which you can sip while enjoying a friendly game of Dominos in their "study." Yes, that means you have to go to the Marina, but the self-proclaimed "modern day parlor" is sexy as hell, and a great spot for a date. There are also $8 bourbon cocktail specials, if drinking it neat or on the rocks isn't your (or your date's) thing, and plenty of dishes to share, like oysters, deviled eggs, shrimp and crab cake sliders, a shellfish tower, and more.
THURSDAY: Sip cocktails, listen to music, and learn something new

NightLife at the California Academy of Sciences is possibly the most perfect SF date of all, as you get to wander the entire museum, including the living roof, rainforest, aquarium, and planetarium, while sipping on cocktails and listening to live music and DJs. And it's totally kid-free. Admission is just $15 for non-members, unless you want to pull out the stops and do the $59/person VIP experience, which includes a private tour, VIP access, open bar in a reserved area, and a reserved pass for the planetarium. Guess it all comes down to how much you want to impress your date.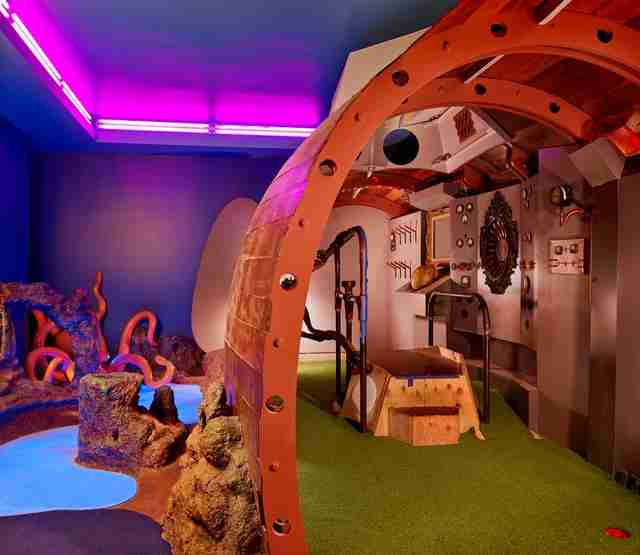 FRIDAY: Show off your athletic prowess

Um, no... not like that. Well, maybe like that, but not until after you've gone back in time and dated the old-fashioned way first. Option No. 1: go roller skating at The Church of 8 Wheels, which is adults-only on Fridays from 7 to 11pm. There's no alcohol, so either pre-game, bring a flask, or embrace an evening of sobriety and lack of injuries. If roller skating isn't your jam, then try Option No. 2: play indoor miniature golf at Urban Putt, where you can also eat some pretty decent food and drink cocktails while you wait for your turn (but not on the course). If you're determined to score, Option No. 3 is for you: Mission Bowling Club has super tasty food and cocktails, though you'll want to make a reservation because there are only six lanes.
SATURDAY: Explore Golden Gate Park

You can't really go wrong with general exploration, but if we had to recommend a plan, it would involve wandering the Botanical Gardens (free for residents and so pretty) followed by renting a pedal boat at Stow Lake. When you're finished, get an It's-It and a beer at the boathouse café and casually mention that movie on Netflix you're planning to watch later that night... just in case.
SUNDAY: Wind the week down with live jazz and cocktails

Sunday night dates should be low-key and laid-back, but still sexy and fun. Which is the exact vibe at Club Deluxe, where there's always really good free jazz and really good cocktails. Though you can get pretty decent pizza there, make the evening last a little longer by starting with dinner at Magnolia Gastropub & Brewery (just a block away) or cocktails and appetizers at Alembic.
Sign up here for our daily San Francisco email and be the first to get all the food/drink/fun SF has to offer.