September is over, and that means it's about to start raining for approximately six months. So if you want someone to Netflix and chill with during Seattle's interminable chilly season, you better put in the work now, starting with one (or more!) of these 15 fall date ideas -- none of which involve staying home and watching Netflix, but will hopefully lead to way more chill time.
One word: Sailgating
Various locations
This unique Seattle tradition combines three great date ideas -- brunch, boating on Lake Union, and a UW football game -- into one unforgettable way to spend a Saturday. Boats leave from Anthony's in Ballard or Ivar's in Wallingford, take you to the stadium in style, and then bring you back after the game's over, giving you a seriously convenient way to avoid gameday traffic, and hopefully celebrate a little bit longer.
Go apple picking, obviously
Snohomish
Most of the country's apples are grown in Washington, and you can get in on the action at more than a dozen farms around the state, the closest of which is The Farm at Swan's Trail. In addition to a U-Pick apple orchard (open now until supplies last), it has a massive corn maze, a 50-acre pumpkin patch, and all sorts of stuff grown-ass adults love, like a petting farm, wagon rides, and more.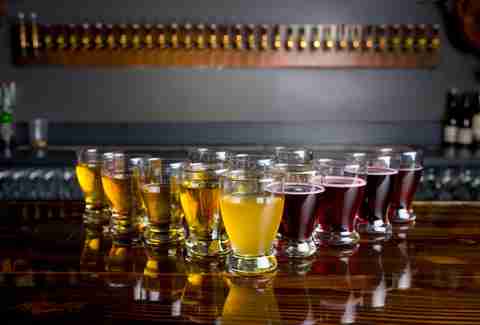 Go cider tasting, naturally
Various locations
Speaking of apples, Seattle is in the midst of a cider boom. Now, there are plenty of great places to go and try what is often called "a more approachable and intriguing beverage than beer" by cider makers across the country.
Bundle up by a fire at Golden Gardens
Ballard
You probably spent so much time this summer looking for Seattle's hidden beaches that you never managed to see a sunset from the sandy shores at Golden Gardens. Don't worry, you likely wouldn't have been able to find parking anyway. But you can now! Pack some blankets, find a fire pit, and spend an evening huddled as close to each other as humanly possible. For codependency obviously… I meant warmth, I swear!
Go on a brewery tour of Ballard
Ballard
The city's myriad Oktoberfest-inspired beer festivals are over. Now the best way to try a bunch of seasonally appropriate Seattle brews is to either post up at a good beer bar all day or hit a ton of breweries that are all basically within walking distance of each other. The second, more adventurous option probably means heading to Ballard, where despite the pace of new openings slowing recently, there are still more craft breweries huddled in one area than there are in several states.
Enjoy a three-course meal… for $32
Various locations
It's the quintessential date: a three-course meal at a nice restaurant. But ohhh boy, that kind of thing can get spendy… unless you do it during the two weeks of Seattle Restaurant Week, when a slew of the city's hottest eateries offer prix fixe dinner options for just over 30 bucks a pop.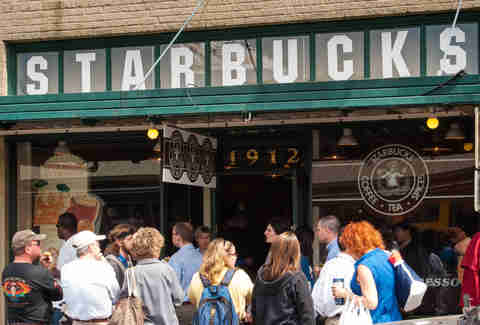 Experience Seattle like a tourist
Various locations
It's pretty fun to check out all the places that locals take for granted... or at least it would be if it weren't for all the damn tourists. That's why fall's the perfect time to do it. Don't know where to start? Try an impromptu Instagram tour of Seattle, which basically just means hitting the most popular places in Seattle to post pictures -- a list that includes alluring date spots like the Aquarium, Kerry Park, the original Starbucks, and more.
Eat pie at A la Mode
Phinney Ridge
If ice cream is the perfect summer treat, then pie is probably fall's. And while there are plenty of places that'll serve you a nice slice (Pie Bar comes to mind), this tiny little pie shop takes the cake (not sorry!) in our opinion -- if only for its handmade pie "lollipops." As an added bonus, it's right across from Woodland Park Zoo, which, in addition to housing all kinds of furry animals (always a date win), just happens to be on the above-mentioned Instagram tour of the city.
(Get someone else to) Make him/her laugh
Various locations
The Seattle International Comedy Competition is going down all November long (it kicks off with an "Opening Night Gala" at the Market Theater Nov 2nd from 8-11pm), and there's nothing better than getting your date to laugh all night. Unless, of course, it's at you after you ask them if they want to go to your place.
Take her to the (Undead) Prom
Queen Anne
There are lots of ways to celebrate Halloween: Seattle's always-popular pub crawl, going to the year's biggest EDM show (Freaknight), or… well, sitting at home and eating all the candy you bought for "trick-or-treaters." But the most romantic one is probably taking her to the EXP's costume dance party, which'll have spiked punch, a photo booth, and live music by Prom Queen.
Try Seattle's sexiest brunch
Downtown
All fall long, Can Can Kitchen & Cabaret is opening the doors to its sultry subterranean lair for matinee burlesque performances that, while "family-friendly," are still pretty steamy. It also comes with an amazing brunch menu, featuring stuff like crab beignets(!), Dungeness Benedicts, and bottomless mimosas -- which are never a bad idea. Especially on date night… err, date day.
Find out if Casanova was correct about oysters
Downtown
Science is suspicious about the legendary playboy's assertion that the bivalves are an aphrodisiac, but you can see for yourself at Elliott's massive oyster-fest Nov 5th on Pier 56, or by hitting one of these Seattle oyster-slurping spots.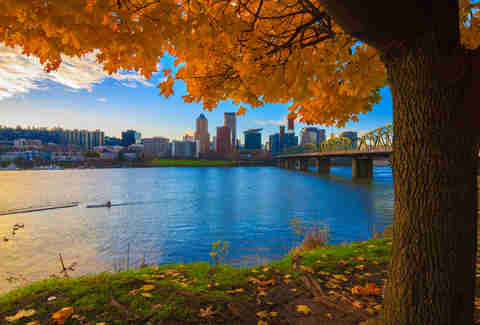 Take a train to Portland
Various locations
Don't tell anyone, but we may finally be willing to admit that… *sigh* Portland is cooler than Seattle. The recent boom has put a shiny, happy sheen on The Town that definitely leaves Portland feeling more authentic, and makes it the perfect place for a day trip. PDX just not your thing? It's cool, the train ride up to Vancouver (which might be even cooler!) is one of the prettiest anywhere in the country.
Feed them chocolate. So much chocolate.
Interbay
The NW Chocolate Festival is bringing dozens of chocolate makers/purveyors to Smith Cover Nov 12-13th, which comes right at the end of two weeks of chocolate-related events all over the city, giving you all the opportunity you need to... wait for it... make your date sweet on you. Thank you, thank you.
Get physical
Green Lake
No, not that kind of physical. We mean the kind that, even come sweater weather, keeps you looking good without said sweater. Take your special someone for a jog around Green Lake -- there's a run there Nov 20th that's followed by a mashed potato-based feast -- or hit one of these free Seattle spots to work up a sweat.
Sign up here for our daily Seattle email and be the first to get all the food/drink/fun in town.