Rent's due, bills are piling up, and why is this Sallie Mae woman always blowing up my inbox? The stress of owing money is usually only relieved by... spending more money, most wisely on $12 gin & tonics. However, it doesn't have to be like that. Grab your girlfriend, boyfriend, friend with benefits, Monica from Friends, whoever! And then take them out for a night on The Town that don't cost a thing… much like J.Lo's opinion of love. Here are 10 free dates you probably have never thought of.
It's always free to stroll this park that's set on the slopes overlooking Elliott Bay. But here's the bonus. Thanks to Summer at SAM, they pep it up during the summer with nights of music, activities, and food trucks. Of course, you could show you're so romantic (definitely not just broke) by packing a picnic. Bands, including Deep Sea Diver and Chastity Belt, will be playing themed nights. There are also crafty activities and talks by artists on the theme of "favorite things." Pets are welcome, but must be on a 6ft leash. The performances and activities go until 8pm.
These events are like parties all around town where you can see art and show your date how cultured you are. There are free drinks (tip your 'tenders!). And if you can afford it, you should buy the art. But even if you don't have a penny to your name, you can go to one of the more than a dozen art walks around the city, almost two a week, and have a lovely, art-filled stroll with your date. Columbia City's art walk is only open in the summer, so it's a great one to try now.
There's nothing people seem to want to do more in the Seattle summer than put up a huge screen on a grassy knoll and show a classic '90s hit. But beware, some cost as much as FIVE whole dollars. Head over to Seattle Center for The Princess Bride Quote-Along, Mad Max: Fury Road, and West Side Story. Get there early for a good spot (and to see the curated shorts SIFF will be playing before the movies begin). With the Space Needle looming above and a nice picnic, this is a date that your date might not even notice was free.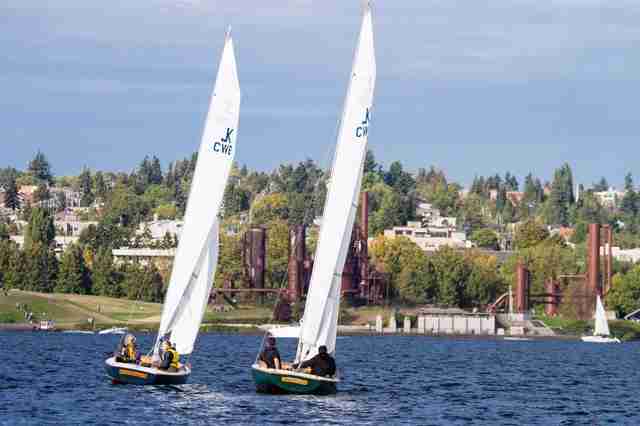 The Center for Wooden Boats has been offering the Sunday Public Sail for 25 years. Get down there before 10am to reserve a spot. If you're the hero of the couple, you can go by yourself to make the reservation. If you're a member, which is $50 a year or $25 for students, you can reserve up to four seats online. The rides leave between 11am and 3pm, but you don't have to hang around to wait. You can come back later with your date when it's your time. The rides are about an hour, and take off from the CWB docks, where you can check out the workmanship of wooden boats and enjoy the view.
Technically you can skinny-dip anywhere you can get away with it, but people are least likely to call the authorities when you're skinny-dipping in a socially acceptable zone. There's a history of nipplery at Denny Blaine, but there you have to wade in and run out, jiggling. This dock, literally just a long structure in the shape of a T, is a bit better for the quick jump-in-and-climb-out-for-your-towel. During the day, T Dock is a favorite of the Capitol Hill crowd. At night, you just might have the place to yourself.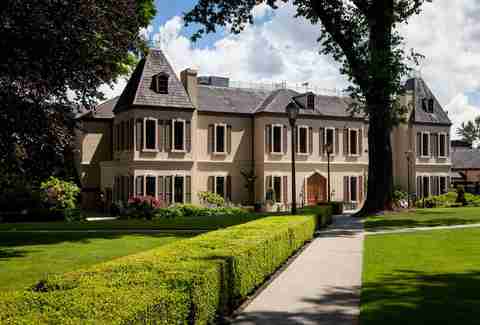 Just a quick drive away from the city, Chateau Ste. Michelle is known for its expensive concerts. But did you know they also give free tours? It's true! You and your date can learn a bit about wine, see the wine-making process, and then get some free samples of wine. Don't spit it out, and it will be just like you paid for a drink. The tours last about 35 minutes, but you can also hang around the wooded grounds. You don't have to make a reservation for groups of fewer than 10, and they're open from 10am to 5pm.
Feel feelings at a book reading
You can see some big names in the small rooms around Seattle. Meet someone in the Self-Help section and head down the back stairs of Elliott Bay, where you and your date can catch a free reading and, perchance, a cheese spread. To keep up with all these events, get on the mailing lists at Hugo House, Elliott Bay, and other book stores, or check out The Stranger's listings.
Spend the day (or night) at Kerry Park
If you've never been to this park, you'll recognize the view as soon as you get there. It's the one that makes it look like the Space Needle is actually part of things. While we wouldn't recommend you head over to too many city parks at night, this one sits on a quiet residential street and has an open layout; it just feels less sketchy than other places. It's even officially open 24 hours a day. Combine the view, the sculptures, and a brought-from-home bottle of wine, and you've got yourself… a good view, some sculptures, and a bottle of wine.
Drive north to the beach overlooking Puget Sound for a romantic sunset and some fire. You have to get there early, as the city provides about half a dozen primo pits for all of Seattle. You can't have a fire outside of one, so you have to stake your claim. It's best if you can blackmail your roommate to go sit there for hours for you. But if you can get a spot, the view is one of the best in Seattle, with sailboats drifting in and out of the setting sun's reflections on the water.
During the month of August, KEXP and Seattle present four free concerts at the Mural Amphitheater lawn. This year The Thermals, Cavemen, and The Mynabirds headline. The show starts at 5:30pm, so head over straight from your day job, or, better yet, sneak out early to get the best seats (and definitely bring two folding chairs or a blanket). Put 'em in your calendar now, because we know you're going to forget by the time August rolls around.
Sign up here for our daily Seattle email and be the first to get all the food/drink/fun in town.