The 29 Best Winter Date Ideas in Toronto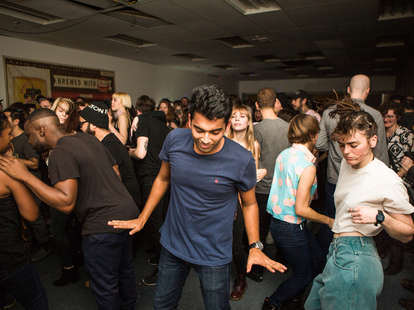 Dating in Toronto is... well, complicated. The GTA's most eligible bachelors and bachelorettes are usually preoccupied with ambition and individualism, and if that's not the case, then there's a good chance their apartment resides in a land far, far away (sorry, Willowdale). The end result is an app-driven social dating experiment that often leads to either, a) a casual Friday night at the Scotiabank Theatre, or b) an awkward coffee shop encounter. It can be unapologetically rough out there, so to help stave off boredom (and another night at Snakes & Lattes), here are 29 different date options to get you through the winter months.
Go skating at the Harbourfront Centre
The Harbourfront's free skate nights have DJs bumping everything from UK garage to Queen Bey. Partnering with Boxcar Social, there are coffee flights and charcuterie to nosh on when you get tired of doing triple axels to impress your date.
Warm up a weekend with Bloor-Yorkville's IceFest
IceFest returns to Yorkville Village on February 25 and 26 for a large dose of innocent fun. This year's theme is Canada's 150th Anniversary; highlights include a maple taffy station, local vendor tents, and the 17th Annual Sassafraz Ice Carving Competition.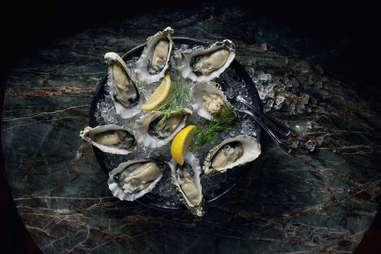 Eat prix fixe on a budget
The city's annual prix fixe food festival, Winterlicious, will be in full effect from January 27 to February 9 with three-course meals running from $18-$28 for lunch and $28-$48 for dinner. Make sure you work up an appetite: 220-plus restaurants are participating, including Fring's, Loka, Brassaii, Bar Buca, Carbon Bar, Miku, Kasa Moto, and Momofuku Daishō. It's the perfect way to eat well without worrying about draining your bank account.
Throw back a cold one at a craft beer festival
If you and your S/O consider yourselves to be the outdoorsy types that enjoy a pint even in sub-zero weather, the Winter Craft Beer Fest is for you. The annual event returns to Roundhouse Park on Saturday, February 11, featuring breweries such as Amsterdam, Muskoka, Flying Monkeys, Left Field, Nickel Brook, Lake Of Bays, and Collective Arts. There will also be a handful of food trucks (Smoke's, Fully Loaded) and the first 500 guests will receive a free toque -- nothing more disgustingly Instagrammable than two of you wearing the same hat!
Discover the magic of a whiskey distillery tour
Because, for some, whiskey trumps beer. Forty Creek's flagship provides a detailed tour of the production floor and cellar before concluding with a complimentary tasting bar.
Attend a chic party in a giant art gallery
The Art Gallery of Ontario's First Thursday parties return on February 2 with the brand new theme "SHAPESHIFTERS." The evening soirees will focus on "artists who envision spaces of potential, transformation, and audacity" and do so through pop-up talks, making art, and special collections/installations.
Cozy up with fondue for two
The Art Square Gallery & Cafe, nestled next to the AGO, has crepe calzones and handmade chocolates that are nothing to scoff at, but the Chocolate Fondue For Two is the thing to get. This date night special is made with organic, fair trade dark chocolate and served with fresh fruit, two white chocolate crepes, and an optional splash of Grand Marnier or Amaretto liquor.
Indulge in a city's worth of desserts
If fondue isn't your thing, then it's time to flirt with the city's thriving dessert scene. Skip the lines at Menchie's and find a new vice at Sweet Jesus, Cacao 70, Glory Hole, Crepe TO, Wafels & More, Peace Treats, Frosty Roll, Sweet Esc Dessert Cafe, and/or Rosen's Cinnamon Buns.
Escape to a winter chalet
Most Toronto singles wouldn't dare go on a date that's west of Roncy or east of Woodbine. But if you need a break from the city, then a winter chalet's for you. Dozens of cabins are available for rent in nearby spots such as Coldwater, Calabogie, Horseshoe Valley, and Collingwood, and they're ideal for hiking, tubing, snowmobiling, and low key nights that involve Netflix and a fireplace.
Discover the joys of skijoring
A cameo from man's best friend can save a date from being absolutely dreadful, so it only makes sense to take on the dog days of winter with actual dogs. Skijoring -- aka "ski driving" in Norwegian -- is a combination of cross-country skiing and dog sledding, and it's worth the trip to Quiet Bay Lodge, Woodland Echoes, or Arrowhead Provincial Park for a session with The SportLab.
Be one with the jellies at Ripley's Aquarium
Toronto's beloved aquatic paradise is slouching towards Malibu Rum beach parties, but it's still the number one place to find transcendence amongst the fishes. A $30 ticket nabs you access to pop-up habitats, coral exhibits, interactive dive shows, shrimp manicures, and endless stingray selfies.
Head to tropical climates at the Allan Gardens Conservatory
If the snow's getting to you, spend an afternoon at Allan Gardens. The conservatory consists of six different greenhouses and a permanent plant collection that features orchids, bromeliads, camellias, cacti, hibiscus, and other flora from Australia and the Mediterranean.
Illuminate your nights with the Toronto Light Festival
Organized by the folks behind the Toronto Christmas Market (and its Instagram-worthy magic), the Toronto Light Festival is set to unearth interactive installations in the Distillery District from January 27 to March 12. Admission is free.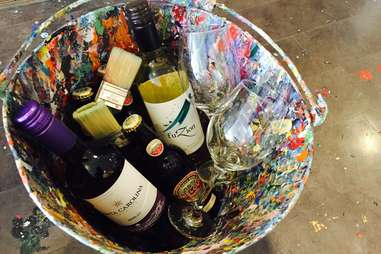 Channel Demi/Swayze with a paint date
You might not be able to Swayze your way to recreating scenes from Ghost at Paintlounge, but there's a close alternative. The studio hybrid is offering an "Art + Wine With Your Valentine" workshop at its three locations in Little Italy, Leslieville, and Markham, and it includes two solo freestyle painting sessions with complimentary drinks. Why? Because art is sexy.
Show off your pipes at a karaoke bar
When life gives you an opportunity to karaoke, you karaoke. Koreatown has its hot spots (XO, Freezone) but Yonge & Gerrard's Bar + Karaoke Lounge is one of the few places where you can belt it out to Bowie and Young Thug. For proof, the website includes the full catalogue of songs.
Two hand an axe like a Stone Crow
Why go bird watching when you can refine your axe throwing skills? BATL Grounds has spawned eight different locations across Ontario and has attracted celebrities the likes of Vin Diesel and Ruby Rose. The public walk-ins are a casual intro to the sport, but the private events were made for group dates, concluding with a tournament to crown the day's axe-throwing champion.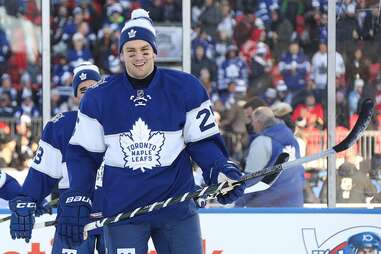 Cheer on... the Maple Leafs?
Seriously? A Maple Leafs game? The boys in blue have generated a solid number of wins this season and it's all the more reason to see them in person as their upcoming home schedule has them facing off against Ottawa, Montreal, New York, and Chicago. There's a good chance your date may crush on rookies Mitch Marner and Auston Matthews, but can you really blame them?
Have a sci-fi night
The Royal Cinema's monthly sci-fi series, 'Robots Vs Unicorns,' has held viewings of Gremlins, Forbidden Planet, and The Dark Crystal, and this winter, they're set to showcase Mad Max: Fury Road- Black & Chrome Edition and a double billing of the 1970s gems Westworld and Futureworld. Need we say more?
Nerd out at Tilt Arcade
The Annex's new bar arcade is a prime spot for skee ball and Chicago-style hot dogs, but that's not all. Tilt's outfitted with AC/DC and Ghostbusters pinball machines, a lounge for SNES and N64 classics (think Mario Kart 64), and rows of arcade cabinets that include Double Dragon, Arknoid, Asteroids, Track & Field, Space Invaders, and Street Fighter II: Champion Edition. See who's the better nerd of the two of you.
Hug your favourite superhero at Toronto ComiCon
Toronto ComiCon is a sanctuary for those that completely geek out over comics, anime, sci-fi, and horror, and this year's event (March 17-19) is peak geekdom. That is, if you or your special someone still binges Neon Genesis Evangelion and fantasizes about John O'Hurley.
Escape from Casa Loma
Riding the escape rooms wave, the Casa Loma Escape Series features three different games: 'Station M', 'Escape From The Tower', and 'King Of The Bootleggers,' the last being a popular yet challenging play on an immersion experience that takes players through the tunnel beneath Casa Loma and into a secret 1920s speakeasy. Given the convincing characters and well-done styling, it's worth the $36 price tag. Nothing to bring to closer than deep-seated fear of entrapment!
Wish upon a star at the National Ballet of Canada
Following the 2016 productions of Cinderella, Onegin, and The Nutcracker, the National Ballet of Canada is showcasing the balletic world premiere of Pinocchio from March 11-24.
Spend a night laughing with Second City Toronto
The Toronto Mainstage Theatre is showcasing Hooking Up With The Second City, which "makes mirth out of missed connections, girls' night out adventures, and all the crazy things we do for love." But there's also student shows, the 2017 Spring Mainstage Revue, and workshops that intro improv, writing, and the philosophies and methods Second City uses to generate material.
... or with some of the biggest names in comedy
Louis C.K., Amy Schumer, Marc Maron, Chris Tucker, Jeff Dunham, and Jerry Seinfeld are all doing stand-up sets before March 6; choose wisely (or go with all of them, if you're rolling in cash).
Get acquainted with Toronto's music scene
Despite the winter lull, Toronto is kicking off 2017 with a number of must-see shows, including Run The Jewels, Ariana Grande, Wilco, Vince Staples, Local Natives, Japandroids, Sampha, and At The Drive-In. Long Winter also takes over The Theatre Centre on February 4, and the Wavelength Music Festival returns on February 17-19 with all sorts of indie heartbreak.
Say au revoir to Honest Ed's
The Centre for Social Innovation is throwing Toronto For Everyone, the first (and last) event at Honest Ed's before it's demolished and redeveloped. The festival runs from February 23-26 and is set to honor the discount store's legacy through bargain bins, trade zones, workshops, panels, yoga sessions, an art maze, a cocktail gala, and a massive farewell party.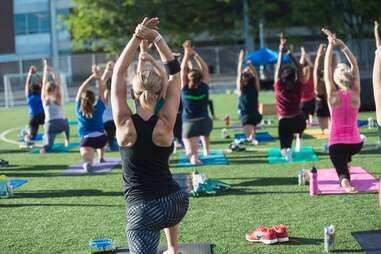 Zen out with morning yoga
Why not pregame your brunch date together with some mat work? Lululemon and the folks at 318 Queen offer a wide variety of community classes and workshops. If a 7am wakeup call is simply too early, Steam Whistle Brewing's Yoga UNTAPPED series lets you get bendy (and boozy) at a brewery.
Spend a Saturday at a locals-only marketplace
At Parkdale's Toronto Designers Market, comb through collections of antiques and goods together. TDM features a curated roster of local vendors that specialize in boutique wears, winter knits, BPA-free moisturizers, artisan sweets, custom decorative furniture, contemporary stained glass art pieces, and lots more.
Sit front row at Toronto Women's Fashion Week
Jeff Rustia and the Toronto Men's Fashion Week team are partnering with L'Oreal Canada to launch a six-day event that's all about womenswear. The reincarnation of Toronto Fashion Week is currently scheduled for March 9-14 -- venue still TBA. But if you're always constantly battling your S/O for best dressed, this is for you.
Sign up here for our daily Toronto email and be the first to get all the food/drink/fun in town.
Joshua Khan is a Toronto-based writer who is keeping chivalry alive through rose bouquets and covers of old punk rock songs. Follow him and his other endeavors over at @blaremag.