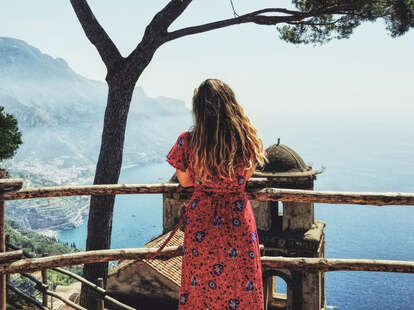 Tanner Crockett / Unsplash
Tanner Crockett / Unsplash
We independently source all of the awesome products and experiences that we feature on Thrillist. If you buy or book from the links on our site, we may receive an affiliate commission — which in turn supports our work.
There's a lot of ground to cover when visiting the Amalfi Coast—about 23 miles of coastline from Positano to Vietri sul Mare, to be specific. Not accessible by train and hard to traverse by car, this Italian gem is best seen with a little help from the professionals. Tap a few locals to take you from town to town—along the scenic Amalfi Drive or in a boat on the Tyrrhenian Sea—and you'll be much better prepared to stroll, swim, and sip your way through the region, stress-free.
Where to start? Among its 13 towns with their own historic centers, food specialties, and striking views of the sea, the Amalfi Coast has an overwhelming amount of beauty to behold. That just means more choices for you; local travel sites have an activity for every type of visitor, whether you want to stay busy by hiking and kayaking or prefer to keep things leisurely by drinking prosecco on a private boat ride. Plan your trip around a couple of these bookable experiences for a memorable, meaningful, and marvelously easy vacation.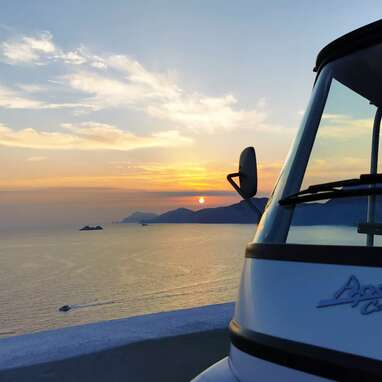 Airbnb
The best way to get oriented on Day One of your Amalfi Coast trip? Get a feel for each town by booking this 2-hour tour on an Ape Calessino (an adorable three-wheeled car with a backseat for two). Reviewers liken the guide to "the Mayor of Amalfi," describing him as an ace storyteller who provides context and recommendations for each stop on the ride, making it easier to plan the rest of your trip. Beyond the amazing tour, you'll get romantic sunset views, souvenir photos in "secret" locations, and a glass of Prosecco—a memorable aperitivo on the first day of your vacation.

What guests say: "This was an unforgettable experience! I am SO HAPPY that we booked this tour and we will be talking about this forever! Fabio was an incredible host, sharing stories and pointing out different sights along the way. He took us to so many scenic stops that we would not have gotten to on our own to take in the views and take photos. If you're staying on the Amalfi Coast this is an absolute must!"
Tripadvisor
If you prefer your scenic views to come with a workout, try this 3-hour kayak tour along the Amalfi Coast. You'll paddle past a stunning natural rock formation called the Arc of Lovers, picturesque villages like Furore and Conca dei Marini, and the striking Faraglioni rocks off the coast of Capri. Kayakers will also have time to swim and snorkel in sea caves and near secret beaches. Most reviewers mention that though the tour is good exercise, it's suited to all skill levels and includes a refreshing snack break of melon on the beach.

What guests say: "This kayak tour was so much fun! The guides were kind, helpful, and knew how to make the group laugh. The kayak journey was lovely and we made several stops at attractions (which were also helpful breaks from paddling). And the stop at the beach to swim was also great!"
Airbnb
Hiking along il Sentiero degli Dei—or the Path of the Gods, supposedly traversed by divinities while saving Ulysses from the Sirens on the islands below—is an essential part of any Amalfi Coast itinerary. If you'd rather not hike the cliffside path on your own (or if your ideal trek involves multiple snack breaks), this half-day, guided-by-a-local Airbnb Experience might be for you. Your group will hike a little under 4 miles in total, stopping along the way to take in views of the ocean and lemon farms as your guide points out historical sights, geographic interests, and flora and fauna.
You'll also eat on this journey. Enjoy snack breaks at local farms (yes, that means goat and pig sightings) tucked away from busy towns. Try freshly made bread, cheeses, cured meats, limoncello, and, for the main event, "traditional dishes of the gods."

What guests say: "First of all, this tour is amazing, a once in a lifetime experience! The views are breathtaking all around. The host's storytelling, his jokes, and his knowledge about the plants, the people, the history and the area make it worth every penny! Franco is a great guy who will keep you interested, keep you laughing, and definitely keep you walking! A wonderful experience we will surely never forget!"
Tripadvisor
Traveling with a group? Instead of herding onto the ferry to Capri, book this private boat tour driven by an Amalfi Coast local. Make the itinerary your own: Stop at famous grottoes for scenic swims, or stroll around Capri for a few hours after lunchtime. Captain Mauro can help you with recommendations and drive you to in-the-know restaurants, caves, and beaches that are accessible only by boat. You may spend most of your 8 hours relaxing in the water, but guests say the boat is decked out with snacks and drinks, a sound system, and a freshwater shower for rinsing off all that salt.

What guests say: "This was by far the best part of our trip!!! The scenery, of course, is stunning, but what made our experience that much more special was having Mauro be a part of it. Since he is a local, he will show you all these hidden gems which no other charter will/can take you to. If you are looking for a sign to book this tour, here it is! 100% worth it and will do it again the next time we visit!!!"
Airbnb
People who have signed up for this Airbnb Experience in the cliffs of Praiano will assure you that it's like no other cooking class you've ever taken. Giacomo, a farmer and guide, walks the group around the town's terraced gardens to chat about the Amalfi Coast's role in Slow Food, an international organization working to preserve local food traditions. You'll also gather wild herbs and flowers to use during the cooking class.
Preparing lunch is a group effort done in an outdoor kitchen overlooking the sea. At the end, you and your new friends will enjoy four courses—past reviews mention fresh pasta with wild herb pesto, plus fried lemon and ricotta ravioli for dessert—paired with local wine, beer, and liquor. Guests report that they loved not only the food, but also walking away with a deeper sense of connection to the region after learning about its agricultural customs.

What guests say: "Truly an EPIC experience. Once in a lifetime and the highlight of our trip. Giacomo is such a knowledgeable, kind host who made the experience that much better. He told us all about the history of food in Amalfi, helped us forage herbs, and even brought some yummy figs from his own garden. The cooking venue is absolutely breathtaking—we took our time and learnt so much. If you are in the area, do not miss!"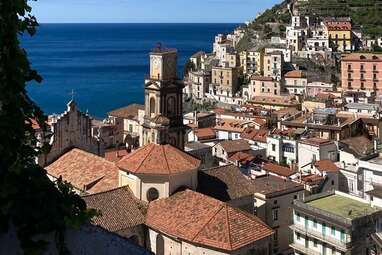 Tripadvisor
Take a break from crowded Amalfi and Positano by exploring the towns of Maiori and Minori, connected by a centuries-old road known as the Path of the Lemons, with a certified historical guide. This 2-hour walking tour is full of opportunities to take in the sights and smells of Amalfi lemons, a key crop along the coast and the star of many local specialties. In the towns, you'll stop at coastal viewpoints, ancient churches and villas, and hidden alleyways.

What guests say: "This is an excellent tour —a gem—that I'm so happy we stumbled upon. I would highly recommend it to anyone who would like learn more about the history and culture of the the Amalfi coast region, get beyond the beaten path, or just enjoy the views of coast up upon the terraced lemon trees."
Get Your Guide
Experienced cyclists will have the ride of their lives on this half-day, 37-mile round-trip tour along the Amalfi Coast. Starting in Sorrento, the sometimes-uphill, sometimes-downhill, and always-curvy route winds along cliffside roads with sweeping views of the sea and coastline. You'll pass through Praiano and Positano, take a half-hour break to hydrate and stroll around Amalfi, and cycle back to Sorrento with what will surely be an immense feeling of accomplishment.

What guests say: "We had a wonderful tour in a breathtaking landscape. On the bike you can absorb all the impressions much more intensely and leave the buses behind. Our tour guide was very nice. We can only recommend the tour!"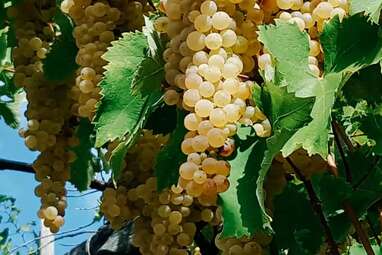 Airbnb
For an evening that feels more like drinking with friends than getting your sommelier certification in a stuffy tasting room, sign up for this wine and cheese tasting on Airbnb Experiences. Reviews say the vibe is friendly and casual, but you'll still learn a ton about grape harvesting, winemaking, and varietals produced by a family business in the hills above Positano. Guests cite generous pours, quality food pairings, and marvelous views—and they say the host is happy to arrange your transportation to and from the venue.

What guests say: "This place is indescribable. We had the most unforgettable experience drinking wine, eating food, meeting new people and learning about Antonio's family business. Antonio is an amazing teacher and I learned more on this one wine tasting experience than many at home. We were truly spoiled. I would come back to Italy just to visit here again."
Airbnb
The Amalfi Coast is notorious for its curvy cliffside roads. Instead of navigating your own way around the bends, relax and enjoy the views while a local takes you on his motorcycle through Positano and four other towns along the coast, telling you stories along the way. Ideal for solo travelers, this 3.5-hour Ducati experience starts early in the morning for sunrise views (and an absence of noisy traffic). You'll see Furore's famous narrow cove, tranquil fishing ports, and glimpses of Positano from neighboring villages. The guide is a professional photographer, so you'll get quality photos of yourself pretending to be the proud owner of a Ducati Scrambler, if you wish.

What guests say: "Vito was absolutely amazing. I had such a great time, learned so many new things, and saw amazing views. I have never been on a motorcycle and I felt completely comfortable. Would highly recommend for solo travelers!"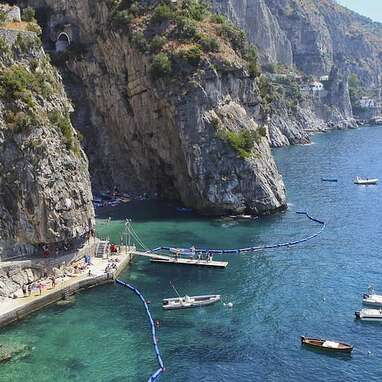 Tripadvisor
For those staying in Positano, booking a boat ride to Amalfi is a flexible way to explore another town—with swimming and snorkeling along the way. Your group can choose a 3-hour stop in Amalfi for lunch and shopping, or take a shorter break to maximize your swimming time. This 7-hour tour accommodates up to 12 people and is ideal for kids, families, and those eager to spot sea life (snorkeling gear, pool noodles, and life jackets are included onboard). The guide will fill you in on key landmarks and take you wherever you want to swim, including the ticketed Emerald Grotto. On your way back, you'll see Positano from a dolphin's POV.

What guests say: "Peppe was an amazing captain and he gave us a beautiful day at sea! We swam and saw amazing sights, and Peppe asked us at every turn what we would like to do. Lunch at a private beach club, homemade limoncello and fabulous music made our day incredible! We have three boys and they all had a blast jumping off the boat and swimming into sea caves. We felt safe and catered to the whole time and Peppe took time to fill us in on so much history."