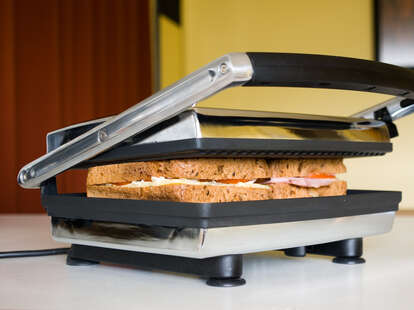 Shutterstock/Ashley Whitworth
Shutterstock/Ashley Whitworth
We independently source all of the awesome products and experiences that we feature on Thrillist. If you buy or book from the links on our site, we may receive an affiliate commission — which in turn supports our work.
Grilling is a classic American pastime, but there are a few downsides. You have to deal with smoke, grease, and cleanup—not to mention, you know, the fact that you need to have a grill and outdoor space. Enter the marvelous world of panini presses. These countertop appliances are, despite their name, not just for paninis. You can whip up grilled vegetables, quesadillas, burgers, and open-faced sandwiches in mere minutes.
Since they're non-stick, panini presses are easy to clean—just wipe them down when you're done grilling. Some even include removable, dishwasher-safe plates. There's a panini press for any price point, and many boast a wide range of functionality. Want precise temperature controls? No problem. Excess grease collection? You got it. Waffle-making functionality? Absolutely.
With outdoor grilling season coming to a close, now is a great time to invest in a grill that fits right on your countertop. That way, you can get the best parts of grilling (gooey melted cheese, charred grill marks, perfectly done steaks) without any of the hassle.
Amazon
George Foreman: a brand so classic it's mentioned in a Nelly song. The George Foreman Grill and Panini Press boasts fast heat-up times and enough space for four servings of protein or a complete meal for one. Even better, this non-stick grill comes with dishwasher-safe removable plates, meaning no more annoying greasy mess. Whether you're grilling vegetables, meat, or sandwiches, this grill is sure to save you time with both cooking and cleanup.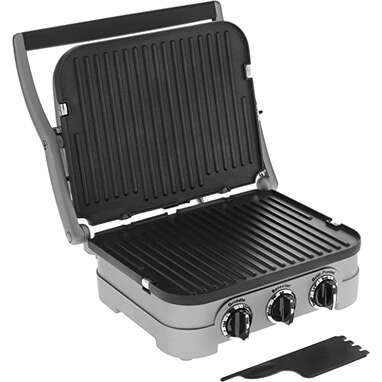 Amazon
The Cuisinart Griddler is one of the more expensive options on this list, but its broad functionality makes it a great choice depending on your grilling needs. You can use this countertop grill as a panini press or as a full grill, if you open the unit fully. What's more, the removable, dishwasher-safe plates are reversible, so you can achieve the classic grill marks on your panini or cook quesadillas on a totally flat surface. And if you're precise about temperature, good news: the Griddler includes adjustable temperature controls. Finally, if you buy the optional add-on plates, this grill can also be a waffle maker. Honestly, what can't this grill do?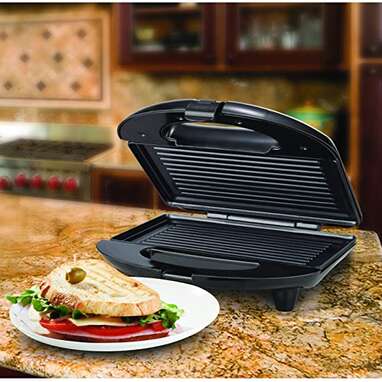 Amazon
If you're dealing with limited counter and cabinet space in your kitchen, consider this model by Brentwood. It's smaller than most of the competition, fitting just one sandwich, but includes convenient features like power and preheat indicator lights as well as a cool-to-the-touch handle. The non-stick plates heat up quickly, meaning you'll have a perfectly grilled panini ready in no time.
Amazon
At this point we're clear on the key features of a panini press, and the Hamilton Beach model hits all the marks: Crispy grill lines? Check. Non-stick plates? Check. Speedy heat-up time? Check. But beyond those requirements, this grill also offers the option for bruschetta and open-faced sandwiches, thanks to its locking lid function. If you're looking for reliable functionality without a ton of extra bells and whistles (and you like the flashy red color) the Hamilton Beach panini press might be the one for you.
Amazon
Like the Cuisinart Griddler, the Chefman combines the functionality of a grill and a panini press into one appliance. Whether you're craving a sandwich or a plate of perfectly grilled veggies, look no further. The floating hinge on the Chefman accommodates sandwiches of any thickness, giving you perfectly crisp bread every time. Cleanup is a breeze with the non-stick plates and removable tray that collects excess grease.
Amazon
If you haven't brushed up on the history of the panini press lately, you might not know that Breville was the first company to bring the appliance to home kitchens. (The more you know!) The Breville Duo is a thoughtfully designed tool, with a ridged top plate and flat bottom plate that allows for versatility and even heating of paninis or open sandwiches. This elegant grill also boasts a non-stick, scratch-proof covering, so you can trust its durability.
Amazon
We may be living in 2021, but the Ninja Foodi is living in the year 3000. This appliance features a plethora of capabilities, including searing steaks, sizzling vegetables, and air-frying frozen food to perfection. You can be confident that your food is perfectly cooked on the inside and out, as the Foodi takes out the guesswork with buttons that specify precise doneness and temperature. This is a great option if you're looking to splurge on a multi-purpose grill with the capacity to feed a larger group.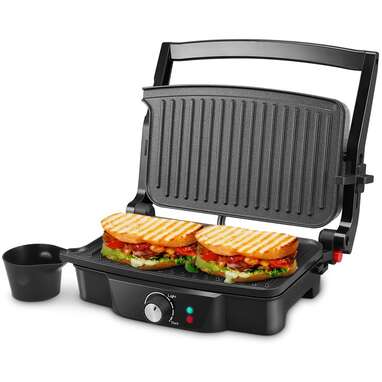 Amazon
If you're looking for a mid-size panini press with thermostat controls, the iSiLER is a reliable choice. In addition to its efficient design, non-stick plates, and oil outlet for excess grease, this grill also features intelligent temperature control, meaning you don't have to stress about accidentally burning your sandwich.
Caroline Curran is a Thrillist contributor.