7 Awesome Portable Travel Chairs That Are on Sale Right Now
Camping chairs, beach chairs, backyard lounge chairs. We've got chairs, baby!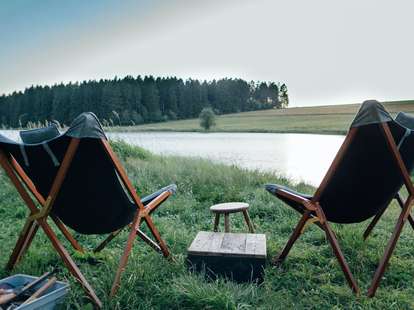 Daan Stevens/Unsplash
Daan Stevens/Unsplash
We independently source all of the awesome products and experiences that we feature on Thrillist. If you buy or book from the links on our site, we may receive an affiliate commission — which in turn supports our work.
I remember the one time I went camping and forgot to bring a portable chair. It was awful.
While the rest of my party sat in their comfortable chairs, recounting old stories and experiencing feelings of tremendous jubilation, I was sitting on a wet log which just so happened to be home to a tremendous amount of carpenter ants and spiders.
If there's a lesson to be learned from my story, it's that a portable chair is a priceless and convenient way to stay comfortable outdoors. There are so many activities that can be improved upon by a clean, supportive seat. When you're car camping, you'll want a chair for sitting around the fire at night. If you host a backyard BBQ, you'll need to provide relaxing seating for your guests. Going to the beach? You could sit on a sandy towel, but you'll be much happier lounging on a beach chair, free from the grit and sand-scuttling critters. If there's a built-in cup holder to hold a refreshing drink, even better!
With that in mind, here are a few excellent chairs on sale right now from Backcountry that are seriously worth having — just make sure to grab them before the prices go up!
Backcountry
Best for: Car campers, park goers, tailgaters, and everybody in between
A classic folding camp chair, this one folds up into a carry bag so you can tote it to the beach, park, or woods. It has two cupholders for all your beverage needs, plus a polyester and steel construction that will ensure it lasts.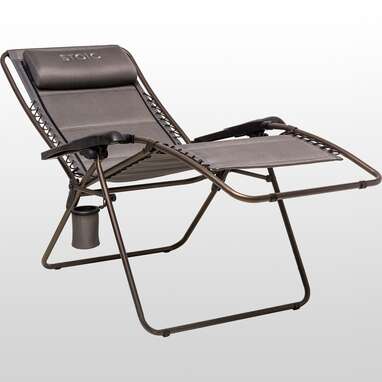 Backcountry
Best for: Super relaxed stargazing from the comfort of your backyard or campsite
Recline all the way back and take in the night sky — or just take a well-deserved nap on the beach. Trust us; the bungee suspension system, ergonomic design, and breathable construction will have you feeling lighter than air.
Backcountry
Best for: Backpackers & minimalist campers

If you're hoping to minimize bulk and maximize comfort, this comfortable chair folds up compactly and weighs just 2 pounds. Choose from a few fun designs or solid colors and take it on an adventure.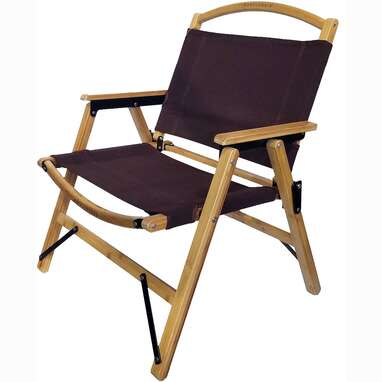 Backcountry
Best for: Ballin' in backyards and beaches
There's no denying this camp chair is nice to look at, with a sleek bamboo frame and cotton canvas seat. Fold it up and take it anywhere you want to sit pretty.
Backcountry
Best for: Dads who will say, "Check this out!" when opening this chair up
Whether you're an actual dad or just someone who loves clever gear, the appeal of this chair is all in the bells and whistles. It has a small fold-out side table (complete with a cup holder), a breathable mesh panel on the back, cushioned arm rests, and even faux leather details for a little extra style.
Backcountry
Best for: Backyard lounging or being extra whilst car camping
It reclines, features a comfy neck pillow, and has a durable steel frame with breezy, quick-drying mesh. And if that's not relaxing enough? There's even a cupholder.
Backcountry
Best for: Backpackers, outdoorsy minimalists, and anyone who loves to point out that "form follows function"
Inherently practical, this chair has everything you need and nothing you don't want. Comfortable, breathable ripstop seat? Check. Sturdy steel frame? Absolutely. Compact carry bag? Of course!