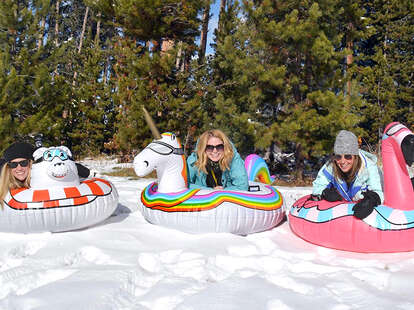 We independently source all of the awesome products and experiences that we feature on Thrillist. If you buy or book from the links on our site, we may receive an affiliate commission — which in turn supports our work.
Too often, adults feel the need to move on from so-called childish activities and stick to the sidelines while the kids have fun. Some of this is simple self-preservation, considering our increasingly vulnerable and somewhat deteriorating joints, plus an adjusted evaluation of acceptable risk post-adolescence.
But sometimes, it seems like we try a little bit too hard to be grown up. I'm here to tell you that there's no age limit on fun, and you're more than capable of getting in on the action—just look at those folks in Squid Game. (It seemed like a good time for a minute, anyway.)
While I'm not calling for the total annihilation of your Murtaugh List, we can all afford to let our inner kid lead a bit—especially on a snow day. Whether you have kids of your own or you're just in need of a little wintertime rush, you won't regret investing in your own adult-sized snow tube. Now you can hit the hill with vigor without forcing your limbs into something designed for a 10-year-old.
We pulled some of the best tubes for adults that are available on Amazon, because if you're gonna go for it, you'll need to impress the kids at the sledding hill with the right gear. Taking both safety and slipperiness into consideration, you should be able to find a snow tube that'll slide you right back into childhood. Have fun out there!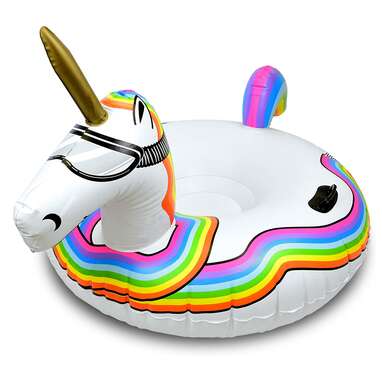 Amazon
In the spirit of embracing the bliss of childhood, let's dive right in. This GoFloats tube is appropriately sized at 45 inches, but the real draw is showing up in style: You can conquer the slope on your choice of an ice dragon, unicorn, flamingo, polar bear, or penguin. Plus, it'll appeal to the practicality of your adult side with cold-treated materials, rapid inflation, and an included patch kit.
Amazon
At 50 inches, this QPAU tube is the biggest single-seat option on this list. It'll hold up to 500 pounds for safe multi-sledder rides, and it's made from heavy-duty PVC that should slow down any air leaks. It comes with a rope for easy towing back up the hill, and if you're worried about sacrificing speed for size, you can count on raft-grade materials to help you keep up with the youngsters.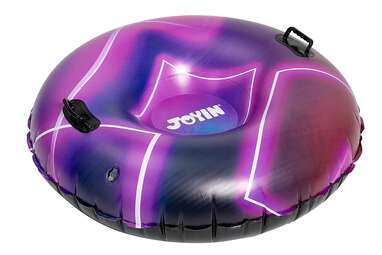 Amazon
This Joyin snow tube checks all the boxes at a great value. It's sized right, comes with a triple inflatable valve, and is made from high-quality, durable materials. You can choose from a bunch of different colors and designs, and you can save even more by bundling it with a kid's tube.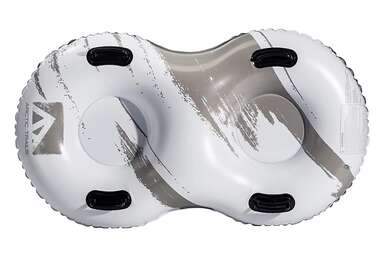 Amazon
If you'd rather not squeeze two people into one seat, you can go for this 57-inch double tube. It can hold up to 250 pounds, and it comes with two sets of handles for comfort tandem cruising. It inflates in minutes (despite the size), and its freeze-resistant material should hold up for winters to come.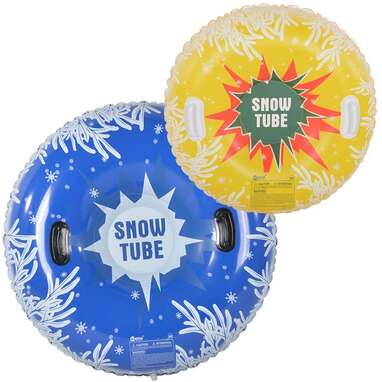 Amazon
For those looking to justify an adult snow tube purchase to a skeptical spouse, this family 2-pack is your best bet. You get one 48-inch and one 37-inch tube in the set, and both come with oversized handles and thick PVC material. A patch kit is also included, but Hiwena offers free replacements if you end up puncturing a tube beyond repair.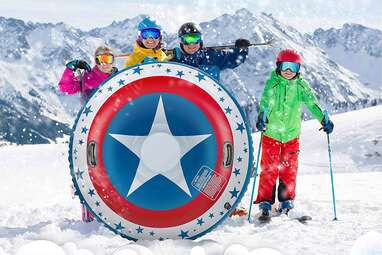 Amazon
With a 650-pound limit, this Royi snow tube is able to support one or several passengers. It has a deeper-than-normal interior seat and comes with ergonomic handles for elevated control. Plus, you can choose between two styles: Cool (Captain America-esque stars and stripes) or Cute (unicorn, obviously).
Amazon
If you want to kick it old school and tap into some real nostalgia, this throwback tire tube should do the trick. It's made of commercial-grade, latex-free rubber, and its valve stem is covered up to prevent any unwanted poking. It comes in four different sizes from small (32") to Monster (68"), and is designed for use in the snow or on the lake come summertime.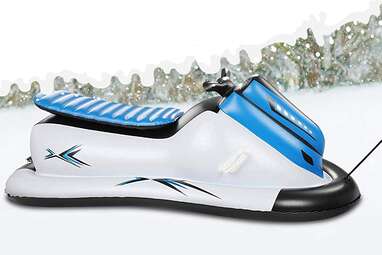 Amazon
Okay, if this one doesn't get you excited, then your inner child is simply taking life way too seriously. Designed to hold up to two adults, this inflatable snowmobile is sure to be the envy of everyone who shows up to the hillside. (Disclaimer: Making pretend engine noises during use is encouraged.)
Chad Rafferty is a Thrillist contributor.