We independently source all of the awesome products and experiences that we feature on Thrillist. If you buy or book from the links on our site, we may receive an affiliate commission — which in turn supports our work.
If the mountains are calling out to you, you'll need some essentials to conquer them, no matter if you're gearing up for black diamonds or the bunny hill. Whatever path you choose, you just don't want to be the one out there rocking jeans. And even if you'd rather just sit in the lodge with a good book and bar access, you might as well look legit while you do it.
Either way, there's no need to spend a ton. Whether you're seasoned pro on the slopes or just starting out, there's plenty of top-notch gear available for a good price on Amazon. Working under the assumption that you already have something to stand on to get you down the mountain, we sought out the rest of the stuff you'll need. Each item below is Prime eligible, so everything should arrive well before your big ski weekend.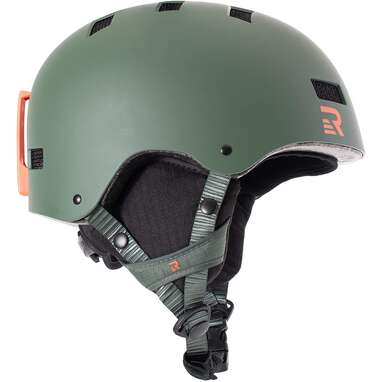 Amazon
Safety first. This Retrospec helmet is breathable with 10 air vents, but also has an inner fleece liner to keep your ears toasty. There's an adjustable dial to help fit any head, and the ABS exterior shell will protect you if you happen to take a spill.

It also comes in 16 different colors from black to bright orange, so you can choose whether you want to blend in or stand out.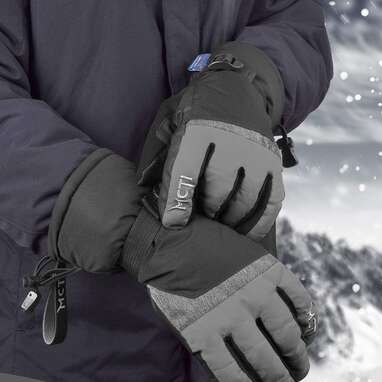 Amazon
These MCTi gloves will keep your fingers warm without compromising dexterity. They're thick, but not bulky, and include touchscreen-compatible fingers, a soft leather palm, and even an outer layer on the thumb designed for wiping your nose.
This pair is sized for women, but MCTi also offers a comparable pair in men's sizes.
Amazon
When it comes to pants, you're looking for three key details—windproof, waterproof, and warm. These check all three boxes, and provide maximum flexibility with stretchy polyester and spandex material. There are plenty of zipper pockets for all your small belongings, and these pants should serve you well for all your snow-bearing winter activities.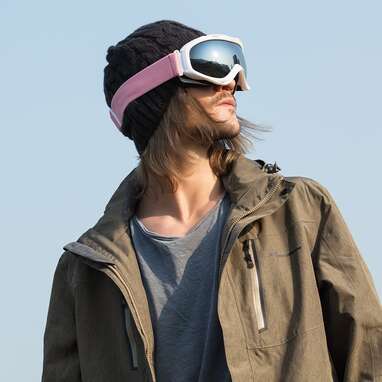 Amazon
A good pair of goggles is a must-have, and you'll save your eyes while looking sharp with this pair from OutdoorMaster. There are plenty of options for different colors, and the dual-layer, anti-fog, UV-protected lens will ensure that you can see what you need to see. They should fit over any pair of glasses, and the long elastic strap will work with whatever helmet you've got.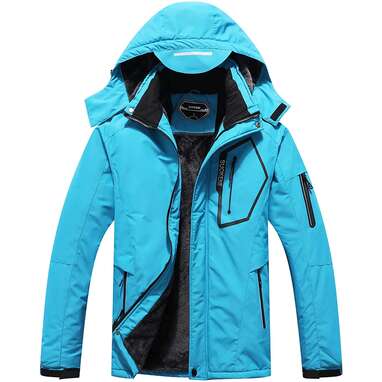 Amazon
Of course, a reliable jacket is a non-negotiable, and fortunately, options like this one from Suokeni won't hurt your wallet.

It comes in 12 different colors and is made of 100% polyester. The design is waterproof and warm yet breathable—plus, it comes with an easily detachable hood. There are plenty of pockets inside and out, and a polymer blend lining should cut down on wear from season to season. Both men's and women's sizes are available.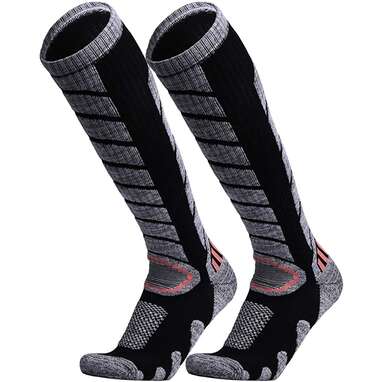 Amazon
There are few things in this life less comfortable than sitting on a stalled chairlift while wearing insufficient socks (believe me). Frigid toes are a surefire way to waste the cost of your lift ticket, so do yourself a favor and grab a couple of these pairs from Weierya. They're moisture-wicking, warm and cozy, and won't leave you wishing you'd stayed in the hot tub instead.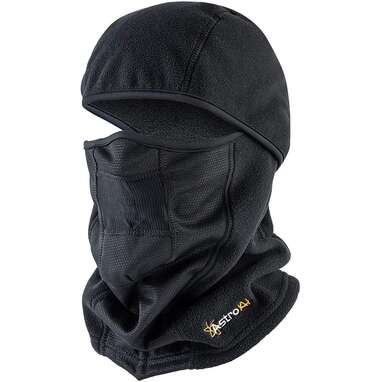 Amazon
For those extra chilly days, you might want some facial reinforcement like this AstroAI ski mask. It's made of polar fleece, and also works well to curb wind or sunburn. Plus, unlike with old-school masks, you won't look like you're about to pull off a heist at the lodge.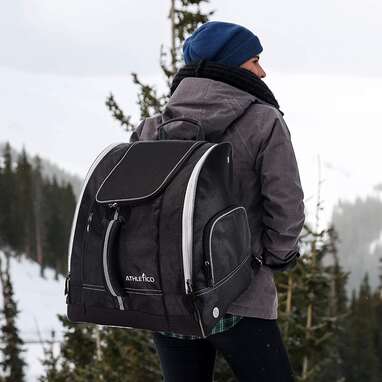 Amazon
Lastly, a vessel to house everything you've now accumulated. This rugged Athletico bag provides easy access and plenty of space for your boots, plus a large main compartment for everything else. It's waterproof and durable, and comes with padded straps for easy hauling up and down.
Chad Rafferty is a Thrillist contributor.