8 Great Air Fryers Worth Adding to Your Kitchen Appliance Arsenal
These machines are not only user-friendly, but an easy way to expand your culinary pursuits (while whipping up meals in no-time).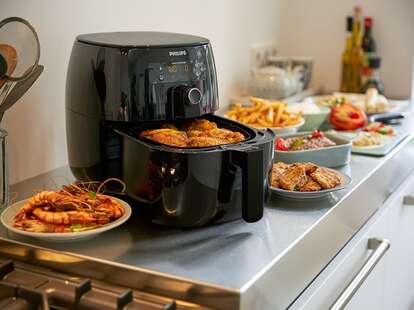 We independently source all of the awesome products and experiences that we feature on Thrillist. If you buy or book from the links on our site, we may receive an affiliate commission — which in turn supports our work.
If you've never felt the urge to purchase an air fryer, allow me to share this thrilling tidbit: There is simply no piece of technology under the sun better qualified to reheat leftover French fries or pizza (without destroying either in the process).
Of course, that's not all the beloved culinary appliance is good for (though it's certainly the premier feature): Unlike, say, a deep fryer—which would be a messier and more questionable purchase—this nifty invention can crisp up potatoes, breaded chicken, whole cauliflower, you name it...without submerging 'em in a vat of blistering, artery-clogging oil.
Better yet, you need not identify as a bonafide chef to prep restaurant-quality dishes in your air fryer. The machines are easy to use—and they require minimal prep work. So, whether you're looking to get creative and elevate your culinary status, or you're merely seeking out the quickest, lowest maintenance way to chicken-fry a steak, we highly recommend giving the air fryer a shot. Below, find the highest-rated, most well-reviewed air fryers available on Amazon—then go ahead and reconsider those day-old French fries.
Amazon
Not only does this machine look like a sleek, futuristic, food-beaming device, but it can also cook just about anything you pile inside evenly, thanks to rotational "Turbostar" technology. Which is to say, you can fry any/all of the assorted goods in your fridge with minimum effort—and less than a tablespoon of oil.
Amazon
Nearly 2,000 Amazon reviewers gave this device five stars—so it's fair to assume it's just about as close to perfect as an air fryer can get. Oh, and as you might imagine of any appliance with "Max XL" in its title, this thing is big. So big, in fact, that it can actually hold a full 5-pound chicken.
Amazon
Unlike some of the more traditional airfryers, this little blue number comes with built-in temperature control—which, according to reviewers, allows for plenty of customization. So, whether you're crisping up veggies or fresh bacon, you can rest assured that nothing will come out dry or overcooked.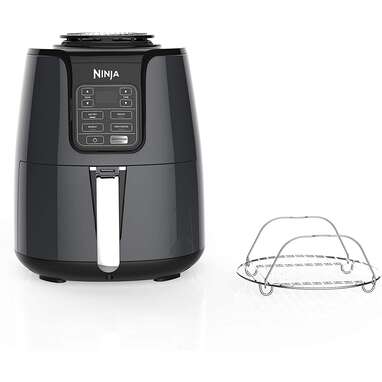 Amazon
With a basket shape reminiscent of a more classic deep fryer, this is your premier choice for any kind of dippable snack. Even if classic French fries aren't your thing (what's wrong with you?), go for broccoli, pickles, or zucchini sticks instead. Or take a different route entirely and dehydrate breads or greens for home-made chips and crackers.
Amazon
In place of a basket, this towering appliance comes loaded with metal shelves, so you can tackle plenty of different dishes simultaneously. And according to Amazon reviewers, each shelf is ultra easy to remove and clean—which is not always the case when preparing any kind of fried food. All the more reason to do some experimenting (think: dessert).
Amazon
Sure "all-in-one" sounds like hyperbole—but apparently, this Ninja appliance is the real deal. According to reviewers, it'll instantly render your toaster oven and your microwave obsolete. So yeah, whether you're heating frozen pizza, crisping meat, or simply browning a piece of toast, this thing does it...all.
Amazon
This small-scale little number feels less dramatic than some of the heftier air fryer models available. Conveniently, the tiny little device, designed to heat meals-for-one, can be tucked out of sight easily when not in use. Think of it like a test dummy: Try out a recipe or two before you commit full-scale—or invite anyone else over for dinner.
Amazon
Thanks to something the Philips team has deemed "starfish technology," this one is known for its capacity to both evenly and thoroughly cook any/all food at break-neck speed. So, if you often arrive home too hungry to wait for delivery to arrive, this appliance might be your friend.