6 Standout Airbnb 'Experiences' Worth Checking Out While You're in Barcelona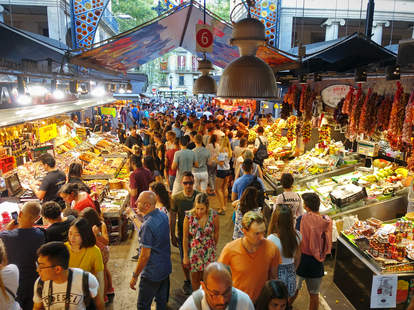 We independently source all of the awesome products and experiences that we feature on Thrillist. If you buy or book from the links on our site, we may receive an affiliate commission — which in turn supports our work.
On our second day wandering the streets of Barcelona late last year eating tapas and sipping sangria, my friends and I realized it might have behooved us to plan something other than, well, eating tapas and drinking sangria. Googling "Things To Do in Barcelona" seemed to yield only more tapas restaurant suggestions, until I stumbled onto Airbnb's increasingly popular (and relatively new) offering: Experiences. 
Experiences are essentially an extension of the Airbnb booking platform, only instead of accommodations, travelers can sign up for a huge selection of unique activities, tours, cooking classes, and more hosted and designed by passionate and knowledgable locals. As someone who's quick to avoid super organized "touristy" plans, I was a bit skeptical. Are they worth it? Do they actually offer something above and beyond that I couldn't otherwise discover on my own with enough research? But rather than write them off entirely, I figured I'd scope out a few of the nearly 1,000 offerings in Barcelona, and actually ended up signing for a paella and sangria making class. Spoiler: I loved it. 
The range of experiences in Barcelona run the gamut, from arts and entertainment focused, to others that revolve around food, drink, the outdoors, and even sports, but I've pulled together a few of the most popular ones based on ratings (plus the one I tried), should you be in the mood to mix things up during your trip. And no worries if you're not the planning type -- these can all be booked last minute.
Airbnb
Paella Cooking and Sangria Mixing
Price: $39 per person
Ciutat Vella
Airbnb rating: 5 stars
I tried this experience myself, and it truly made my trip. Spunky chef Nanda and wine connoisseur Rob are a newly married couple and open their light-soaked, exposed stone apartment to travelers from all around for an afternoon (or evening) of learning to make the best paella and sangria you've ever tasted. You'll get to know ingredients you've likely never used before (cuttlefish ink anyone?), and get insider tips on perfecting ultra-sharable dishes. Even if you aren't a huge seafood fan, the joyous ambiance that Rob and Nanda create makes it worthwhile. Plus, Rob takes Insta-worthy pics while you cook, drink, and make friends with your fellow chefs. You'll leave drunk on sweet sangria and high on life.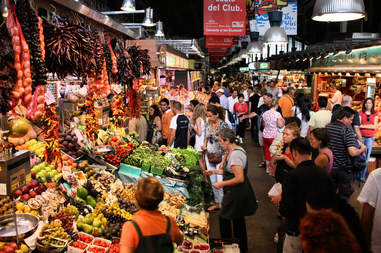 Shutterstock
Brunch at the Boqueria
Price:$55 per person
Ciudad Vieja 
Airbnb rating: 4.92 stars
If you're planning a trip to Barcelona, chances are you are going to hit the Boqueria, the city's largest open air food market. When I went myself, I was so overwhelmed between the bouquets of jamon (traditional Spanish cured ham) and rainbows of fruit juices that I left empty handed. To avoid the rip-offs and locate the best Spanish delicacies, take this food tour with Xavi, whose strong expertise in food history (and helping travelers gain a couple extra pounds) is sure to please.
Airbnb
Unique Bars in the Gothic Quarter
Price: $67 per person
El Gòtic
Airbnb rating: 4.95 stars
By day, the Gothic Quarter is the hot spot for hip-ish Spanish fashion and millennial cafes (the devilish Satan's Coffee House is a must). By night, its narrow, cavern-like streets seem to harness the sun's power to burst with a seductive Spanish energy. Normally, I would assume it's pretty easy to find places to booze in Barcelona, but "Experiencers" rave about host Alex's "cool cat" style and vast knowledge of the city's nightlife. Taking you to 3-4 bars, you'll explore local hubs, each with unique histories that Alex highlights. Make sure to book this for the first night of your trip, because you'll definitely want to revisit these off-the-beaten-path spots before you leave.
Airbnb
A Winery & Vineyard Tour
Price:$75 per person
Penedés Wine Region
Airbnb rating: 4.99 stars
If Barcelona's beaches, restaurants, and impeccable shopping aren't enough to seduce you, this wine tour in the Penedés region will affirm your Spanish obsession. As commenter Diana says, "If there were 6 stars, this experience would get them." During the four hour excursion, you'll tour three wineries, tasting a whole bunch of cava, and then end with a relaxing picnic on the vineyard. Neus, your host, will also make sure to provide the "secrets, curiosities, and peculiarities" of the region. 
Airbnb
A Bike Tour (with Tapas)
Price:$48 per person
Begins in El Gòtic
Airbnb rating: 4.93 stars
I know I promised no more tapas but c'mon, what's the harm in tapas when they're combined with a little exercise? This four and a half hour bike tour, led by Eva or Yanina, zooms you through 2,000 years of Barcelona history from the comfort of your bike. Mid-tour, they'll take you to their local friend's restaurant for a complete tapas spread so you can recharge. For Barcelona first-timers, the tour is a perfect way to orient yourself in a city that's only truly walkable if you've got 10 hours to kill. You'll hit all the top sights, get a delicious meal, and soak up the Spanish sun.
Shutterstock
Monserrat Hiking and Monastery Tour
Price:$75 per person
Monserrat 
Airbnb Rating: 4.98 stars
This famous monastery is about an hour outside the city attracts over two million pilgrims each year, and religious or not, there's no denying the epic vistas you can take in here. Monserrat sits on a mountain 4,000 feet above sea level, and while you can take a tram all the way up, the hour and a half-long guided hike to the top is well worth the burning glutes. And since the tour is a bit of a trek from Barcelona proper, your guide Nico provides transportation to the mountain in his van -- quite a luxury as trains to the mountain are often packed.
Want to know more about our favorite products and services, and get great deals on cool stuff? Sign up for the weekly Thrillist DealMail.