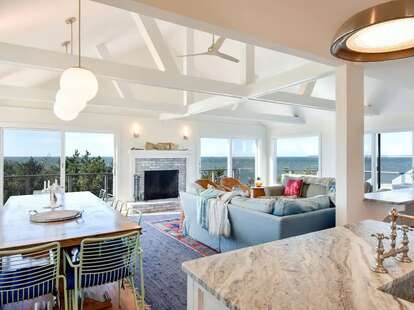 We independently source all of the awesome products and experiences that we feature on Thrillist. If you buy or book from the links on our site, we may receive an affiliate commission — which in turn supports our work.
Hot tubs, swimming pools, and firepits are all amazing, but nothing takes a vacation to the next level quite like an awe-inspiring view. Waking up every day and taking in a picturesque landscape is such a simple but game-changing pleasure, as well as an endless reminder that you're truly escaping from everyday life. Whether it's mountain peaks, serene lake waters, crashing ocean waves, expansive valleys, or an endless night sky, every home is better when it lets the outside take center stage. Here are 10 Airbnbs to book next time you want to just kick back and take it all in. (And then Instagram it, of course.)
Airbnb
4 guests/$995 per night
Escape the stress of everyday life at this midcentury ranch-style home that's been transformed into a modern oasis inspired by the Japanese philosophy of wabi-sabi (finding beauty in imperfection). Play wildlife bingo while trying to spot jackrabbits, quails, roadrunners, and other animals you probably don't see in your normal life. Take an outdoor shower after a long hike (trailheads leading to some of the best scenery in Joshua Tree are just a short walk from the house) and then relax in the saltwater hot tub or around the fire pit while taking in sweeping desert views and the star-filled night sky.
What guests say: "We loved our stay at Villa Kuro! The entire home is a design dream, and the salt water jacuzzi is the perfect way to take in the beautiful views at sunset or the beautiful night sky. This house is the perfect place to get away and disconnect. It's also very close to Joshua Tree National Park, which was a plus! Everything was clean and the bed was super cozy. We will be back!"
Airbnb
2 guests/$389 per night
If taking in the Aurora Borealis, the most intense light show/natural phenomenon to (probably) ever exist, is on your bucket list, this Alaskan igloo is the place to stay. (And, if it's not on your bucket list, think about changing that as people who see the swirls of green, teal, and purple, say it is not only awe-inspiring but that it transforms moods and emotions in the best way.) And what better place to take in one of the most spectacular natural wonders of the world than…from your bed? This igloo has a wrap-around clear ceiling, so you won't miss a minute of the magic. The dome also has a private bath and kitchenette and access to a yurt where you can get all of your meals. Looking to fill up some of your daytime hours? There are lots of trails, fire pits, fat-tire bikes, snowshoes, snowmachines, and ice fishing in the area. You can even arrange to be picked up by Alaska's version of Uber—a sled pulled by dogs.
What guests say: "A once in a lifetime experience. The accommodations, the incredible infrastructure that was built to create such an experience, THE FOOD, the thoughtfulness, everything was on point and so well thought out. I will be talking about this visit for a long time. Would recommend to anyone, especially photographers looking for an awesome way to photograph the Aurora and enjoy a peaceful break from the rest of the world. The only thing I would do differently is plan to stay longer."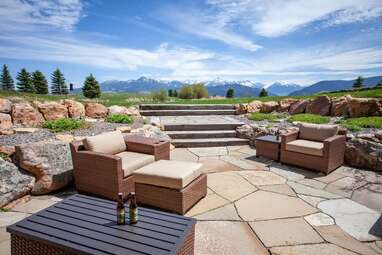 Airbnb
16 guests/$1,777 per night
This luxurious chalet was built to embody the Danish and Norwegian concept of "hygge"—cozy comfort that inspires contentment and well-being. That's exactly what you'll feel in the 4,626 square foot custom home surrounded by mountain views and overlooking a trout pond. The 21-acre property feels completely remote but is less than 10 minutes from downtown Livingston and 45 minutes from the entrance to Yellowstone. Throw steaks on the grill, play ping pong and shuffleboard tournaments, drink beers by the fire pit, or try your luck fishing in the fully stocked trout pond.
What guests say: "By far the nicest vacation rental I have ever stayed in. The house is very well designed and has a stunning view. It feels cozy yet was more than spacious enough for four families with small children to spread out. We enjoyed the grill, the ping pong table, the horseshoe pit, and the lawn. I even caught (and promptly released) a cutthroat trout from the pond. The pictures don't do the house justice; it's really a one-of-a-kind place."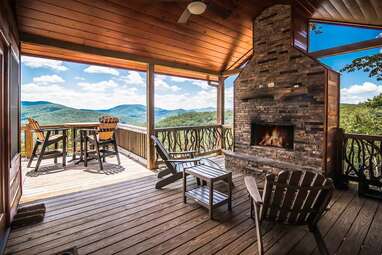 Airbnb
8 guests/$350 per night
Perched atop the Blue Ridge Mountains in Georgia, this cozy cabin is truly all about the mountain views. Take them in from the hot tub, the outdoor wood fireplace, one of the decks—even while grilling steaks for dinner. If you ever get sick of the stunning scenery, you can entertain yourself with a game of pool or foosball or head out to enjoy nature hikes (so many waterfalls!), canoeing, tubing, jet skiing, horseback riding, and more.
What guests say: "Pictures do not do enough justice to the breathtaking views from the cabin. The Master bedroom opens up to the most incredible views through the large, panoramic windows. The living room, dining room, and kitchen look out to the mountains as well and feel very spacious. The first floor also has the same incredible views, with a pool table, foosball table, mini-kitchen, and luxurious jacuzzi. The best part for us was the outside deck with the tables and chairs—it was beyond peaceful to sit out there in the crisp morning weather with a warm cup of coffee. The cabin looks and feels new, clean, and very well kept. We had a whole list of activities planned out for our stay, but we ended up canceling 75% of them because we enjoyed the scenic views and peacefulness of the cabin."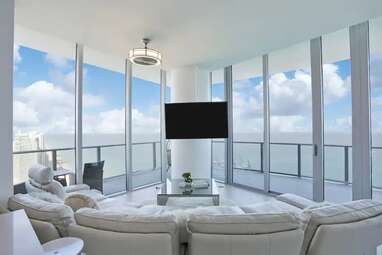 8 guests/$377 per night
Throw on a linen blazer, push up the sleeves, slip on a pair of Ray-Bans, and grab seven friends to do the same while staying at this oh-so-Miami Vice-esque condominium 41 floors above the Atlantic Ocean. The corner unit has panoramic views overlooking the city and ocean, which only improve when sitting on the balcony with a cocktail in hand. Though the views are impressive, when you feel like getting out for a while, you'll have access to the entire resort, including the oceanfront pool, beach (including lounge chairs), and a gym you'll probably never use.
What guests say: "The penthouse condo was wonderful! Amazing view and exactly as described. They had everything we needed for our stay, beach towels, a few extra chairs for the beach, etc. We loved sitting out on the balcony every morning for the sunrise and throughout the day watching the boats out on the open water."
Airbnb
10 guests/$1,200 per night
This 4,500 square foot cabin with endless views of the mountains and White River National Forest is located between Beaver Creek and Vail Village, a perfect home base for those who like to slide down snow. Even those who don't will appreciate having all day to enjoy the sun- and art-filled great room, fully equipped kitchen, wood-burning fireplace, steam showers, heated patio with firepit, hot tub, and gas grill.
What guests say: "Absolutely stunning setting backing up to the forest with a trail right out the back door! Also an awesome space for groups with the open master room floor plan and large dining set up. We will definitely book again."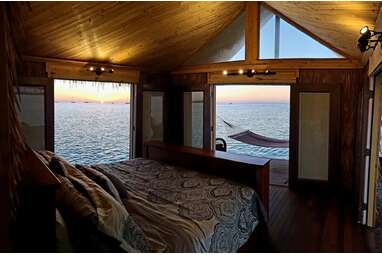 Airbnb
2 guests/$551 per night
Sure, a beachfront house with ocean views is amazing. But try waking up surrounded by water on all four sides. You can experience just that in the Grand Tiki, a floating bungalow in the water off of the Florida Keys. The thatched cabana has everything you could need (more or less), including paddleboards, snorkel gear, and a double hammock. You'll have to take a water taxi out to your floating home, but once you're there, you probably won't want to leave. There's even a TV at the foot of the bed for a movie night after the sun goes down. (Although it will be difficult to pull yourself away from staring at the stars.)
What guests say: "The tiki far exceeded all my expectations and was a dream stay. You feel like you're in the middle of the Atlantic Ocean; it's epic. Highly advise staying up all night, turning off all of the lights, and laying out on the deck to see the massive amount of stars at night. It's something you really can't explain and has to be seen in person."
Airbnb
9 guests/$1,846 per night
Located about 23 miles south of Provincetown, Eastham is a sleepy town with tranquil beaches, natural beauty, rustic charm, and everything you need for a relaxing getaway—especially if you're staying in this gorgeous waterfront home set atop a dune on a private beach with endless views of the Cape Cod Bay. Play fetch with your dog on the beach, rinse off in the outdoor shower, and take in the sunset while sitting on the wraparound deck with a drink in hand and a contented smile.
What guests say: "Our stay was amazing. The home is extra-large, although still felt cozy. The kitchen is amazing; we never wanted to leave the house and did not. The views are amazing with the most beautiful sunsets every night. The access to the beach being right next to the home was another plus. I can not say enough wonderful things about this home and location."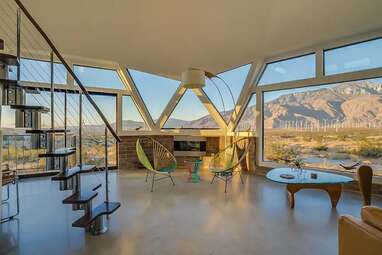 Airbnb
6 guests/$223 per night
Though this geodesic dome home with 26-foot ceilings is one of the most efficient human shelters there is on planet Earth, it feels more like staying on a strange but beautiful planet. Set on five acres and surrounded by windmills, the Joshua Tree National Park mountains, San Jacinto mountains, and Palm Springs desert, there's a view of something spectacular from every window. The house is equipped with everything you'll need, but if you feel like venturing out, downtown Palm Springs is just 15 minutes away.
What guests say: "Want to take a ride on a spaceship for a weekend? You got it. Have a love for mid-century modern furniture? You got it. Want to go to a place far enough for silence and close enough to grab a bit in town? You got it! This place is amazing in so many ways and Pavlina, our host, has been so nice and responsive to all our questions. This isn't your everyday Airbnb and you can really tell how much thought and attention was put into designing and building out this unique place. Probably one of the best I've stayed in so far!"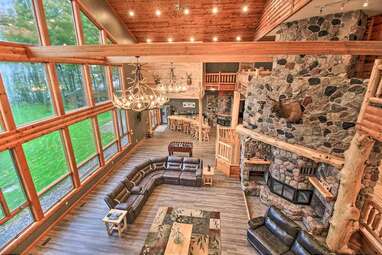 Airbnb
16 guests/$1,468 per night
A 10-bedroom lakefront lodge with a gourmet kitchen, multiple wood-burning fireplaces, sauna, waterfront deck, huge lush lawn, stainless steel grill, and firepit is pretty much everything one could want for a group vacation. Add in a pontoon for adventures on the lake, and well, just book it already! Bonus: If you're there for musky season, book a guide who can show you all of the best places to reel one in.
What guests say: "An absolutely amazing experience. Can't say enough about how wonderful this space is. We had our small modified wedding here and were blessed with gorgeous weather that made it even better. There was plenty of space for everyone who stayed overnight and the few that came for the day. There were plenty of amenities such as games, cookware, towels, blankets, coffee pots, and refrigerator space. Plenty of outdoor seating to watch the beautiful sunsets and enjoy the time outside. We will most definitely be back and hope others have as much fun as we did!"
Daisy Barringer is an SF-based writer with a 155-pound Saint Bernard who loves the mountains even more than she does. See where they are visiting these days on Instagram
@daisysf
.