Airbnb
Airbnb
We independently source all of the awesome products and experiences that we feature on Thrillist. If you buy or book from the links on our site, we may receive an affiliate commission — which in turn supports our work.
Once the playground of Hollywood's elite, Palm Springs is now a welcoming desert oasis for anyone looking to relax by the pool, soak in natural mineral springs, eat and drink well, do a little shopping, and maybe play a few rounds of golf. (Bonus: Joshua Tree National Park is only about 40 miles away.) And though the city has some very stylish boutique hotels, it would be a shame to visit and not stay in a classic mid-century modern house.
Born from the "form follows function" mentality coined by architect Louis Sullivan (aka the "father of modernism"), the mid-century modern aesthetic is all about open floor plans, lack of ornate finishes, and blending the indoors and outdoors—think huge sliding glass doors, courtyards, and atriums. Palm Springs is practically synonymous with the design movement, with some of the country's finest examples of mid-century modern homes sitting within its borders.
The best part? Some of these architectural marvels are available to rent on Airbnb. We rounded up 9 mid-century modern digs you'll definitely dig, plus some mini history lessons so you can show off your knowledge at your next SoCal clam bake.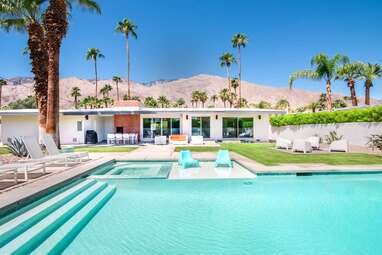 Airbnb
8 guests/$799 per night
This rental is close to the shops and restaurants of downtown Palm Springs, but once you see the amenities, you might be tempted to turn your vacation into a staycation. The private backyard is specifically wonderful, with an oversized saltwater pool, lots of lounging areas, outdoor fireplace, magnificent mountain views, and verdant landscaping with lime, orange, and grapefruit trees. Inside, you'll find mid-century modern furnishings, a fireplace, a living area that opens up to the yard, and colorful accents throughout.
What guests say: "Aquatini was the perfect house for our trip. It was very well appointed, the grounds were in great condition and the whole place was so fun and comfortable! We spent pretty much all of our time in the backyard and pool and it felt so spacious and private."
Airbnb
8 guests/$3,300 per night
Right after Frank Sinatra made his first million with MGM, he commissioned architect Emerson Stewart to build this (now historic) four-bedroom property that's part vacation rental, part museum. You can relax in style around the piano-shaped pool, try your hand playing some Ol' Blue Eyes songs on the grand piano, or listen to his actual recordings on the vintage audio system. Though the home still has lots of old Hollywood charm and is full of Sinatra memorabilia and art, it also has modern appliances to make you feel right at home.
What guests say: "What a great vacation! Once we stepped inside the gates of the Sinatra estate, we stepped into our own private world. The views were outstanding. The pool was amazing! The accommodations were spacious and comfortable."
Airbnb
6 guests/$475 per night
William Krisel was a pioneering architect who popularized the "butterfly" roof, where two panels slope out from the middle of the roofline to resemble a butterfly's wings mid-flap. This house was designed by Krisel in 1959, and features the iconic roofline plus many of the home's original features (including the appliances). The home is bursting with color throughout and is full of quirky furniture. The outside is just as special, with a hot tub, fire pit, sitting area, cactus garden, and views of the San Jacinto mountains.
What guests say: "This is a fabulous property. The design is incredible and is quintessential Palm Springs. The interior decor is so spectacular it's worth staying here just for that!"
Airbnb
6 guests/$585 per night
Another William Krisel creation, this rental is an example of an "Alexander home"—moderately-priced houses built in Palm Springs by the Alexander Construction Company during the mid-1950s and 60s. The original design of this Racquet Club Estates house remains intact, but there are modern amenities like a spa-style bathroom and infrared gas grill by the heated pool.
What guests say: "Beautiful home, exactly as listed. In the middle of a quiet neighborhood with easy access to the rest of the city and beyond. Pool felt very private. All appliances and utilities worked great. Fun selection of books and magazines, to boot!"
Airbnb
6 guests/$267 per night
Kriesel didn't have very kind things to say about Jack Meiselman, a local developer who worked on the Alexander Construction homes until there was a falling out of some kind. Kriesel's exact words were, "Jack Meiselman was a cheap hack who stole our plans and built a poor imitation using inferior materials and unskilled labor! That's all I have to say about him." Still, Meiselman was a prominent builder, and staying in one of his homes comes with certain bragging rights—especially if you stay at this house originally owned by Bill Tinsman, a legendary Hollywood casting director known for The Beverly Hillbillies, Green Acres, and Petticoat Junction. The home is streamlined with modern appliances and pops of color, and has a big outdoor space with a private pool, gas grill, living area with fire pit, and mountain views.
What guests say: "We had absolutely fantastic time staying at this home. Its design and decor are impeccable mid-century modern. It's very clean and has all the comforts of the perfect home—from the comfortable bedding and fully-functioning kitchen to the high-speed Internet and great location."
Airbnb
6 guests/$449 per night
This "meticulously maintained" mid-century home has everything you need to truly enjoy those hot desert days and cooler desert nights. Built by Jack Meiselman in 1954, the home still has nods to the original details, including walls of floor-to-ceiling sliding glass and mid-century furnishings. But it's the thoroughly modern details that make the rental such a treasure. The backyard is a true oasis with a private pool and 10-person spa surrounded by the mountains, an outdoor kitchen and bar, a cozy fire pit, and pops of refreshing and vibrant blue throughout to give it "let's just have one more drink" resort vibes.
What guests say: "We were here for a relaxing week-long stay and it was everything we hoped for. It's in a great location and the backyard is huge and perfect for lounging outside, barbequing and swimming. Definitely would come back!"
Airbnb
6 guests/$641 per night
This Alexander butterfly-roof home is owned by Kenya Knight, the founder of chic boutique Soukie Modern in Palm Springs. The store is known for its custom Moroccan rugs, blankets, and accessories, so it only makes sense that the rental is similarly full of colorful pillows, wall-hangings, rugs, and ornaments. Despite its Moroccan vibes, the house very much retains its original mid-century feel—especially outdoors, where you can enjoy the saltwater pool, sun loungers, comfortable patio furniture, and hammock.
What guests say: "This house is what Palm Springs dreams are made of! From the well-curated decor to the poolside paradise, this house meets every need and is in a wonderful neighborhood."
Airbnb
10 guests/$9,999 per night
This home was built and designed by Jack Meiselman in 1957 but underwent a total renovation in 2017. So you'll get the mid-century vibes with a dash of modern day luxury, including a hot tub, 48-foot long pool that spans the length of the house, and stylish outdoor space with a fireplace.
What guests say: "I had high expectations based on the photos and previous travelers' reviews — and those expectations were exceeded! We had a fantastic, comfortable stay and felt "chic" the entire time. In fact, our entire group commented several times it's the best Airbnb we've ever rented."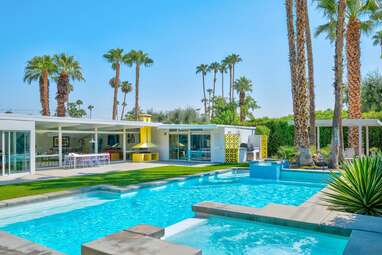 Airbnb
6 guests/$738 per night
This home is what you think of when you think of a luxurious desert vacation: a light-filled interior with glass walls and indoor/outdoor living, a mix of vintage and modern mid-century-style furniture throughout, a huge pool with waterfalls, lush landscaping, an outdoor kitchen with everything you could possibly need, and even an outdoor open-air rainfall shower. The home is just a short walk to South Palm Springs and a quick drive or bike ride to downtown, but it's such an oasis you might never leave.
What guests say: "This house was beautifully maintained, well-stocked and absolutely lovely, inside and out. There were so many wonderful details, like the record collection, vintage furniture and glassware, the blowup floaties for the pool, several outside fireplaces, and the beautiful indoor kitchen and outdoor grill."
Daisy Barringer is a Thrillist contributor.