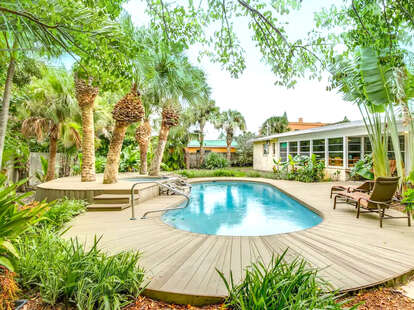 We independently source all of the awesome products and experiences that we feature on Thrillist. If you buy or book from the links on our site, we may receive an affiliate commission — which in turn supports our work.
When it comes to finding vacation rentals for summer travel, there's really only one amenity we care about: an awesome swimming pool. Luckily, Airbnb has countless listings that come with their own private pools, available in a variety of locations and budgets. And now, it's easier than ever to find the perfect splash pad for you.
Airbnb just unveiled its 2022 Summer Release, with a new search function that lets you explore different rental categories—including an "amazing pools" category. Just click the icon, scroll through the listings, and start picturing yourself lounging poolside with a cocktail.
If you don't have time to do too much wanderlust-fueled scrolling right now, we went ahead and rounded up some of the most incredible swimming pools on Airbnb right now.
Airbnb
6 guests/$854 per night
This stately home is like its own little paradise, with a private pool and tons of palm trees and tropical greenery. The stunning interior features local artwork and three comfy bedrooms (all with vaulted ceilings). The star attraction is definitely the backyard, with a covered patio, gas grill, outdoor shower, and that aforementioned swimming pool.
What guests say: "Couldn't have asked for a better vacation home! All expectations were met and exceeded. The location could not have been better and the home itself is just breathtaking."
Airbnb
16 guests/$2,103 per night
This home has one of the largest residential pools in the entire state of Arizona. It's practically its own little waterpark, with a slide, waterfall, lazy river, and 10-person hot tub, not to mention a basketball court and putting greens on the grounds.
What guests say: "What an amazing spot! The pictures don't do it justice. The yard activities were amazing (in addition to the pool) and house was more than spacious to fit 13 of my family members."
Airbnb
6 guests/$655 per night
While it's relatively easy to find private pools in Palm Springs, it's a little harder to find one as unique as this. The bottom of the pool features a colorful mural from Brooklyn-based Studio Proba, which you can appreciate from a floating lounger or while sunbathing in the spacious backyard.
What guests say: "Really enjoyed my stay. Only thing better than the location is the backyard. For me, that was perfection. Very private and very well maintained."
Airbnb
8 guests/$415 per night
Located in gorgeous Hill Country, this 2,100-square-foot home is primed for relaxation. Sip a glass of local wine on the covered patio, lounge in the shade of the oak trees, or take a dip in the picture-perfect swimming pool.
What guests say: "Maybe one of the nicest properties I've stayed in! The house is lovely and had everything we needed. We lived in the backyard/pool!"
Airbnb
16 guests/$1,529 per night
Looking for your next great group escape? Look no further. This huge house in the heart of the Pocono Mountains fits up to 16 people, with fun amenities like a heated indoor pool, full-size volleyball court, and game room with pool table and ping pong table. It's a 15-minute drive from the Camelback ski slopes, but you might just decide to stay put the entire time.
What guests say: "This property is phenomenal—don't hesitate booking it! Huge space, super clean, and the pool is glorious!"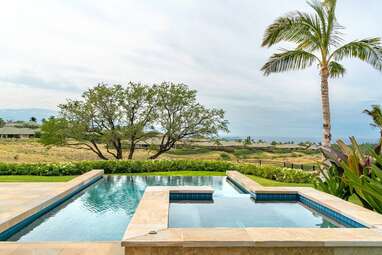 Airbnb
6 guests/$1,295 per month
This luxury Big Island vacation rental is positioned between gently sloping mountains and the glittering Pacific ocean, with a private lanai affording views of both. But the best place to watch the waves crash is definitely from the sunny terrace, with an infinity pool and hot tub that both face the ocean.
What guests say: "Such an incredible house, will be trying to stay there in the future! The outside was very comfortable and had amazing views of the ocean and the breathtaking sunsets."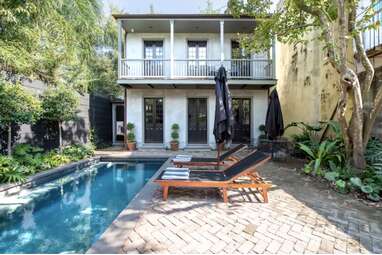 Airbnb
2 guests/$234 per night
Just big enough for two people, this luxurious pool house is just steps away from NOLA's buzzing French Quarter. Get your fill of bourbon and beignets, then recharge at the property's quiet courtyard and beautiful saltwater pool.
What guests say: "Casey's pool house was nothing short of incredible. The place was very tastefully decorated, was equipped with many useful amenities, and is located in a beautiful and exciting part of New Orleans."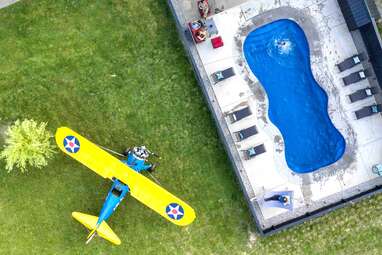 Airbnb
Fayetteville, West Virginia
10 guests/$575 per night
The Aviator's Lounge is a spacious loft-style home with a heated saltwater pool and 10-person hot tub. The building overlooks the historic Fayette Airport and is situated above a hangar, and it is convenient to both downtown Fayetteville and the New River Gorge National Park.
What guests say: "Cindy's place was just as described. It was super clean and had everything you could need (and more). The house sits on a private runway and planes dip in and out. What fun to watch this all from the hot tub!"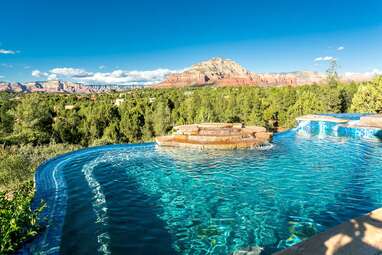 Airbnb
6 guests/$750 per night
This vacation home has some of the best red-rock views in Sedona, whether you're relaxing in the saltwater infinity pool or jetted hot tub. The surrounding patio also has outdoor speakers, a poolside TV, a fireplace, and heat lamps to keep you warm on chilly evenings.
What guests say: "From start to finish, everything was flawless. The view is incredible, the home spacious, and the hospitality unparalleled."
Airbnb
Sedro-Woolley, Washington
8 guests/$495 per night
With a heated pool, hot tub, fire pit, and basketball court—plus Pac-man and karaoke inside—this three-bedroom home is perfect for family reunions or relaxing group getaways. There is even a little pool house with a toilet and fridge for snacks.
What guests say: "This was one of the best in-state vacation spots our family has stayed at. The pool and outdoor lounging areas were perfect during the summer heat wave."
Airbnb
9 guests/$699 per night
This house is about 200 steps away from Melbourne Beach, but you might find youself staying put once you check out the backyard. The private patio area includes a pool, hot tub, and chaise lounge chaires, as well as a supply of pool toys and a BBQ grill to give you even more excuses to stay outside all day.
What guests say: "Location, location, location! Steps to the beach, short walk to shops, market, and restaurants. The backyard is a private tropical paradise!"