12 Unbelievably Tranquil Upstate New York Airbnbs Perfect for Group Getaways
Feeling the need to GTFO of NYC is a big part of living there, so you'd be wise to keep these group-friendly spots on your radar.
We independently source all of the awesome products and experiences that we feature on Thrillist. If you buy or book from the links on our site, we may receive an affiliate commission — which in turn supports our work.
One of the hallmarks of having lived in New York for a while is the desire to get the hell out of the city frequently, to somewhere that exists in a polar opposite realm where it's quiet, calm, and devoid of much action at all. And while a trip upstate isn't quite like jetting off to the blissful waters of Bali or the Patagonian wilderness, it's a getaway all the same, and one you can milk a lot out of, whether by hiking, exploring, or just sitting outside, bathing in the fresh air. Even better? It's crazy easy to get to.
To help inspire you to escape when you need to (and once it's safe to do so), we've pulled together some next-level remote and tranquil Airbnbs no further than three hours by car from New York City, many of which are suitable for groups getaways. From peaceful pool-equipped pads perfect for bachelor or bachelorette crews, to renovated barns, sprawling modern treehouses, and architectural gems tucked away on the mountainside, these are some of the best easily bookable retreats to consider next time you're breathlessly eager to skip town.
Red Hook, New York
6 guests, $290 per night
If you're imagining a cabin in the woods, you're only half right. It is indeed in the woods, but "cabin" kind of undersells this place. It's an elegantly modern and minimalist hideaway on 3.5 acres, with huge glass windows, a heated pool, outdoor shower, soaking tub, heated floors, and a stunning detached "solarium" that serves as one of the bedrooms.
What guests say: "We accidentally picked the perfect venue to get away from the current world situation, an AirBnb which was just us, the gorgeous clean space, the heated pool, the large soaking tub, the greenhouse with a comfy bed up on the hill, the loaded kitchen, comfy beds, and peace was just the thing for these crazy times."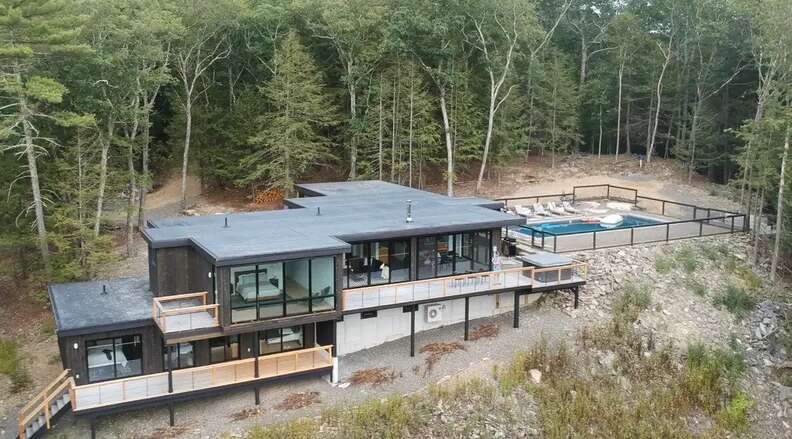 Kingston, New York
8 guests, $895 per night
While this exceptionally designed spot is filled with next-level amenities indoors (floor-to-ceiling windows, heated tile floors, a chef-grade kitchen, Sonos speakers throughout), it's what it offers outdoors that really sells it. With 600 square feet of walk-out deck space, a heated pool, an outdoor dining area/BBQ setup, and a hot tub, you'll want to lounge al fresco morning, noon, and night.
What guests say: "This is the best airbnb I have ever lived in!!!!!Love the mountain and lake view so much. The kitchen is sooooo good."
Hudson, New York
4 guests, $500 per night
If your idea of getting back to nature involves a picturesque view of it around every corner, you'll want to stop what you're doing and book this place immediately. Though the house is unmistakably modern and new (not to mention luxurious), it's designed in such a way that it blends right in with the countryside. Of course, it's stocked with the sort of amenities that are anything but country, including radiant heat floors, automated shades and lighting, and an integrated smart home system. And to top it all off? It features ample outdoor deck space, a seasonal lap pool, and a year-round hot tub.
What guests say: "This mid century modern Zen Gem is a dream. The glass windows allow you to feel part of the breathtaking views, with such high integrity in the attention to detail in all inner decor, elegance, ease & deep peace it provides from every point of view. The images of our stay are imprinted in us in the most beautiful way! Swimming in the outdoor heated pool with wafts of angelic fog draping the mountains & forest surrounding you in the peak of fall colors... so grateful!!"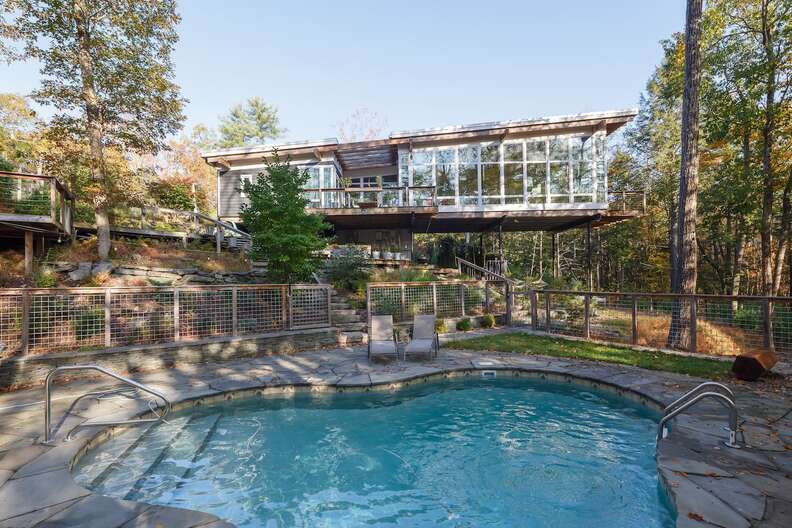 Woodstock, New York
8 guests, $650 per night
Imagine retreating to your favorite childhood treehouse, and then multiply the size of that treehouse by approximately 500, add a chef-caliber kitchen, hot tub, dining solarium, and 1,000 square feet of outdoor deck space, and you're getting close to what staying in this amazing home is like. It's nestled on seven secluded acres alongside a creek, and bonus: it's a net-zero sustainable property powered by a geothermal system.
What guests say: "What more can really be said but wow! Andrew's home and property are absolutely stunning down to the last detail. The house itself has all the amenities you could need for any weather and all the comforts of home, and just a really beautiful structure. The views of the surrounding property from the living room can't be beat. The property itself is so lush and private and quiet with the pool and the hot tub just adding to the wow factor."
Saugerties, New York
8 guests, $600 per night
Though this farmhouse was built in the 1800s, it's been totally renovated with modern amenities and design touches that make it feel luxurious without distracting from its original charm. There's plenty of space for your group to chill inside, plus a top-of-the-line kitchen to go wild making meals, but the outdoor offerings are what really tip the scales. Set on 17 acres, it boasts a screened in porch, private pond, salt water pool, and a brand new hot tub. In other words, you won't want to leave.
What guests say: "This is a 5 star experience from beginning to end. The only note is the pictures don't do it justice. It's a beautiful drive to the Farmhouse from NYC and Brink Rd was very picturesque in the fall. The home is stunning, plenty of parking, every amenity you could ask for, very comfortable and visually gorgeous."
Saugerties, New York
6 guests, $700 per night
Surrounded by gorgeous views of Overlook Mountain, this converted 1850s barn just got a brand new addition so there's even more space to relax. Inside, the decor is modern and chic, with a lovely kitchen and a few choice indoor amenities (a baby grand piano, pool table, workout area, and home theater). You'll want to spend lots of time outdoors, though, since it's situated on a huge property with access to a hot tub, pool, tennis court, fire pit, and great BBQ grill setup.
What guests say: "The house is beyond our expectation, it is tastefully designed with every amenity you could imagine. Every detail is well thought out and you can tell it is a house with love and care. We really enjoyed the hot tub, fire place, sauna, tennis court, home theater, BBQ grill etc. We wish we spent more time there. The house is very clean, the loft area is also very cute and more private than we expected."
Gardiner, New York
16+ guests, $999 per night
With enormous glass doors that open completely to the back deck, this place erases the line between inside and outside, which is perfect during the warmer weather. It's also a dinner party host's dream, with a massive dining table, an Argentinean-style 72-inch indoor wood & gas grill, and a proper chef's kitchen. The amenities definitely don't end there, though, because there's also a proper media room (with a popcorn machine and 91-inch projection screen), an outdoor pool, and an 8-person hot tub built into the deck.
What guests say: "We had a wonderful time at Pablo's house. Between the pool, the hot tub, and the amazing indoor-outdoor kitchen area we felt relaxed and entertained the whole weekend. It's just close enough to town to make a quick run if you need anything, and just secluded enough to feel like you're in your own little world."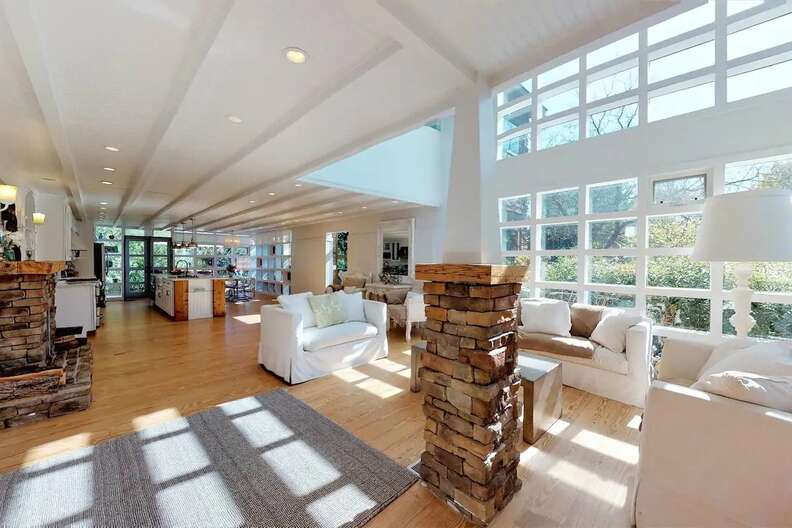 Swan Lake, New York
16+ guests, $750 per night
If you're looking to decamp with a big group, this huge house has you covered (it can sleep up to 30 people). It's nestled on a private lake, and is covered in windows so you're treated from just about every corner. There are multiple living areas (including a game room), and the kitchen is modern and massive. Outside, you've got access to a deck perfectly suited for outdoor dining, plus a hot tub, pool, and a ton of property/lakefront to roam (kayaking, anyone?)
What guests say: "There isn't enough words to describe how amazing our experience was! The house was clean and felt fresh and airy with stunning details. There was floor to ceiling windows that gave us a beautiful view overlooking the beautiful property and lake. We loved the jacuzzi in the crisp night air! The pool was gated in for safety and is easy to heat and maneuver the cover. The house came equipped with cut up wood and we were able to enjoy nightly campfires."
Cornwall, New York
12 guests, $1,000 per night
$1,000 a night is a lot, but you'll understand the price tag once you check out the photos of this home. The sprawling modern lodge retreat is set on 30 private acres, and features a giant glass wall on one side so you can soak up the views. It also boasts a whopping three (3!) family rooms, a sauna, hot tub, and a barn that's been transformed into a giant rec area, complete with a basketball court, game room, and full bar.
What guests say: "What a marvelous stay at Treetops in Cornwall. The place is in an amazing spot on its own driveway and with a fantastic view of the Catskills. Town is close as is the Storm King Art Center. There are plenty of activities to do around the area and plenty of hiking trails. However, you might want to reconsider staying, as there is so much to do at the house. Between the barn with the basketball court, the foosball table, hot tub, fireplace, or chilling under the stars in the newly built deck, you'll have a wonderful time."
Newburgh, New York
8 guests, $799 per night
If you prefer your views aquatic and your digs luxurious, this sprawling hideaway on the Hudson has you covered. The riverfront "estate" has been newly renovated and boasts a huge modern kitchen, lots of spacious lounging areas, and a wraparound porch with lots of outdoor furniture overlooking the large hot tub and outdoor pool.
What guests say: "Robert's place is hands down the most breathtaking spot on the Hudson River. The views from the massive porch in the morning, afternoon and evening simply can't be beat. We were a large group and were more than entertained playing pool downstairs, enjoying the hot tub in the evening, sitting by the fire and taking advantage of the large lounge spaces in the house. The home is a mid-century modern ACE. It's beautifully designed from head to toe and offers an incredibly relaxing environment to unwind and enjoy good company."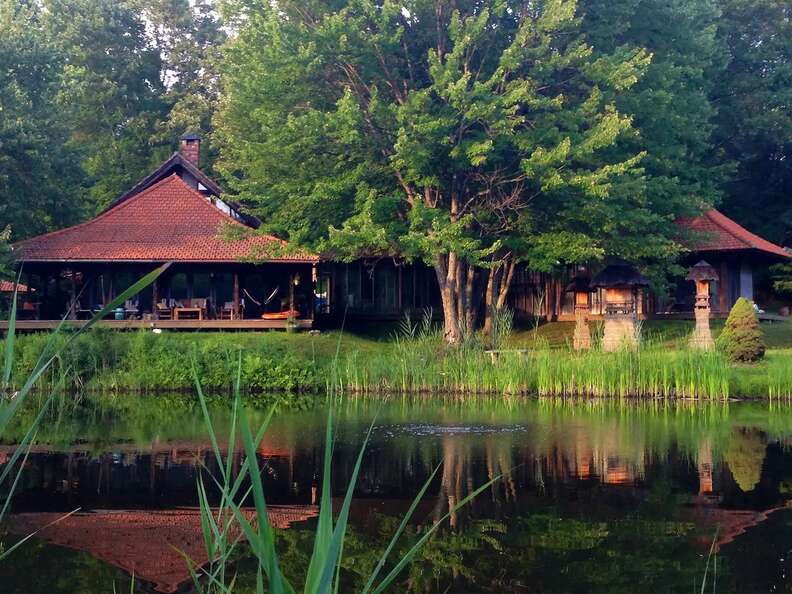 Rosendale, New York
10 guests, $600 per night
Looking to escape to Bali but only have a few days off? Problem solved. This spot -- which sits on 7.5 wooded acres complete with a private pond and grassy pasture -- consists of four separate "pods," as per traditional Balinese home architecture (it was made with materials imported from Bali, and "built by hand by the inhabitants of Bali"). Each area is connected by an enclosed walkway, and the flow of the whole space makes it seem as though you've escaped to a proper serene retreat in the woods (there's also a large outdoor deck to truly soak up the scenery). It comes equipped with plenty of modern amenities, though, like a large chef's kitchen, a flatscreen TV, and a hot tub.
What guests say: "Remarkable, truly one-of-a-kind space tucked off a private road in the Hudson Valley. The bottom line is that you won't find a place like this in this hemisphere. Truly felt transported to another place."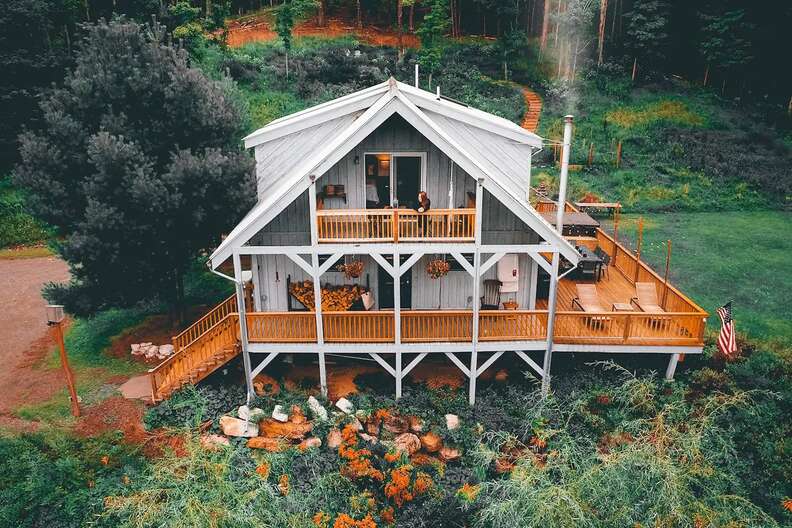 Kerhonkson, New York
10 guests, $236 per night
If you're looking for a place with 22,000 acres of untouched nature to explore in its backyard, consider your search over. This charming two story hillside home is smack in the middle of nature (Minnewaska State Park is literally next door), and comes with sweeping views of the Catskills thanks to a huge wraparound porch. Plus, it was recently renovated, so it's bright and airy (with a gorgeous new kitchen, modern decor, and a Sonos sound system) while maintaining the rustic vibes that make it special. The outdoor enjoyment doesn't end during the day, though -- there's a great hot tub on the deck (perfect for stargazing), and a nicely appointed fire pit out on the grass.
What guests say: "I absolutely love this place. They have literally thought of everything to make their place a haven for those looking for a getaway from NYC or a place to relax after a long day of hiking. The beds and pillows are soft and comfortable. The hot tub is fantastic. I like that both upstairs bedrooms have their own private bathrooms. We didn't cook but there are ample kitchen supplies to do so. Hope to be back someday."
Want to know more about our favorite products, the most worthwhile sales, and exclusive deals on cool stuff? Sign up for our weekly newsletter, The Get.