The 10 Coolest Treehouses on Airbnb You Can Book Right Now
We independently source all of the awesome products and experiences that we feature on Thrillist. If you buy or book from the links on our site, we may receive an affiliate commission — which in turn supports our work.
As a kid, there were few things cooler than having a treehouse in your backyard. Even if it was some ramshackle plywood platform your dad threw together a few feet off the ground, it symbolized a sort of escape hatch from reality; a private, parent-free club. But who's to say tree houses are just for kids? I anyone needs a little R&R from the real world, it's adults.
Luckily, finding a grown-up sized tree-perched hideout to spend a few days isn't all that hard. We've pulled together some of the most unique and charming treehouses -- from rustic cabins to luxe lodges -- around the country that you can easily book on Airbnb right now.
Airbnb
A luxe modern lodge with ocean views
Aptos, California
6 guests, $313 per night
If west coast vibes are what you're after, this secluded 3-bedroom next to the Nicene Marks Redwood Forest State Park outside Santa Cruz should be on your radar. The two-story spread, which comes decked out in mid-century modern furniture and a full modern kitchen, enjoys sweeping views of both the ocean and forest, which you can take in through the floor-to-ceiling windows or while lounging in a hammock on one of its two patios. Apologies in advance for deep depression that'll wash over you when you have to leave.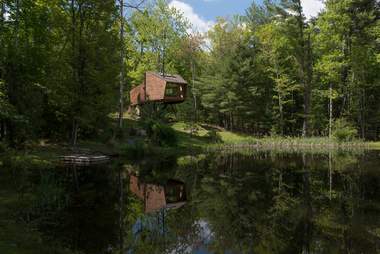 Airbnb
A tranquil pond-side retreat
Willow, New York
2 guests, $350 per night
Just 15 minutes outside Woodstock, New York, this cozy retreat sits on 34 acres of private property, and is the perfect place to get up close and personal with nature any time of year. Inside, you'll find a lofted bed perched above the open living room and kitchen, all of which look out over a massive wall-to-wall window facing the modest pond out front. Whether you're in the mood for a hike, feel like flexing your culinary muscles, or just want to get lost in a book beside the wood stove getting, this is one hell of spot to unplug.
Airbnb
A rustic getaway tucked inside a private bamboo forest
East Atlanta, Georgia
4 guests, $375 per night
Situated on a working farm, this rustic home sits high up in a thick 80-year-old bamboo forest where you'd be hard-pressed to find any evidence that you're actually within the limits of a major American city. The house, which can accommodate up to four guests, is filled with antiques and equipped with stained glass windows, which some say makes it feel as though you're staying inside an art project. There's also a spacious wraparound porch, where you'll likely get a good view of the farm's friendly alpacas and llamas milling about down below.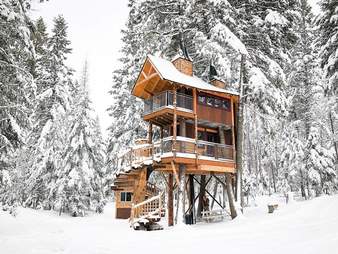 Airbnb
A quiet refuge near Glacier National Park
Columbia Falls, Montana
4 guests, $399 per night
Surrounded by giant Douglas Fir trees, this luxe double-decker abode -- which can comfortably house four people -- sits just 30 minutes from the glorious Glacier National Park, providing a unique home base for you and your crew to set off from and return to after a long day of hiking and exploring. After ascending a huge spiral staircase, you'll access its 500 square feet of living space, complete with a master suite, full kitchen, and two separate decks in addition to a charming fire pit setup down below.   
Airbnb
A secluded sanctuary in the heart of Tennessee
Bloomington Springs, Tennessee
2 guests, $239 per night
This eccentric pastoral retreat is just minutes from several Tennessee state parks, and makes for an exceptional romantic retreat with stellar view of its surroundings. Touted as the state's "first luxury treehouse," its design is best described as historically hodgepodge, featuring a front door that's nearly 200 years old, stained glass windows from the 19th Century, a cast iron claw foot tub big enough for two, and even an old-school jukebox. Step outside and you have your choice of around the fire pit, lounging in the hot tub, or grilling by the BBQ.
Airbnb
A panoramic lookout above the treeline
Fernwood, Idaho
2 guests, $200 per night
Built back in the '50s, this elevated perch -- dubbed the Crystal Peak Lookout -- was originally located at the top of a mountain in Washington, but moved to its current location in the '80s. Surrounded by 13 wooded acres, it's since been remodeled with everything you'd need for a comfortable night or two in the wilderness, including a wood-burning stove that keeps it suitably warm year-round. If and when you need a break from the panoramic vista or feel like relaxing after a long hike, just hop down to the wood-fired sauna, which sits on the ground level.
Airbnb
A riverside hideaway in Vermont
Coventry, Vermont
4 guests, $239 per night
Live out your Vermont fantasy in this rustic four-person lodge nestled in a couple white pines along the edge of a small pond. It's surrounded by 40 acres of forest and wetlands teeming with wildlife. In the warmer months, take out the canoe and hike around exploring the water's edge before settling in for a nice BBQ dinner on the deck. During the winter, spend the day at nearby Jay Peak (it's just a 20 minute drive) and wind down with an aprés ski soak in the cedar hot tub. 
Airbnb
A sprawling cabin on stilts
Smithville, Tennessee
14 guests, $255 per night
If you're in the mood to test out treehouse life with a bunch of friends, you can't go wrong with this expansive cabin in the sky. With enough room to accommodate up to 14 guests, this is more of a treemansion, featuring killer views, vaulted ceilings, and amenities at every turn. Sip your morning coffee or afternoon cocktail on one of its five balconies, throw together a big meal in the kitchen, plop down in front of the flatscreen, and take it easy after dark around the ceramic fire pit. If you do feel like leaving, though, you're steps from a lake and countless nearby trails.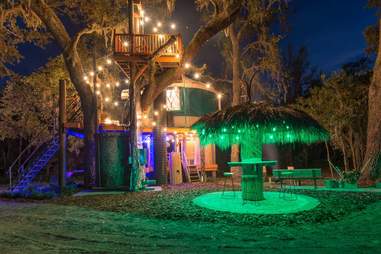 Airbnb
A Florida hideout with a private tiki bar
Geneva, Florida
2 guests, $170 per night
Nestled between two giant oak trees steps from a small lake outside Orlando, this 15-foot-high haunt has plenty of unique attributes, starting with the its interior living quarters, which are housed inside an 18-foot yurt. Beyond that it features an elevator shaped like a tree trunk to take you up top, an elevated lookout patio, a hot tub fashioned from an old jet engine, and a private tiki hut down on the ground level. Plus, your stay includes access to a golf cart to cruise around the five-acre property and nearby trails, should you ever feel compelled to actually leave the hot tub.