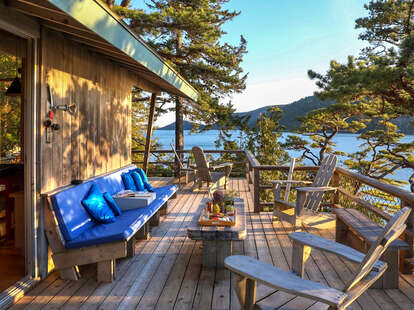 Airbnb
Airbnb
We independently source all of the awesome products and experiences that we feature on Thrillist. If you buy or book from the links on our site, we may receive an affiliate commission — which in turn supports our work.
Located in coastal Maine, Acadia National Park is easily one of the most beautiful, road trip-worthy national parks in the United States. The 35,332-acre park is filled with rocky beaches, winding hiking trails, and green trees as far as the eye can see. The sunrise views from the top of Cadillac Mountain alone are worth traveling for.
Whether you want your Acadia visit to be a quick weekend getaway or extended vacation, there are tons of Airbnbs in nearby towns that are both affordable and convenient. We've compiled some of the best options below, ranging from oceanfront chalets to cozy cabins just steps away from the park.
Airbnb
3 guests/$145 per night
Sitting on a private wooded acre in Bass Harbor, this tiny house has two lofted sleeping areas, a kitchenette, and a surprisingly spacious bathroom. The outside is primed for relaxation (and stargazing), with an enclosed patio and fire pit. The home is a quick bike ride away from the Bass Harbor Head Lighthouse (one of the most famous sites in Acadia), and you can catch a bus up the street to take you to Bar Harbor and the park. The best part? Each rental comes with a 7-day Acadia National Park Pass, a $30 value.
What guests say: "Petite Retreat is the perfect little place on the quiet side of the island. It's never too far from different parts of Acadia and always felt like home when we would come back from a long day of activities."
Airbnb
8 guests/$197 per night
It's all about the views at this three-bedroom chalet, whether you're watching the sunset on the upper level deck or looking out over the ocean from the living room's floor-to-ceiling windows. There's a private path leading from the house down to the water, and Acadia National Park is just 10 minutes away when you're ready for some hiking.
What guests say: "Beautiful house! We felt very lucky to stay in such a comfy place that's also located near the national park area."
Airbnb
3 guests/$135 per night
This charming studio apartment is located just a few hundred feet from Acadia National Park, meaning you can be hiking or biking within minutes of leaving the front door. Aside from its unbeatable location, the Lighthouse Retreat has cozy wood cabin-esque interiors, a sunny solarium for morning coffee, and a wooded backyard with private seating.
What guests say: "The Lighthouse Retreat was both cozy and spacious! Perfectly located close to Acadia as well as downtown Bar Harbor."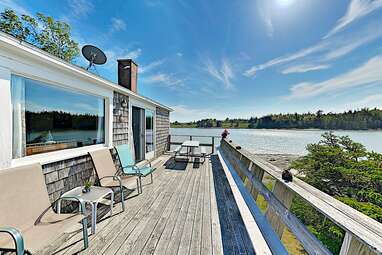 Airbnb
4 guests/$307 per night
This two-bedroom waterfront cottage is a little over eight miles from Acadia, with tons of comfortable spaces to relax in between hikes. In cooler months, make some hot cocoa and curl up by the wood-burning fireplace; come summertime, dine at the outdoor picnic table in the fresh sea air.
What guests say: "This place is a perfect secluded Maine getaway away from the crowds at Bar Harbor. It was our first time in Maine and this was a perfect fit."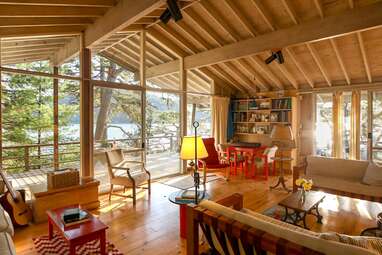 Airbnb
7 guests/$764 per night
This beautiful house within the boundaries of Acadia National Park offers 180-degree views of Somes Sound, a huge wraparound deck, outdoor showers, a picnic area and fire pit, plus access to kayaks, canoes, and bikes. Inside, you'll find floor-to-ceiling windows in nearly every room and a charming red fireplace in the living room.
What guests say: "We absolutely loved our stay at Robin's place. In addition to the spectacular views, we found the kitchen well stocked, the beds comfortable, the firewood ready, and a great amount of space for two couples."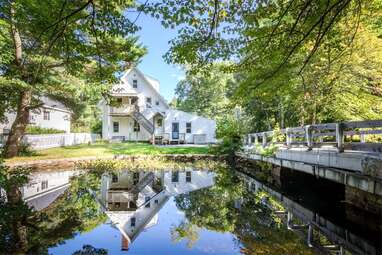 Airbnb
6 guests/$245 per night
This house was built 150 years ago by the founding families of Mount Desert Island, with one of the original mill dams creating an enchanting waterfall in the backyard. After exploring Acadia (just 15 minutes away), head back home to have dinner at the brook-side picnic table, play lawn games, make s'mores, and curl up in one of the comfortable beds.
What guests say: "Truly every detail was considered and communicated. The beds were comfy, the privacy was awesome, the extras were delightful."
Airbnb
16 guests/$400 per night
In the heart of downtown Bar Harbor, this building once served as a convent in the early 1900s (just check out those stained glass windows). Today, it serves as a group-friendly Airbnb with eight bedrooms, a massive kitchen, and a game room with pool and ping pong. When you're ready to find a more nature-based form of spirituality, Acadia is just a couple minutes away by car.
What guests say: "Amazing and unique accommodations in the perfect location! Brand new finishings throughout the house with preservation of the history and charm that makes this home stand out."
Airbnb
3 guests/$189 per night
Located in a quiet rural area near Bar Harbor, this light-filled cedar cabin is just minutes away from ​​Acadia's motor-free carriage roads. Inside, you'll find a lofted reading nook and gas fireplace, while a picnic area with campfire pit and patio lights waits outside. In the fall, you can even help yourself to the organic apples growing from the surrounding heirloom trees.
What guests say: "The location is awesome, incredibly clean, and just beautiful. The home and outdoor spaces are equally charming and clearly made with lots of care and thought."
Airbnb
2 guests/$129 per night
Pack up your pups and book a stay at this converted barn, originally built in 1886. The dog-friendly house features wood beam ceilings and a small outdoor seating area, and it's within walking distance to the Bass Harbor Head Lighthouse—and just a quick drive away from Acadia.
What guests say: "The cabin was just as described. It was very clean and easy to get to. We loved how close it was to the lighthouse!"
Caitlin Morton is a travel and lifestyle writer based in Kansas City. You can follow her on Twitter
@CaitlinMorton23
.