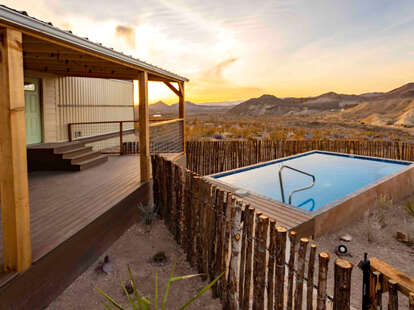 We independently source all of the awesome products and experiences that we feature on Thrillist. If you buy or book from the links on our site, we may receive an affiliate commission — which in turn supports our work.
Known for its hiking trails, campgrounds, and incredible night skies, Big Bend National Park is the perfect place to escape the crowds in Texas. The 801,163-acre park (that's bigger than the entirety of Rhode Island) is several hundred miles from most major airports, but if you're willing to make the drive, you'll be rewarded with wildlife sightings and beautiful views of the mountains reflected in the Rio Grande.
Since the park is a tad hard to reach, you'll definitely want to linger for a few days. When it comes to accommodations, there are tons of Airbnb listings within a short driving distance of the park. The homes range from sprawling ranches to glamping tents, so you're sure to find something to fit your budget and style. We've rounded up some of our favorites below.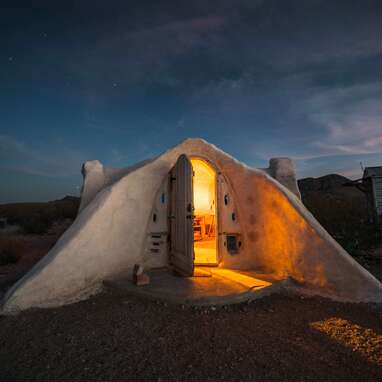 Airbnb
3 guests/$131 per night
It might look like something stolen from a Star Wars set, but this adobe dome is actually about 25 minutes away from Big Bend National Park. The solar-powered house can fit two people comfortably, with a double bed and kitchen, plus a separate outhouse with a composting toilet. Come nightfall, plop down in one of the chairs or hammocks for some of the best stargazing of your life.
What guests say: "This is truly a special experience unlike any other. If you're looking for an opportunity to stay in a completely curated space that should be on a travel documentary/vlog just do yourself a favor and book it!"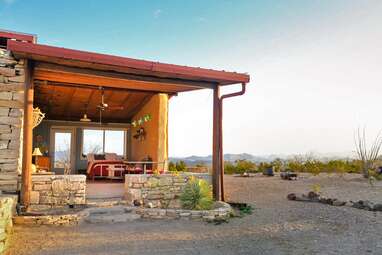 Airbnb
2 guests/$159 per night
This small cabin is within walking distance of the Terlingua Ghost Town's main stretch, where you can find old cemeteries and abandoned saloons. Built by miners over 100 years ago, the house has a spacious front porch with views of Big Bend National Park, and the indoor reading loft and fully-equipped kitchen are perfect for winding down.
What guests say: "Absolutely loved our stay here. Charming, comfortable, clean, amazing views, and close enough to walk to the main drag in the Ghost Town with restaurants and shops."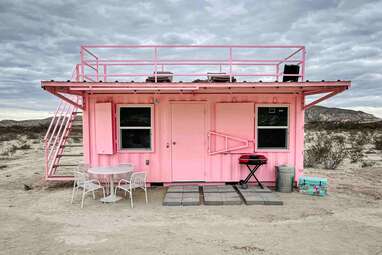 Airbnb
4 guests/$63 per night
Surrounded by donkeys, jackrabbits, and mountain views, this repurposed shipping container is an extremely affordable place to rest up between park visits. The rosy pink home has no electricity or running water, but you will have access to battery-powered lights, Casper mattresses, and propane camping stove. The best feature is definitely the rooftop deck, with lounging chairs for stretching out and watching the Milky Way stretch above your head.
What guests say: "This is such a perfect location! Not too far to drive to Terlingua or Big Bend but still feels so secluded and private. The views are amazing and I will definitely recommend to friends!"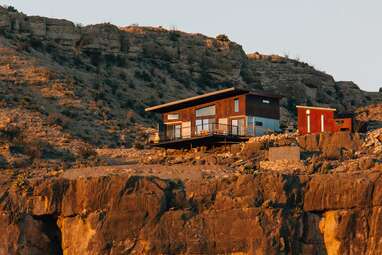 Airbnb
8 guests/$580 per night
Set into the cliff edge of an ancient limestone plateau, this eco-friendly house overlooks the Terlingua Ghost Town and Chisos Mountains crossing through Big Bend National Park. Inside you'll find three king-size bedrooms, a living room with huge windows, and original artwork showcasing Texas artists. Step outside to enjoy the deck with chiminea, fire pit with Adirondack chairs, bathhouse with tub and shower, and patio area with a propane grill and 10-person dining table.
What guests say: "This place is truly unbelievable…the pictures don't do it justice. It's a fun place to stay that is well appointed and very comfortable. And you can't beat the view sitting on the back deck that overhangs the edge!"
Airbnb
2 guests/$101 per night
If you want the camping experience without fully roughing it, this glamping tent near the Terlingua Ghost Town is a great option. You'll still have to semi-rough it, as the tent doesn't have electricity or running water—and you have to walk to reach the bathhouse—but modern touches like a memory foam mattress, solar-powered lamp, propane stove, and fire pit ensure you'll be very comfortable.
What guests say: "The Belle is the perfect place to escape! The tent is cozy and the space heater keeps you warm at night. The views are amazing and close to the Big Bend National Park entrance."
Airbnb
8 guests/$270 per night
Dubbed "Cactus Corazón," this spacious house has three new queen-sized beds and two sofa beds, plus a large kitchen and common areas. The ranch is within driving distance to Big Bend National Park and Terlingua, but the 40-acre property provides its own opportunities for hiking, birdwatching, cycling, and stargazing. The fire pit and skydeck (each with seating) are particularly nice perks.
What guests say: "We loved our stay here!! The property was very spacious and the backyard was great for stargazing and roasting s'mores!"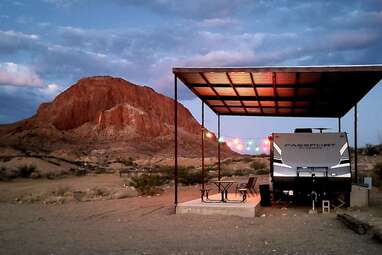 Airbnb
2 guests/$145 per night
This new 24-foot RV is located on 50 private acres of desert real estate, with several of Big Bend's trailheads less than ten minutes away. You can also find 20+ miles of dirt roads crossing the property (perfect for mountain biking), plus a covered patio to watch the sunset and do some stargazing. The interior of the trailer features a murphy bed, kitchen with stove and refrigerator, and bathroom with shower.
What guests say: "We had never stayed in an RV before but it exceeded our expectations. Proximity to the park was good—about as close as you can get without staying inside the park itself."
Airbnb
4 guests/$360 per night
Located about 10 minutes from the park entrance, this house has two bedrooms, each with a king-size bed and private bathroom. After hiking underneath the hot sun, come back to cool off in the private pool or cook dinner at the BBQ grill, attached to a patio and fire pit.
What guests say: "Location, amenities, dark sky—everything was just awesome! The pool was a perfect ice bath after some long hikes."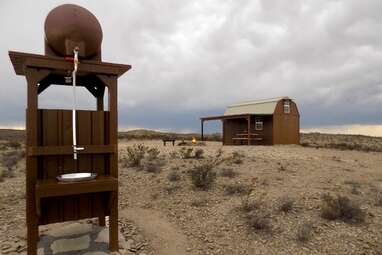 Airbnb
2 guests/$61 per night
As if West Texas wasn't isolated enough, this cabin offers even more solitude on 34 acres away from the Terlingua crowds (and 15 minutes from the Big Bend National Park entrance). The house offers 360-degree views of the surrounding mountains, which you can take in from the outdoor showers, picnic table, and fire pit. Note that the cabin does not have electricity, but you won't want any harsh lights polluting the incredible night sky anyway.
What guests say: "Love this place and have now stayed twice. It's exactly what I need with no frills and so close to the park. Beautiful stars at night and spectacular sunrises in the morning. It's like camping with training wheels on!"
Caitlin Morton is a travel and lifestyle writer based in Kansas City. You can follow her on Twitter
@CaitlinMorton23
.