We independently source all of the awesome products and experiences that we feature on Thrillist. If you buy or book from the links on our site, we may receive an affiliate commission — which in turn supports our work.
If you're a fan of outdoor adventures, Costa Rica needs to move to the top of your travel list. The country is a tad smaller than West Virginia, but it contains cloud forests, jungles, volcanoes, and some of the most beautiful beaches in the world. It also happens to have some seriously cool vacation rentals.
Whether you want to sleep near the water or up in the trees, Airbnb has a listing to fit the bill. Here, we've rounded up some of the absolute best (and most unique) Airbnbs in Costa Rica—get ready to bookmark 'em all.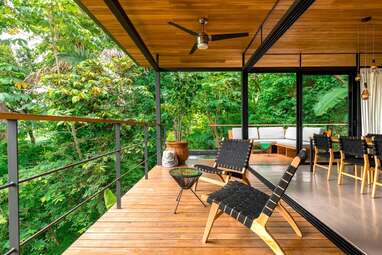 Airbnb
2 guests/$227 per night
Costa Rica has no shortage of treehouse rentals, but we love this one for its walls of windows, ocean and jungle views, and eco-friendliness. The listing features a king-size bedroom, living room, fully stocked kitchen, and spacious deck with a plunge pool—and those aforementioned views.
What guests say: "We loved our stay at the Green House. The place feels like a treehouse and we enjoyed hanging out in the plunge pool after a full day of activities. Our host took great care of us and was available 24/7 to answer questions."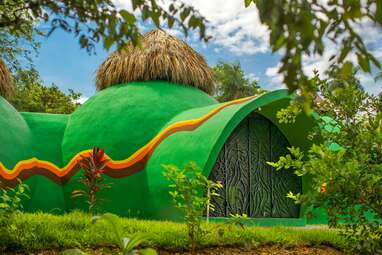 Airbnb
2 guests/$110 per night
If you're looking for a unique vacation rental…well, here it is! The ​​Green Moon Lodge is a brightly painted dome house in Montezuma, filled with local artwork and surrounded by tropical gardens. In the dry season, guests can even open up the roof in the bedroom so they can stargaze without even leaving their bed.
What guests say: "Without a doubt the most unique homestay you'll ever encounter. We enjoyed everything about Katrin's beautiful home and Montezuma Beach. The acoustics in the center dome are incredible."
Airbnb
Manuel Antonio, Costa Rica
6 guests/$530 per night
Oh wait, maybe this is the unique listing you've been looking for. It is an actual Boeing 727 airplane tucked up in the jungle canopy, repurposed to be a surprisingly spacious two-bedroom apartment with two bathrooms, a kitchenette, and a terrace with 360-degree views. The plane sits above a resort, so guests also have access to several swimming pools.
What guests say: "This was a very beautiful and unique experience! We loved the airplane as much as the monkeys visiting in the early evening. And the views were gorgeous."
Airbnb
4 guests/$95 per night
The Monteverde Cloud Forest is one of the most famous sites in Costa Rica, and this one-bedroom loft is pretty much right next door. The home features a wraparound deck and the entire bedroom is covered in windows, so you truly cannot escape the views. The host even claims that guests can see stars and fireflies directly from the bed.
What guests say: "Incredible place! The view is absolutely amazing and the sunset was unreal. The house is modern and clean. Right in the middle of the cloud forest and nature."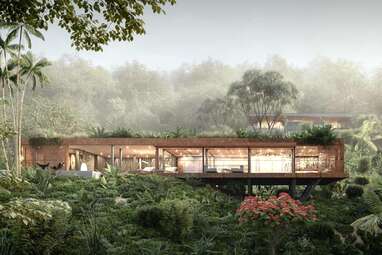 Airbnb
6 guests/$668 per night
Tucked away in the misty mountains with views of the ocean, this three-bedroom villa is the ultimate getaway for anyone looking to disconnect. The common areas feature a gorgeous indoor-outdoor design, with an infinity pool and tons of terraces for even more immersion in nature. When it's time to wind down, the bathrooms and bedrooms look like they were transplanted from a 5-star hotel.
What guests say: "Speechless from the moment I first walked in! Such an amazing stay! The pictures are what you see is what you get. AC works like a charm and kept the room nice and cool."
Airbnb
6 guests/$460 per night
Situated on a small coffee plantation with views of the Pacific Ocean, this modern home is nearly as beautiful as its surroundings. The all-wood interiors give off major Japandi vibes, with towering ceilings and massive windows letting in the sunlight. The hosts also welcome guests to collect eggs from the chicken coop, eat from the organic garden, and use the pizza oven on the back deck.
What guests say: "Wow, our stay was just amazing. The house is 100% like in the photos and the description. Bruno was a great host and I would love to come back again soon."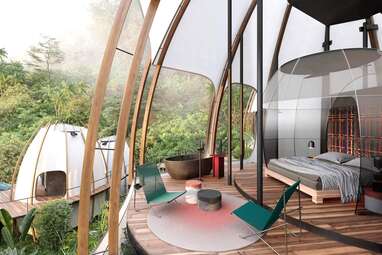 CoCo
2 guests/$170 per night
These glamping pods are like high-end bird's nests—if nests came with spas, pools, and fitness centers, that is. Those amenities are shared amongst the four units, but you can always find privacy in your open-air bedroom when the time comes. You'll probably be too distracted by the jungle views to notice any other humans, anyway.
What guests say: "AMAZING PROPERTY! The pods are perfect for relaxing and finding your peace. It's like glamping in the rainforest. Each pod has its own ensuite so are very private, but still feel open to the jungle."
Airbnb
8 guests/$1,014 per night
Located just minutes from the best surfing breaks in Santa Teresa, this impossibly luxurious villa features four king-size bedrooms (each with their own bathroom), an infinity saltwater pool, an outdoor dining area with BBQ grill, and amenities galore. When you aren't down by the beach, enjoy watching the sunsets from the sprawling teak deck.
What guests say: "This home is an architectural masterpiece nestled in the jungle, with the most comfortable beds and accommodating host! Such a beautiful home, immaculately clean, and very close to town. Will be coming back."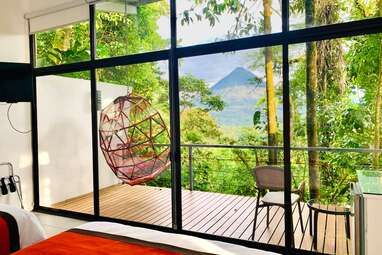 Airbnb
4 guests/$180 per night
This one-room rental isn't huge, but it does offer something unique to this list: unobstructed views of the Arenal Volcano. You can see the natural wonder from your bed or private balcony (complete with a hanging swing chair), and even the soaking tub in the bathroom has windows overlooking the jungle.
What guests say: "We loved our stay and wish we could have spent more than one night here! The hospitality was excellent and the views incredible."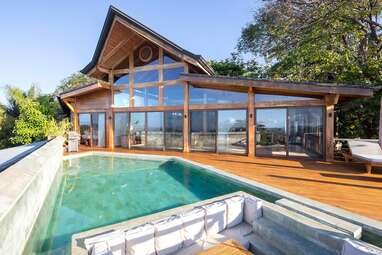 Airbnb
12 guests/$934 per night
The beach is just a quick walk away from this villa, but honestly, you might want to stay put the entire time. The listing is basically its own little private resort, big enough for 12 people and packed with amenities like a saltwater pool with sun loungers, fully equipped kitchen, soaking tubs, an outdoor shower, and floor-to-ceiling windows in nearly every room.
What guests say: "If you were hesitant and looking for a sign to book this villa, THIS IS IT! Do not think it further, it will be worth every single penny. Santa Teresa is great by itself but staying at this villa will make the experience unforgettable."