We independently source all of the awesome products and experiences that we feature on Thrillist. If you buy or book from the links on our site, we may receive an affiliate commission — which in turn supports our work.
While almost everyone packs a book to read on vacation, what happens next falls into two camps: There are those who, despite their best intentions, never actually take the book out of their carry-on. And then there are the rest of us. Those of us who not only bring multiple books on holidays, but carry at least one with us at all times. Those of us who look forward to the uninterrupted reading time that comes with vacation, just as much as new restaurants, tranquil beaches, or pool-side cocktails. (Which, we should add, are all excellent places to enjoy a novel.)
We see you, fellow bibliophiles. To help make your next retreat even more literary, we found some Airbnb rentals that have libraries filled with all kinds of beautiful books. A few of them even have rolling library ladders, so you can reenact Belle's "Far off places, daring sword fights, magic spells, a prince in disguise!" speech from Beauty and the Beast. Just us? If you've made it this far, we suspect you know exactly what we're talking about.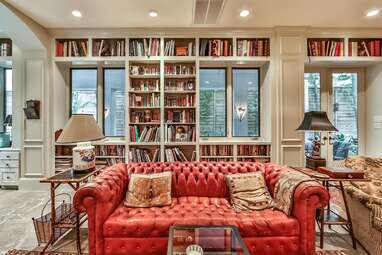 Airbnb
2 guests/$110 per night
Surround yourself with books in this artist's library, which also has an antique desk perfect for writing the next great novel (or email) and a red leather couch ideal for a lazy afternoon of reading and dreaming. The cozy studio also has a private pool and patio and is close to restaurants, galleries, and shops. Ask the owner to show you her work and, if you're feeling particularly creative, to give you an oil painting lesson.
What guests say: "I absolutely loved having the patio and pool all to myself. I spent my time swimming in the pool every day, relaxing on the patio, enjoying the books and comfy couch, sleeping in the comfy bed, and working every day at the desk."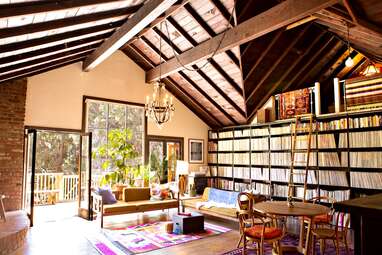 Airbnb
6 guests/$325 per night
If you get bored of perusing the walls of books in this stylish hillside home, just head to the deck or the back patio for expansive Laurel Canyon views and hanging basket chairs perfect for enjoying them. Inside, you'll find a rustic main room with walls of books and vinyl—and a rolling ladder so you can reach them all. There's also an upright piano and other musical instruments (plus more in the backyard "music shack"), and a wood-burning fireplace. The best part? Even though the home feels like a cabin nestled in the woods, it's still close to West Hollywood and Beverly Hills, should you need an escape from your escape.
What guests say: "This is a beautiful oasis if you're wanting to get away from the hustle and bustle of the city. A gorgeous time capsule in one of the coolest neighborhoods in LA. Plus so many amazing records to listen to. So divine!"
Airbnb
2 guests/$145 per night
Quechee is a charming village in the town of Hartford, Vermont (just down the road from Woodstock), known for its natural beauty, hiking, and proximity to ski slopes. For a real taste of that charm, book a stay in its first library, originally built in 1909. It has lots of the original details, including hardwood floors, a clawfoot tub, a wood-burning fireplace, and a window seat reading nook—perfect for enjoying the many novels that line the bookshelves.
What guests say: "We had a wonderful time in this adorable little library! A lovely spot for a cozy fall or winter getaway. We especially enjoyed the fireplace and the beautiful bathtub. The location is great, and the host was very helpful."
Airbnb
2 guests/$288 per night
The Sea of Tranquility is a desert compound on six acres of land with an "atmosphere of freedom, relaxation, creative community, and communion with nature." The library is a private building with rustic charm, desert views, lots of art, and book-lined shelves where you can enjoy the solitude or hang out in the (clothing optional) pool and jacuzzi area with other guests.
What guests say: "If you plan on disconnecting from the world for a few days and reconnecting with yourself, this place will work wonders. Everything from the library Tao has built to the feeling of freedom this place brings is enough to make you not want to leave. It is a very cozy stay and encourages expression and a love for life. It was truly what my partner and I needed for ourselves, and we are very grateful. This stay is worth every penny."
Airbnb
Pacific Grove, California
2 guests/$100 per night
If you're looking for literary inspiration, you can't find a better rental than the studio where John Steinbeck wrote The Sea of Cortez in the 1940s. The cozy studio was remodeled to have a "masculine and sophisticated, yet romantic feel," but still retains its original 1920s architecture. It has its own outdoor sitting area with garden views; if you visit in the winter, you might get to visit with the migrating Monarch butterflies.
What guests say: "What a gem. Steinbeck's Writer's Cottage is just as idyllic as one would imagine. Kevin & Vicky did a great job maintaining the rich history of the cottage while making it feel updated (maintaining the historic touches) and modern. The pictures simply do not do it justice!"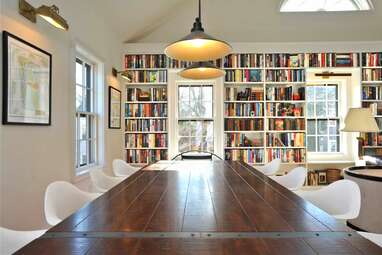 Airbnb
6 guests/$1,093 per night
This stylish loft sits above an indie bookstore on Nantucket's Broad Street—and if that's not enough, it also has a wall of books for you to borrow during your stay. When you're not reading, you'll enjoy being steps away from restaurants, museums, and shopping in the downtown historic district, as well as just a few blocks from the water.
What guests say: "This space was amazing. The pictures in the listing were just a taste of how adorable this property is. The book-themed decor was so clever and cute. Large open space for lounging and entertaining. Beds were comfortable, and I doubt we could have found a better location for a weekend in January. We could walk all over town. Will definitely be back!"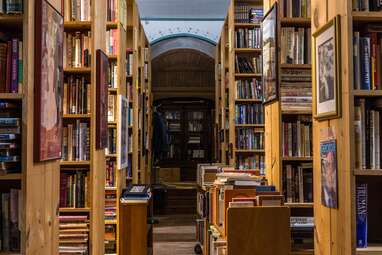 Liberty Book Shop
3 guests/$47 per night
If you're reading this list, you probably love a good bookshop. But let's be real: Even if you find the best bookshop in the world, it's impossible to experience it in the best way possible—i.e. in total solitude. That's where this rental comes in. The quiet room is attached to an old church that was converted to an out-of-print bookshop, and a booking comes with 24-hour access to the shelves. Feel free to peruse the collection at 1am, and cozy up with a book until the sun comes up. The building is also near lots of hiking, biking, and fly fishing, in case any of the tales you discover inspire you to explore beyond your own imagination.
What guests say: "What an absolute gem. Visiting bookshops is my travel hobby so getting to stay at a shop and having access to browse the shelves 24/7 was a real treat. And Linda is a fantastic host—welcoming and friendly. I felt like part of the family. The room itself was clean, quiet, and nicely appointed. All in all, a wonderful stay."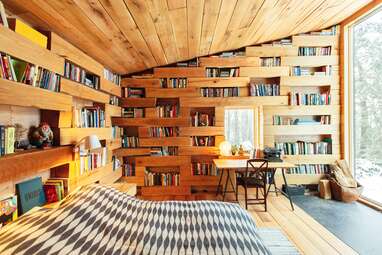 Airbnb
4 guests/$413 per night
This stylish and secluded cabin is full of natural light and has everything you need for a relaxing weekend escape. Most notable is the stand-alone "black box" sleeping cabin in the middle of the woods, called the Hemmelig Rom ("secret room" in Norwegian). It comes with hundreds of books on built-in shelves, a cozy bed, a writing table, and a wood-burning stove.
What guests say: "What a lovely spot! The house is beautifully designed, filled with art and books and natural light, and well-situated for day trips to mountain trails, swimming holes, caves, and farm stands. We particularly liked the resident chickens, who good-naturedly roamed the garden during the day then returned, without protest, to their modernist coop at night. A place to recharge and enjoy."
Airbnb
5 guests/$122 per night
Yes, you read that correctly. It's a treehouse. Like, an actual real-life treehouse. With a library. And not just an "oh, there are a few books" library, but a "walls of books and a rolling ladder to reach them all" library. The treetop getaway also has walls of windows and a wood-burning fireplace, plus a deck with twinkle lights, a hammock for napping and reading, and a hot tub for unwinding after a long day of…more napping and reading.
What guests say: "Wow—one of the best Airbnbs my boyfriend and I have stayed in. The views are out of this world; you feel as if you're in a treehouse peering down on the entire city. With the hot tub, hammock, bathrobes, and beautiful lights, we felt incredibly spoiled. We so hope we're able to stay here again! 100/10 recommend."
Daisy Barringer is an SF-based freelance writer. Follow her on Twitter
@daisy
.