We independently source all of the awesome products and experiences that we feature on Thrillist. If you buy or book from the links on our site, we may receive an affiliate commission — which in turn supports our work.
No one needs a vacation more than Capricorns. These "managers of the zodiac" (Dec. 22 to Jan. 19) are known for their persistence and discipline, thanks to energy derived from the hard-working, mythical sea goat, and they sometimes have to be forced to take a day off from work. But where exactly should they go?
We reached out to astrologer Stephanie Whaley, founder of the "astrologically-informed" dating app Oromoon that uses your birth chart to find your match, to find out what this practical earth sign appreciates in a getaway destination—and where they should travel next. "Capricorns are ambitious and determined—they're not afraid of hard work, and they're all about practicality in all of their pursuits," Whaley says. "They can also be a little materialistic, but not in a negative way. They love their earthly pleasures, and they work hard for them, so why not?"
This is why when it comes to planning a vacation (and they will be the ones planning it), Capricorns appreciate sophistication and exclusivity. Reputation is key, and they enjoy things that are coveted by others—not because they're concerned about the opinions of others, but rather because they themselves love being impressed.
While Caps naturally want to stay somewhere that appeals to their tastes, the thing they care about most is proximity and practicality. And that practicality means being prepared. "They don't like last-minute plans, and they need everything to be accessible," Whaley says. In other words? Don't try to stick your Cap bestie in a house in the middle of nowhere (unless the house happens to come with a personal chef).
Keep reading to learn more about Capricorns, and discover 9 Airbnbs they'd love to hole up in for a night (or seven).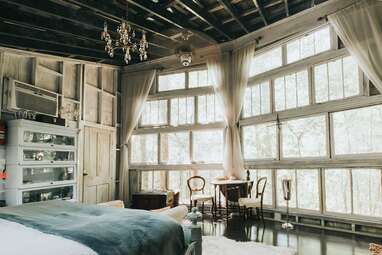 Airbnb
2 guests/$466 per night
Any old treehouse isn't enough to impress a Capricorn. But this majestic treehouse—complete with hardwood floors, antique decor, faux fur rugs, a two-story window wall with forest views, whitewashed walls, and shabby chic furniture—will do the trick. Listen to the rainfall on the tin roof, songbirds outside of the windows, or the collection of classic vinyl. There's an outdoor dining room with a grill and cooler (and organic veggies from the farm upon request), but there are plenty of fine dining restaurants within driving distance in case your Cap is feeling finicky. There's also a fire pit, rope swing bed accessed by a secret ladder, rope suspension bridges, and 40 acres of property to explore.
What guests say: "The treehouse was an absolute dream. We were so impressed with every detail placed into this lovely gem. From the record player to enjoy some classics, walking sticks for hiking, essential oils to relax, we couldn't possibly have asked for anything more. The perfect experience to truly escape from reality and enjoy the bliss of nature and solitude with your special someone."
Airbnb
Mercer Island, Washington
12 guests/$1,430 per night
Capricorns will appreciate this waterfront home on Mercer Island for several reasons. First: Its location, which is exclusive but not remote, sitting a mere 15-minute drive away from all of the bars, restaurants, and shops in downtown Seattle. Second: The grandeur of the private lake frontage, manicured estate, and heated pool and spa with water views. Third: Though the decor is a little '90s, they'll appreciate the ample amount of space—and the fact that they don't have to leave the island to find great beaches, parks, restaurants, and festivals.
What guests say: "The house was beautiful! The bedrooms were spacious. The kitchen was so much fun to cook and entertain in. The pool and hot tub were perfect! The private dock was epic. We had the most memorable experience and can't wait to rent the place again someday."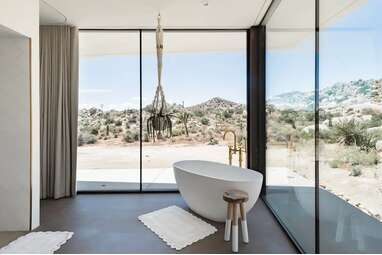 Airbnb
8 guests/$1,628 per night
Capricorns appreciate homes where it's clear the architect was intentional with every decision, Whaley says. And being surrounded by beauty on the outside is equally as important. In theory, a secluded home in Joshua Tree could be a little out of their comfort zone, but this high desert retreat has everything they need at their disposal (including the option to hire a private chef and massage therapists), so they won't feel a minute of stress. Other things that will encourage relaxation include the gorgeous five-acre property covered with boulders and cacti, stunning saltwater pool, hot tub, outdoor fire pit, outdoor shower built onto a boulder, and soaking tub with desert views. And if Caps start craving adventure, the main entrance to Joshua Tree National Park is just 15 minutes away.
What guests say: "To say this property was exceptional would be an understatement. The design of the house and the decor were both stunningly beautiful as well as comfortable and inviting. The amenities were generous, and everything was beautifully stocked. Even the fragrance of the toiletries matched the house perfectly. The location was stunning and so private—we had grand plans for lots of hiking and park exploring, and we opted mostly to stay and sit by the pool. We could not have enjoyed ourselves more."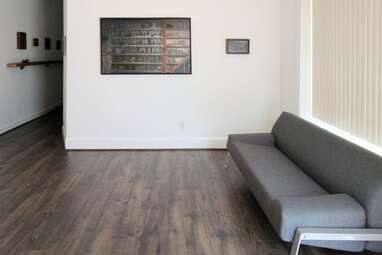 Airbnb
6 guests/$70 per night
This two-room gallery displays new work from local, regional, and national artists every other month, so you can stay there six times a year and never have the same experience. This is perfect for a Capricorn, who is always looking for inspiration and to be impressed. It's also nestled in a charming neighborhood in the heart of downtown Baltimore, so there's plenty to see and do. There's even more to eat and drink, since the neighborhood is full of family-owned restaurants, bakeries, and bars.
What guests say: "Staying at the gallery was such a fun, unique experience; it was a pleasure waking up every morning to fine art. The place has everything a solo traveler could need, and Amanda was a great host. Plus, the neighborhood was great, close walk to the harbor, surrounded by restaurants. Highly recommend."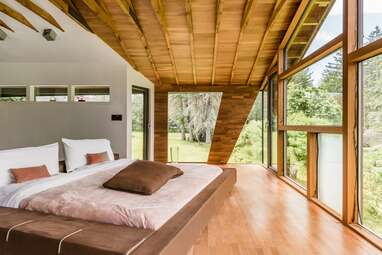 Airbnb
5 guests/$496 per night
The Pond Home is perfect for a design-savvy Capricorn, who will love that it was once home to artist Reginald Marsh, best known for his depictions of New York City street life during the 1920s and the Great Depression. The home has been meticulously renovated with endless attention to detail, including a Zen bedroom with walls of windows and a unique integration of concrete and wood throughout. The property is full of expansive lawns, juniper trees and century-old cedars, a pond with a curved bridge, and a private waterfall. Oh, and it's all two minutes away from the museums, galleries, outdoor markets, and restaurants that make Woodstock such a popular (and quirky) getaway.
What guests say: "The house was beautifully decorated, and the large windows provided great light. The grounds are stunning and allowed us to spend lots of time outdoors, hiking by the water and relaxing over a meal. The location is great! Close to the town, which had lots of great options for dining out and walking around. Would highly recommend!"
Airbnb
10 guests/$2,721 per night
This former synagogue was fully transformed in 2005 by designers from the Ian Schrager Hotels (Schrager is often credited with founding the "boutique hotel" movement), creating the luxurious, high-end townhouse you see today. It's basically perfect for Capricorns, who will be easily impressed by the outdoor terraces, landscaped rooftop deck, hot tub and steam room, luxury linens, and custom-made windows that are exact replicas of the ones in the original synagogue. The rental is also in the heart of the East Village, just steps away from the amazing bars, restaurants, and shops surrounding Tompkins Square Park.
What guests say: "Martin's place was incredible! Pictures do not do it justice. The space was perfect for our family, with large but inviting spaces and extremely comfortable beds. Martin and Alena were extremely responsive, gave lots of great tips, and were always available to answer any questions. The location was great—just off of the park with supermarkets, tons of restaurants, and cafes all within walking distance. I would 100% stay here again and couldn't have asked for a better oasis for our family in the city."
Airbnb
Snowmass Village, Colorado
8 guests/$3,419 per night
"If a Capricorn is looking for an adventure in Aspen, they will first choose their favorite restaurants or ski resort and then choose where they stay according to proximity," Whaley says. This penthouse certainly fits the bill, with panoramic views of the mountains and bustling Village Plaza, and ski-in/ski-out access to Snowmass, Aspen's biggest and most popular mountain. Everything in this corner penthouse unit is high-end, including expensive Gaggenau appliances, contemporary furnishing, gas fireplaces, soaking tubs, and two expansive decks. And because it's located in a hotel, guests also have access to ski storage, spas, a fitness center, a climbing wall, and more. As for Capricorns who don't like to ski? Whaley promises they'll still appreciate hanging out in America's most expensive ski town, getting massages, and sipping hot beverages by the fire in the lodge.
What guests say: "The location and view are absolutely gorgeous. One hundred feet away from the lift and easy access to everywhere. The apartment itself is beautiful with state-of-the-art decorations. This is my first time in Aspen, and so far is my best ski trip. Would strongly recommend!"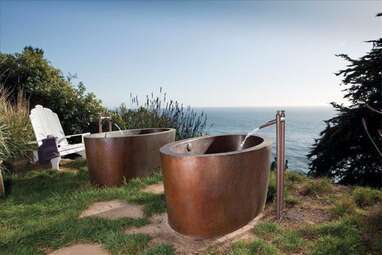 Airbnb
12 guests/$1,709 per night
Capricorns appreciate nature a lot more when it's shrouded in sophistication, which is why Big Sur is an ideal getaway. The seaside region is known for its bohemian vibes and spectacular natural beauty, like towering redwoods, gorgeous waterfalls, secluded beaches, and seaside cliffs. It's also very exclusive and filled with world-renowned spas and restaurants. This particular cliffside home will particularly appeal to Capricorns, thanks to its outdoor showers, copper soaking tubs, dry sauna, and fire pit—all of which come with ocean views. As an added bonus, you have the option of adding on a private massage or yoga session.
What guests say: "Stay as long as you can. The amenities were amazing, and everything was easily accessed. Sauna then a soak in the outdoor tubs was one of the highlights. Fire pit was easy to use and the perfect spot to watch the sunset. It was like being at a private resort. The views were incredible from every part of the property. Our only regret was not being able to stay longer."
Airbnb
Carmel-by-the-Sea, California
3 guests/$428 per night
Capricorns may like to be impressed, but that doesn't necessarily mean they need to stay in a huge, lavish mansion, According to Whaley, being close to their restaurant reservations and planned outings is usually more important. Carmel is a great getaway for them, because it has access to art galleries, beaches, golf links, hiking trails, wine tasting, and more. Plus, as Whaley points out, the entire town has "quaint small-town energy, but it's also super bougie." This rooftop apartment is just steps away from downtown Carmel's galleries, shops, and restaurants, and it has hardwood floors, whitewashed vaulted ceilings, handcrafted plaster walls, and vintage built-in cabinets—all details a Capricorn will appreciate. They'll also appreciate arriving to wine and cheese set out by the host, which they can enjoy on the balcony that overlooks the town.
What guests say: "Charming space in the best location amidst the hustle and bustle of Carmel's creative artists quarter. Many great restaurants to choose from. The private balcony was blissful and a great space to chill with a glass of wine and some takeout after a day about town."
Daisy Barringer is an SF-based freelance writer. Follow her on Twitter
@daisy
.