We independently source all of the awesome products and experiences that we feature on Thrillist. If you buy or book from the links on our site, we may receive an affiliate commission — which in turn supports our work.
Leo season always hits right smack in the middle of the summer, which means that there are lots of reasons to celebrate. If you're a proud member of the Leo community, it's your time to shine. And what better way to do that than by planning your own getaway to end summer on a high note? To help you find the perfect spot to match your fire sign attributes, we reached out to Stephanie Whaley, founder of the horoscope-based dating app Oromoon, who shared some valuable info about Leo season and how to find the perfect Leo-worthy environment.
"[Leos] are the royalty of the zodiac. They like to be very [extra] because they are governed by the sun and the sun is a pretty big deal," shares Whaley. Of course, Leos love nice things but they also make sure to share it with the people around them. "Leos think independently but they like to create an ecosystem where everyone thrives. When we think about Leos in particular I would say, how can we usher in our leadership skills and how can we take those leadership skills to create structure that would enable the entire collective to heal and prosper?"
Based on Whaley's tips and intel, we gathered some of the best Airbnbs for Leos to live their best lives—if only for a quick getaway. If you're ready to bring your people together and have a good time, consider the amazing options below.
Airbnb
"The first thing that comes to mind to me is a castle," says Whaley. "I know it sounds absurd but this is the type of energy that Leos create." Besides its architectural style, this one has all the amenities for you to feel like a royal—a wood burning fireplace, grand piano, fully stocked wine room, and game room. Even though it has an ancient look, the castle has central air, fiber optic cable, smart TVs, Bluetooth-enabled Bose speakers, and a seven person hot tub outside.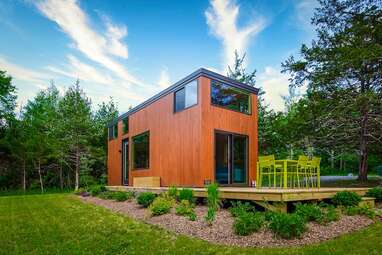 Airbnb
For a full modern getaway, consider this stunning cabin located a few minutes from the charming towns of Saugerties and Woodstock. The space boasts large windows, a fully equipped kitchen, an electric fireplace, a king size bed in the master bedroom and two twin beds in the second (all with Casper memory foam mattress). The sliding doors off the living room open onto a large deck with a full-size dining table to host your friends like a good Leo does, with lots of stories and an environment where all can thrive.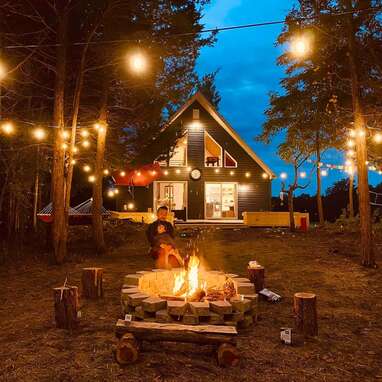 Airbnb
"Leo is not there to enforce the rules, they're there to make sure that everyone is having a good time and no one is left behind," says Whaley. That's why you should consider inviting your friends to this incredible three bedroom chalet located beside a beautiful lake. Plan a weekend full of fun water activities, games, and delicious food you can cook in its gourmet kitchen or over the fire pit.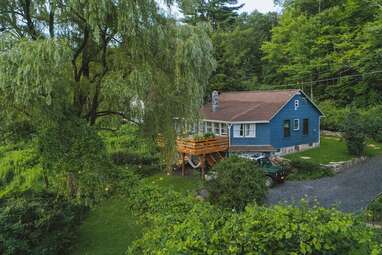 Airbnb
For the design oriented Leos, this place is the perfect spot to get inspired with your friends and family. This beautifully decorated cottage stands out not only because of its incredible design, but also because it's a great space to plan out a ton of activities like yoga mornings on the deck, dinner parties, happy hours, or nights around the fire pit. You can also spend an afternoon exploring Woodstock, Kingston, Kaaterskill Falls, or one of the many Catskill peaks within a few miles of the house.
Airbnb
"Leo is smack in the middle of summer, it represents the climax of this amazing season where [they] can just let go and be free," says Whaley. So, if you're feeling wild and free, this dome house in the middle of the Palm Springs desert is where you're going to thrive. The impressive amount of windows with panoramic views in this property is a luxury well fitted for a Leo. No matter where you are, you can witness nature in all its glory. Plan your day of activities around Joshua Tree and come back to cook a delicious meal for your group in its fully equipped kitchen.
Airbnb
If it's the beach you're craving, a romantic getaway in this Long Beach casita will set the mood. Take your partner with you and plan a weekend to just relax and enjoy each other's company. This stunning space has a private backyard with a hot tub and deck that makes a delightful environment to pop your champagne and celebrate the season under the stars.