We independently source all of the awesome products and experiences that we feature on Thrillist. If you buy or book from the links on our site, we may receive an affiliate commission — which in turn supports our work.
You're probably familiar with the 12 zodiac signs, but what you may not be aware of is that each sign's energy is highly influenced by its ruling planet. We're dropping this astrology knowledge because when it comes to Libras, the fact that the sign is governed by Venus, the astrological ruler of romance and pleasure, is of the utmost importance. Yes, even (especially!) when it comes to choosing a vacation rental home. Or so says Stephanie Whaley, founder of the "astrologically-informed" dating app Oromoon that uses your birth chart to find your match, to whom we reached out for insight into Libra's personality traits and what they should look for when planning an escape.
"Venus oversees money, beauty, art, self-worth, and romantic and platonic love," Whaley explains. That's why when it comes to choosing a vacation dwelling, it's important for Libras to be around things that are "aesthetically pleasing, naturally graceful and beautiful, serene, and stylish." And it doesn't hurt if there are opportunities to pull out all of the stops, including pampering in the form of soaking tubs, spas, and exquisite linens. Libras also love being coupled and surrounded by friends ("they're low-key afraid of being alone," Whaley says), which means that they are very much about a romantic getaway, but also appreciate the attention they get on a friend trip (who they equally appreciate and want to make sure are always having a good time).
Another important attribute of Libras is their desire for harmony and balance. This is true in something as small as the fact that they like things to be symmetrical (candlesticks should be placed in pairs) and as big as their need to make sure everyone is heard and feels taken care of and fulfilled (if you're not having a good time, a Libra wants to change that, Whaley explains). Their desire for harmony and happiness can be a distraction, however. They see all the wonderful choices, but it can take them a long time to make "the perfect" decision. That's where we come in! Based on Whaley's advice, we've created a list of 10 vacation rentals that cater to Libra's desires for beauty, balance, and companionship and should save them at least a little time when it comes to making a vacation rental pros and cons list.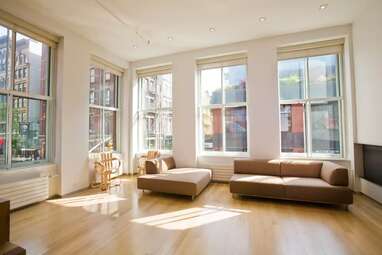 Airbnb
6 guests/$1,073 per night
Libras love the arts, Whaley says. A day at the Met, a Broadway show, "anything that sparks creativity," will spark joy for this air sign. Add in dinner at a Michelin-starred restaurant, of which New York City has 67, for the perfect getaway—just make it one with a set tasting menu as Libra's can get overwhelmed by too many choices. With all of that excitement, a good night's sleep in a quiet loft apartment will be paramount. This former art gallery-turned-loft with soaring ceilings and natural light coming in from 14 enormous windows is the perfect place to unwind. Libras will enjoy taking advantage of the sauna and soaking tub and also appreciate that the stylish oasis is on one of the best blocks in SoHo surrounded by amazing restaurants, art galleries, shopping, and major transportation lines.
What guests say: "The loft is a wonderful respite in the middle of the noise of New York City. Its large windows invite one to people-watch or to study the architecture of the surrounding buildings. Then at night, one closes the room-darkening curtains for a wonderful rest in the midst of the city. Amazing beds and sheets lulls one to sleep. There are so many great places in the surrounding area. One would have to stay weeks to enjoy all the restaurants and bakeries the area offers."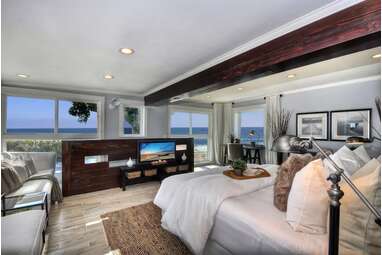 Airbnb
5 guests/$1,255 per night
Whaley says that Libras will love Laguna Beach because of the great weather, amazing beach, ocean dotted with surfers and colorful boats, cute little shops and restaurants, and easy pace of life. But of course, they'll also need a luxurious place to lay their head at night, and this villa with ocean views (even from the bedroom) and indoor-outdoor living provides just that. Best of all, it's steps to the beach, shops, and restaurants where Libras can get their socializing fix.
What guests say: "The home is very well appointed and incredibly spacious. We cooked dinner each night and ate out on the deck watching the sunset. The beds were very comfortable, and the bathrooms were fantastic! The location is perfect! We walked everywhere! Beach chairs and beach towels were available as well, making the quick beach access so easy! Highly recommend!"
VRBO
7 guests/$1,395 per night
Libras are all about romance and being pampered, which is exactly what they'll find at this well-appointed 1885 Edwardian home two blocks from St. Helena's charming Main Street in the heart of Napa Valley. Downtown St. Helena is both elegant and laidback, with lots of boutiques, galleries, restaurants, and tasting rooms. HALL Wines is the perfect vineyard experience for a Libra who will enjoy exploring the 33-acre property dotted with contemporary art and a Great Lawn perfect for relaxing and appreciating the moment. They can unwind even more at the end of the day by taking a soak in the "spool" ("bigger than a spa, smaller than a pool") in the private courtyard that heats up to 104 degrees.
What guests say: "This house could not have been better! The location is perfect. You can easily walk to the shops and restaurants from the house. It is decorated beautifully, and the "spool" was great to get in after a long day of wine tasting."
VRBO
2 guests/$250 per night
"Libras love to be coupled up," Whaley says. "There's no better feeling than the harmony that is invoked when they're with their significant other." That harmony will definitely be invoked at this mountaintop cabin that is the perfect mix of rustic and luxurious. Though the property is just a few minutes from downtown Gatlinburg, there's no need to leave as everything one could want for a romantic getaway is right there: a wrap-around deck with rocking chairs, a hot tub, and views of Mt. Le Conte; a private picnic area with a grill and a wooden swing; and a cozy living room with a fireplace.
What guests say: "Everything at the house was great, very clean and private. There is a perfect view of the mountains, and the house is comfortable and modern. Will definitely stay again!"
VRBO
17 guests/$5,000 per night
Libras are social butterflies who believe the "more the merrier," Whaley says. But they also need their alone time to recharge. At this nine-bedroom Nantucket compound with sweeping views of the Atlantic Ocean, Sankaty Lighthouse, and Nantucket's Eastern Shore (ideal for Libras who also appreciate picturesque towns on the water), they'll get all of that and even have the option to sleep in the guest house to make the most of their moments of solitude. When they're not laying low, they'll enjoy the heated saltwater pool, outdoor spa, fire pit, beautifully landscaped lawns, walking trails, chef's kitchen, and easy access to the beach where they can swim, kayak, SUP, fish, or just lounge the day away.
What guests say: "The houses and property are so special. We appreciated being away from the crowds and town during a super crowded summer. The furnishings are beautiful and sparse…no weird personal clutter. The pool was a fantastic temp, and we had a fire going every night! You feel a world apart on this property but are just minutes to everything!"
Airbnb
2 guests/$582 per night
Libras appreciate natural grace, symmetry, beauty, meditation, and art, all of which they will find in this mid-century modern home on the property where famed sculptor Gutzon Borglum's (Mount Rushmore) once had his outdoor art studio. The house has floor-to-ceiling windows which highlight the surrounding lush greenery and woods and is full of art made by the host. (Guests who are so inclined can create their own art—an easel, paint, and canvas are provided.) The grounds feel like they're from another time—full of stone walls and archways, a bubbling stream, and walking trails, but are paired perfectly with modern touches, like an in-ground pool and outdoor fire pit.
What guests say: "The Zen House is a place to stay at whether alone in the search for calm and inspiration or as a couple, as it is very romantic. The house is clean, calm, immersed in the green, and with a beautiful view of the pool. We used the outside firepit and barbeque for a romantic dinner and relaxing apertivos. We painted in the garden and enjoyed the view of the river that is on the side of the property. There are numerous trails and walks in the woods, nice little towns to visit, and nice restaurants. The house is so relaxing that it is very possible to spend the entire weekend inside and just enjoy the view, the calm and the very nice couch and comfortable bed."
Airbnb
10 guests/$466 per night
Libras will appreciate the Grand Tetons because of how much they relish the beauty in nature, Whaley says. "It's incredibly organic. A lot of wind, hiking up the mountains, seeing the animals, it's all a piece of living art." They'll get to really dig into that at this completely (and very Libra-friendly thanks to its symmetry) private lodge that's perfect for big groups who want to go skiing (there's a resort nearby), hiking, or just soak in the hot tub and take in the views of the mountains, which only get better at sunset (a time of day any good Libra loves). It's also close to Yellowstone, another plus for Libras.
What guests say: "The Teton Timber House was a dream! Perfect location - Driggs is such a cute town (highly recommend Yeti and Rise for morning treats), and Alta (just down the road) has amazing views of the back of the Tetons. Getting into Jackson was a breeze (about an hour), and the location was also only about an hour away from Mesa Falls (breathtaking views of Idaho!) The space was huge and plenty of room for a large group. The hot tub at night was perfect and offered incredible, unobstructed views of the stars (just be sure to turn off the lights to enjoy)!"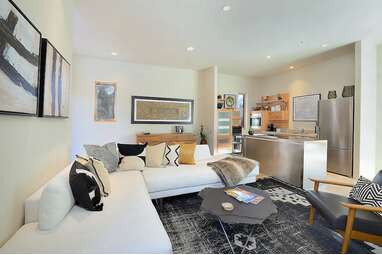 VRBO
4 guests/$197 per night
Santa Fe is home to much of what delights a Libra: A lively arts scene with performances, galleries, festivals, and the world-famous opera; creative and delicious food; and endless opportunities for romance in the form of vineyards, mountains, and golden sunsets. They can make the most of all of that while staying at this luxurious Zen retreat in the foothills of the Sangre de Cristo mountains that's tastefully furnished and has all of the touches they'll appreciate, like amazing linens and access to the Ten Thousand Waves Japanese spa with private outdoor massages and soaking tubs.
What guests say: "This is an extraordinarily serene and peaceful spot, very quiet, surrounded by pinyons, junipers, and all the other charms of the Santa Fe hills. It's easy to get to, a quick drive up from the Plaza, and even closer to Ten Thousand Waves, one of our favorite spots anywhere. The casita is beautifully furnished and decorated. We enjoyed sharing the morning sun with a resident small lizard outside, unwinding on the private and secluded rear deck, and watching the sunset through the huge windows in the dining area."
Airbnb
4 guests/$395 per night
A Libra loves a crisp autumn day, even more so when surrounded by trees turning red and gold. This mid-century modern cottage offers views of just that, as well as the serene Greenwood Lake, from both inside and out. At night, they can lounge on the deck in front of the firepit surrounded by twinkle lights and twinkling stars, and if they can bring themselves to leave the property during the day, there's plenty of adventures to be had in the form of breweries, vineyards, apple orchards, and spas.
What guests say: "Absolutely beautiful place! My girlfriend and I were looking for a place to unwind and relax, and this place had us feeling absolutely refreshed. We loved sitting outside on the deck for breakfast and just loved the view of the lake and the mountains. The inside of the house is also so lovely; one of our days was just spent inside the house because it was so cozy. We are very much looking forward to the next opportunity where we can stay here again."
Airbnb
13 guests/$4,500 per night
Libras love style, romance, and socializing, making this Bridgehampton mansion an ideal spot for a friend group/couples getaway. There are charming towns and beaches nearby, but with a never-ending list of amenities—heated saltwater pool, private movie theater, game room with a pool table, spacious living room with a fireplace, luxury bedding, manicured grounds—there's no reason to leave.
What guests say: "I would highly recommend this property. Everything was outstanding. The house was very clean and ready at check-in time, the pool/patio area was beautiful and great for hosting a group, and the location can't be beat! You can go to the beach in the morning (just down the road) and be home in under five minutes to have lunch on the patio and then swim in the beautiful pool."
Daisy Barringer is an SF-based freelance writer who once dated a Libra who was very earnest about how much he loved sunsets. After researching this article, she is now judging him a tiny bit less. Follow her on Twitter
@daisy
to see who she still is judging.